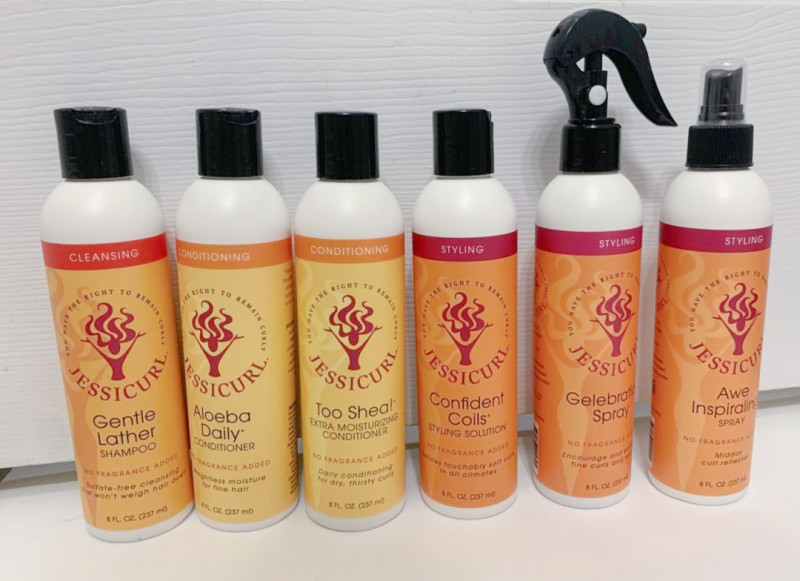 Jessicurl sent me products for inclusion in my holiday gift guide. All opinions are my own.
Most of you know that I started the curly girl method almost five years ago now. I discovered that my hair wasn't frizzy, poofy and unruly straight hair, it was wavy! I just didn't know how to take care of it. Once I started getting it figured out, I became really passionate about wavy hair care and created my blog WavyHairCare.com to help teach others about it.
Early on in my curly girl method journey, I came across people who were talking about how much they loved the Jessicurl brand. It was frequently suggested for people with wavy hair in particular, as their products are known for being lightweight, while many curly hair products can be too heavy for people with wavy hair.
I also have seen Jessicurl suggested a lot when someone with wavy or curly hair talks about struggling with allergies or sensitivities to haircare products. Fragrance-related ingredients are a common cause of allergies, and brands aren't required to list what ingredients make up their fragrance. On most haircare products it'll just say "fragrance", so if someone has an allergy to some fragrance ingredients, it can be really challenging to figure out what the specific allergy is. Anyway, it's often easiest for those people to just avoid products with added fragrance, but fragrance-free hair products aren't always easy to come by. Jessicurl products come in a couple of scent options, or fragrance-free!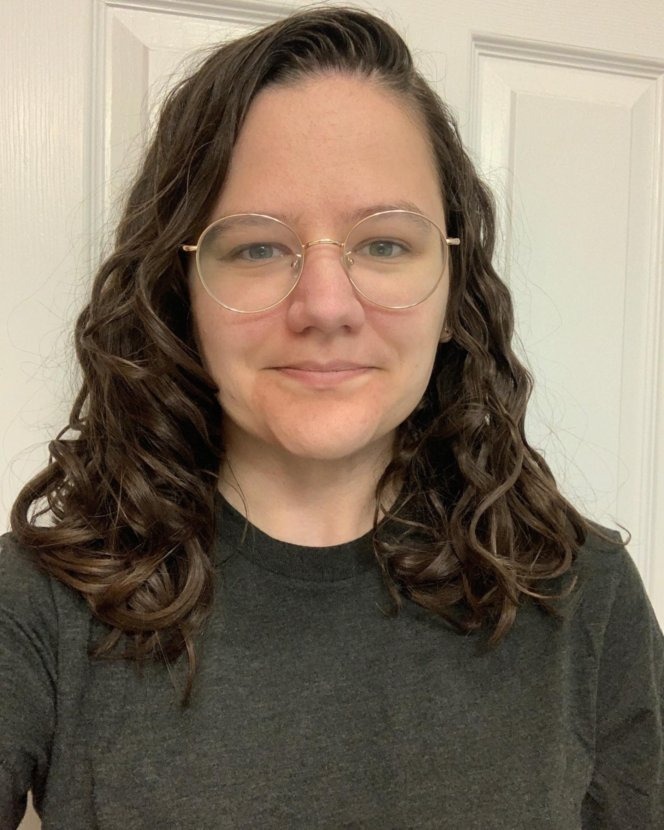 An example of what my hair usually looks like when I use shampoo, conditioner and gel.
I was sent the Jessicurl Light & Luminous collection. This is one of three sets that Jessicurl offers. The light and luminous set is designed for hair that is easily weighed down. That's definitely the case for me. I have wavy hair, and while my hair looks "thick", I have a LOT of hair but my individual hairs are fine. So, I was excited to try this set.
It includes six products. Gentle Lather Shampoo, Aloeba Daily Conditioner, Too Shea! Extra Moisturizing Conditioner, Gelebration Spray, Confident Coils Styling Solution and Awe Inspiraling Spray.
The gentle lather shampoo is a really gentle cleanser, it almost feels closer to a cowash to me than a shampoo. I like more cleansing shampoos usually as I get buildup easily, but I think this cleanser would really appeal to people who strongly follow the curly girl method. The Aloeba daily condition also felt really light to me. It didn't have a ton of slip but I was able to detangle my hair with it. I haven't used the Too Shea! Extra moisturizing conditioner, I plan to try this more as a deep conditioner as it's a stronger conditioner than the daily one.
The Confident Coils Styling Solution is a creamy, moisturizing product (like a leave in condition or curl cream). It's designed to help define curls and protect against humidity (which can cause frizz) but without weighing them down. My hair stays well moisturized without leave in conditioners or creams so I usually just use gels. However, I was curious to try this. I just used a small amount but it was nice and thin so it was easy to distribute through my hair. I didn't feel like it weighed me down as many curl creams or leave in conditioners do. So, I think this was a good match for my hair type.
This was my wash day results when using the confident coils and celebration spray.
The gelebration spray is a curl enhancer or curl activator type of product. It comes in a spray bottle but it squirts out in one stream, so I squirted it into my hands, rubbed it across my palms and then added it to my hair. I didn't feel like I could spray it directly onto my head and get good distribution. I typically just use a gel or a mousse, and curl activators usually offer less hold. So, I thought this may not have enough hold for my hair type, and I did find that to be true. When I was about halfway done diffusing I could tell I wasn't getting enough hold so I Added in more (this is referred to as the smasters technique) and that helped me to get a light cast over all of my hair, which is always my goal. However, it still just didn't have enough hold to get the results I like to get.
The brand includes this gelebration spray rather than a regular gel because it says this is best for really easily weighed down hair. I do think that is true for a small segment of people with fine wavy hair, but I think it's more common for people with loosely wavy, fine hair to need a good amount of hold from their styler to maintain their style. So, if I could make one swap in this set, I'd have it include a lightweight but stronghold gel.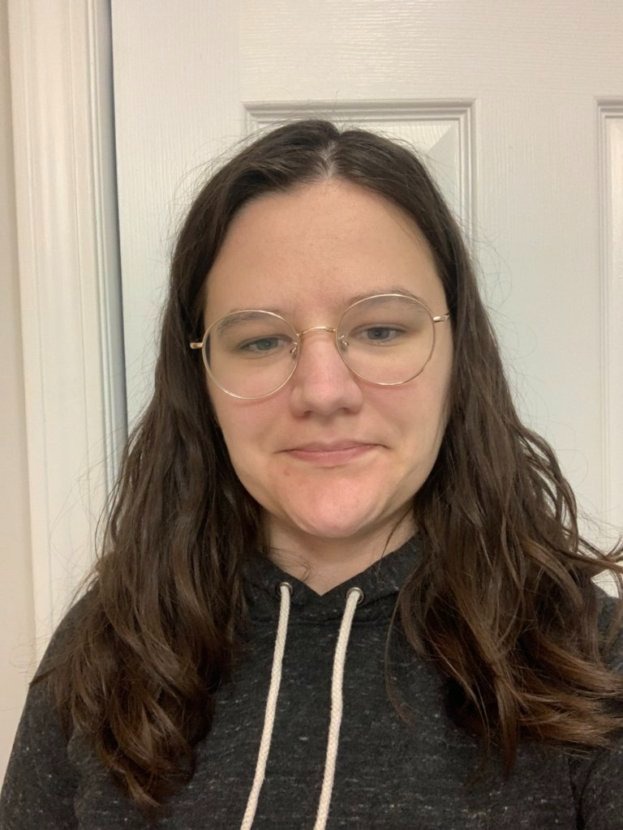 My "day 2" hair after refreshing with the awe inspiraling spray.
Last but not least, the Awe Inspiraling spray. This is a curl refresher product. It says to use it mid-day, but I used it the day after wash day, as that's usually when I refresh. When I use curl refreshing products my goals are to regain definition and curl tightness, and to not end up with sticky feeling hair. This spray didn't leave my hair sticky (yay!) but it didn't help me regain as much definition or curl tightness as I had hoped.
I plan to keep experimenting with the gelebration spray (I'll try to pair it with a gel over top) and the confident coils solution. I don't often use leave in conditioners but if I am seeing a lot of extra frizz I'll sometimes refresh with a leave in conditioner so I'll try using the confident coils in that way.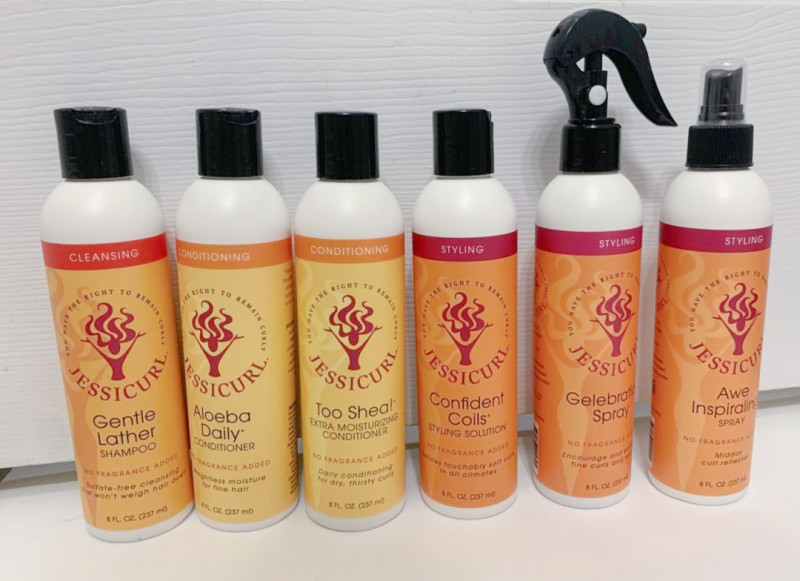 While not all of these products were a perfect match for my exact hair type and styling preferences, I still think these are great products. My hair just really needs a stronghold gel, frankly. I just think some of them would be better suited to other hair types. I love that Jessicurl is so curly girl friendly, and that they offer fragrance-free options for those with allergies or sensitivities.
If you know someone following the curly girl method, I think gifting one of their sets would be an awesome choice! They offer 2oz sets or 8oz sets. The smaller sets would be a great way to let someone try out the products to see which ones they'd want to buy in full size.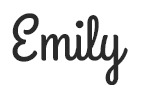 Hi there! I am Emily Evert, the owner of Emily Reviews. I am 28 and live in a small town in Michigan with my boyfriend Ryan and our two pugs. I have a large family and I adore my nieces and nephews. I love reading memoirs, and learning about child development and psychology. I love watching The Game of Thrones, Teen Mom, Sister Wives and Veep. I like listening to Jason Isbell, John Prine, and other alt-country or Americana music. I created Emily Reviews as a creative outlet to share my life and the products that I love with others.
This post currently has 9 responses.