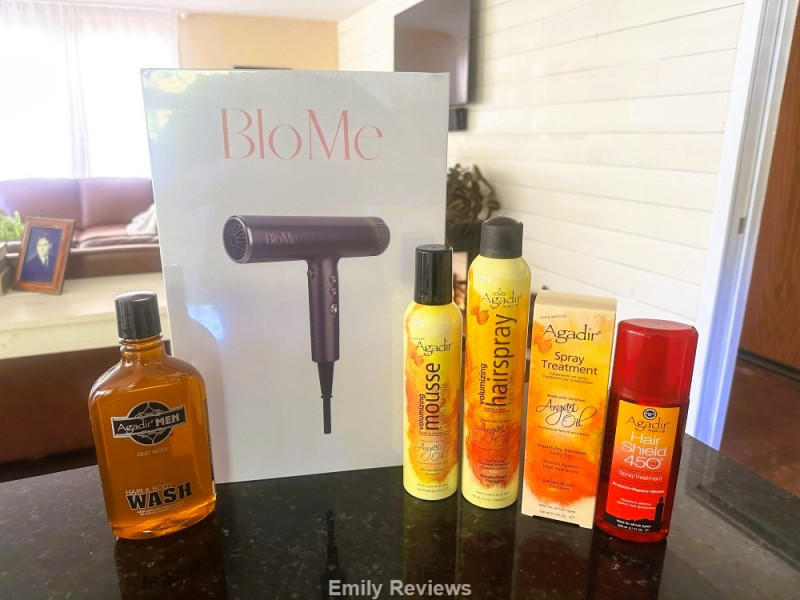 Thank you to BloMe Hair Dryers for providing me with products to facilitate my blog review. All opinions are 100% my own.
I will be honest, I didn't need a new hair dryer, but when I heard about BloMe Hair Dryers, I just had to have one. I was told that they were gentle on hair and helped reduce further damaging hair. For those of you who may not know, a little over three years ago, I lost a significant amount of hair. I have spoken with my doctor and we have run tests but can not pinpoint why I lost my hair. We suspect it was due to a huge change in my diet. Anyway since then, I have been working hard to improve the health of my hair. It started to grow again a couple of years ago and my stylist is helping me fix the damage. It is so much better than it was. Anyways, back to the hair dryer. If this is a hair tool that will help me prevent damage, I am more than interested!
For my review, BloMe Hair Dryers sent me a hair dryer, an assortment of hair care products, and something for my husband.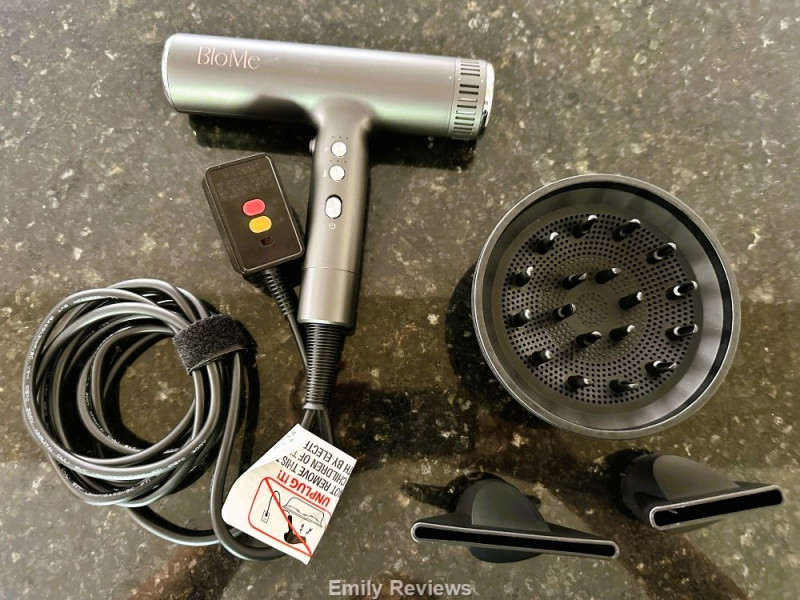 The BloMe Hair Dryer is a professional hair dryer. with a powerful brushless motor. Its ionic technology helps dry your hair faster, while the negative ions help to reduce frizz and static for healthier-looking hair. The BloMe Hair Dryer has three speeds, three heat settings, plus a cool shot. It comes with two concentrators and a diffuser. The BloMe Hair Dryer also features self-cleaning technology with a microfilter, an intelligent temperature sensor to prevent overheating, a built-in memory function, and a professional-length cord.
Wow! I am impressed with the BloMe Hair Dryer. It has a lot more power than my other hair dryer and does indeed reduce drying time. I like having the ability to change the speed and heat based on the style I am going for. I also appreciate the extra-long cord. My other hair dryer held me hostage about 4 feet from the outlet. With this one, I have room to move while I dry my hair.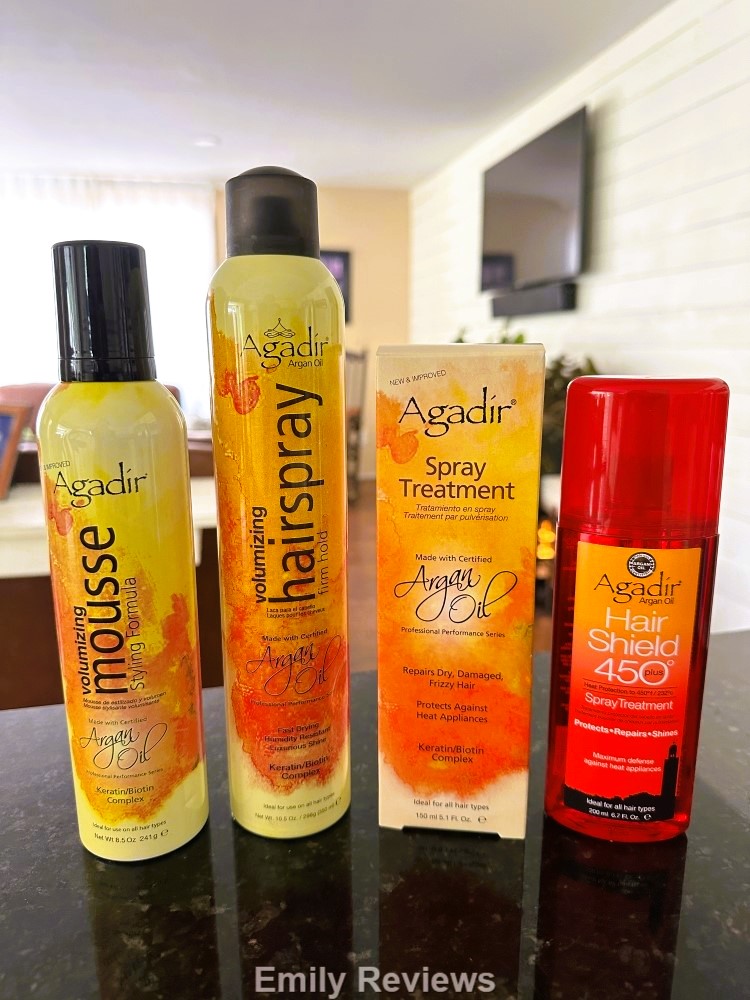 BloMe Hair Dryers sent me a collection of hair care products. Their Agadir Argan Oil Hair Care products are formulated to add elasticity to hair, hydrate, smooth, and protect. They leave your hair feeling and looking healthier.
I tried the Agadir Argan Oil Volumizing Hair Spray, Volumizing Styling Mousse, Spray Treatment, and Hair Shield 450 Spray Treatment. I found each of these products to work well. In the beginning, I used too much product and it left my fine and thin hair a little limp. When I backed off the amount used, the product worked much better. A little goes a long way. The Agadir Argan Oil hair care products leave my hair feeling great. It feels stronger, silkier, and has a nice shine to it. It doesn't feel oily or weighted down in any way. My daughter, who is blessed with a lot of beautiful hair, also likes them. She said they make her hair feel soft, shiny, and more manageable.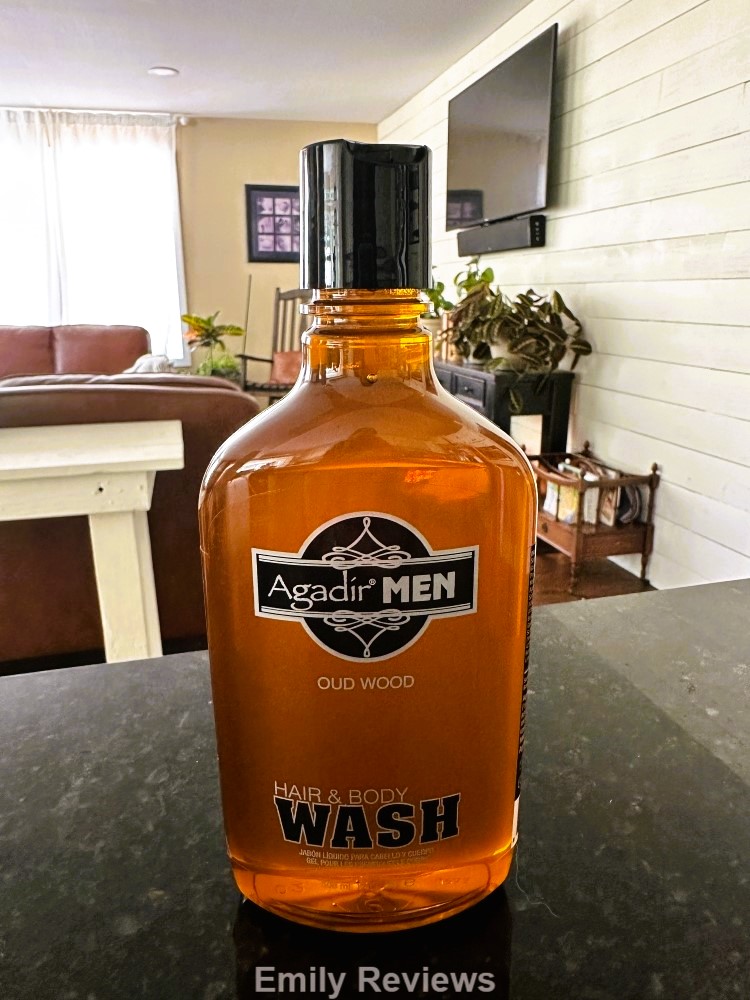 If you're shopping for the man in your life, make sure you check out all of the men's hair, body, and beard care products offered by BloMe Hair Dryers. These items include a combination body/hair wash, beard oil, beard butter, and a firming hair gel as well as a fiber texturizer.
BloMe Hair Dryers sent my husband an Agadir Men Oud Wood Hair & Body Wash. It contains Oud Wood Extract, Argan Oil, Panthenol, and Biotin. It has a light smokey and woodsy scent. My husband said that the hair and body wash leave him feeling clean… that's all he cares about. I think it smells great; the fragrance is subtle and masculine. His hair feels soft and healthy.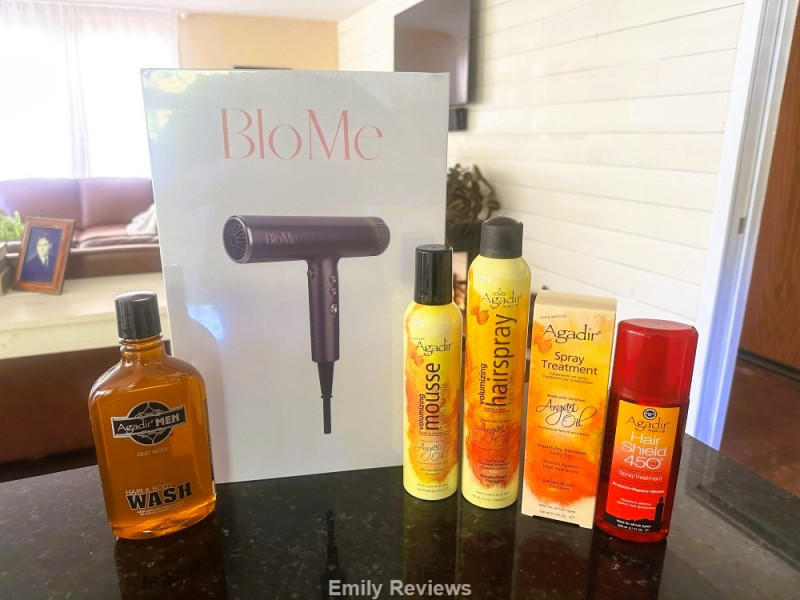 We are pleased with our BloMe Hair Dryer products! They make our hair feel soft, hydrated, and full of volume. If you are looking for a collection of products to improve the health of your hair, I strongly suggest you check out BloMe Hair Dryers.
BloMe Hair Dryers is having a Holiday Sale and offering a FREE gift with purchase- From 11/02/2023 – 1/31/2024 when you purchase a BloMe Hair Dryer on Sale for $229 (normally $299,) you'll receive a free gift with purchase (valued at $69) plus free shipping! (FREE Gifts is shown in the photo below.)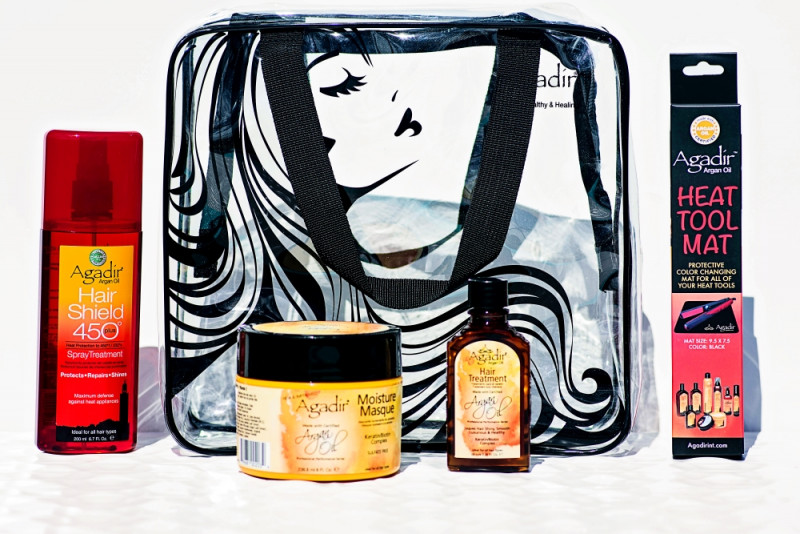 Buy It: Please visit the BloMe Hair Dryers website to see their great selection of products and convenient shopping locations.
Connect: Don't forget to follow BloMe Hair Dryers on Facebook and Instagram for the latest product announcements and special offers.
WIN IT: One winner will receive a haircare product prize pack from BloMe Hair Dryers. This giveaway is open to US residents. The giveaway is scheduled to end on 11/21/2023. Good luck!


Hello, my name is Laurie. My family and I live near the Oregon coast. When we aren't at work, in school, or on the volleyball court, we enjoy traveling, cheering for our favorite sports teams, playing outdoors, and checking off items on our bucket list. We are lucky in that both sets of our parents, as well as our siblings and their families, live within an hour of us. We get together often to help one another out, celebrate milestones, and go on adventures together.
This post currently has 68 responses.