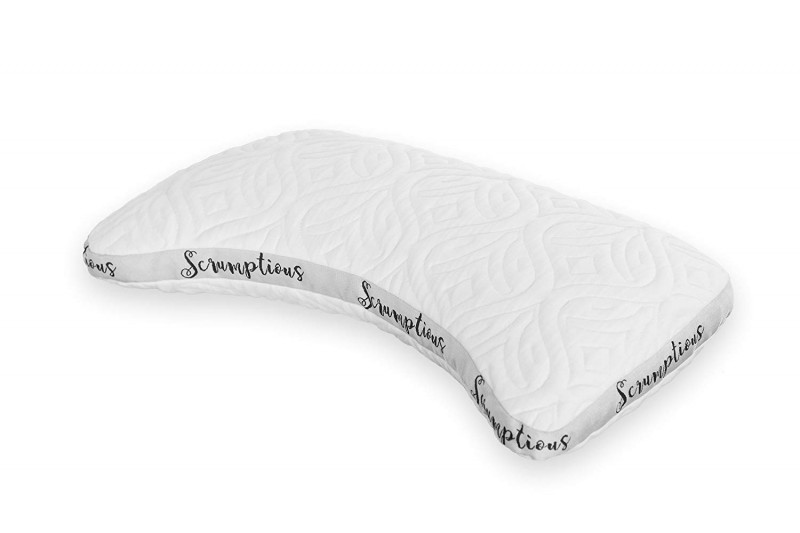 I was sent a Honeydew Scrumptious Side Sleeper Pillow for review. All opinions are my own.
I am primarily a side sleeper. I'd guess that I spend about 80% of my time sleeping on one of my sides, but then occasionally move to some weird configuration that is angled about halfway between sleeping on my side and sleeping on my stomach. Sort of curled downwards the bed but with one leg curled up leg keeping me from laying flat on my belly.
My whole life I've wrestled with my pillows somewhat. When sleeping on my side I want the pillow to support my head of course, and I like when it supports my entire face. I tend to curl my head down a bit near my shoulder. So I often wrestle with the corner of my pillow trying to get the edge down between my chin or lower cheek and my shoulder. Traditional rectangular pillows will stop at my shoulder which means they can't go down and also support my face when it's curled down past my shoulder height.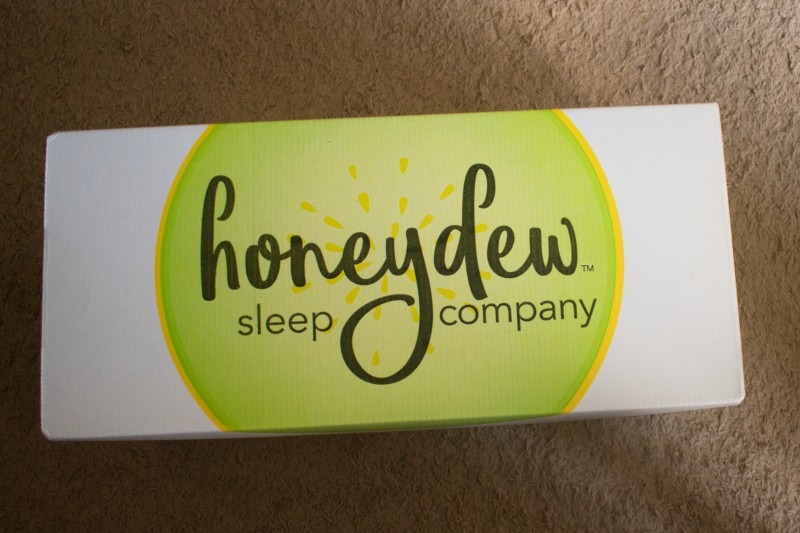 That's why I LOVE the Scrumptious Side-Sleeper Pillow from Honeydew. They are not rectangular but instead have a curved bottom. This way, I can work that curved corner between my face and my shoulder, without the center portion of the pillow being crammed or folded over. My shoulder doesn't get in the way of the pillow anymore, ad I can get my body supported by the pillow exactly where I want it to. Both ends of the pillow curve down, while the center of the pillow is shorter. The distance between the corners is pretty wide, so if I am able to lay flat on my back and have my head fully supported. In other words, this isn't strictly a side sleeper pillow, but it works well if you are a back sleeper as well.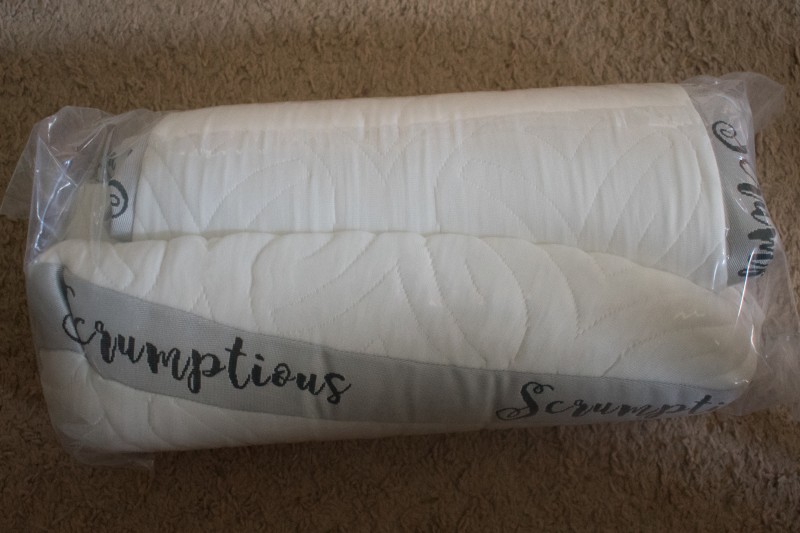 The pillow comes in a tight package that has bee vacuum-sealed. It only took a few minutes for mine to reach maximum size after opening it. It had a moderate scent to at first but it dissipated within a few hours. 
I've even found myself turning this pillow vertically and using it as a mini body pillow when watching TV or relaxing. The ends are wider so I can rest my head on it, while the skinny portion of the pillow can be brought down on my chest to hug or cuddle with. It's so cozy!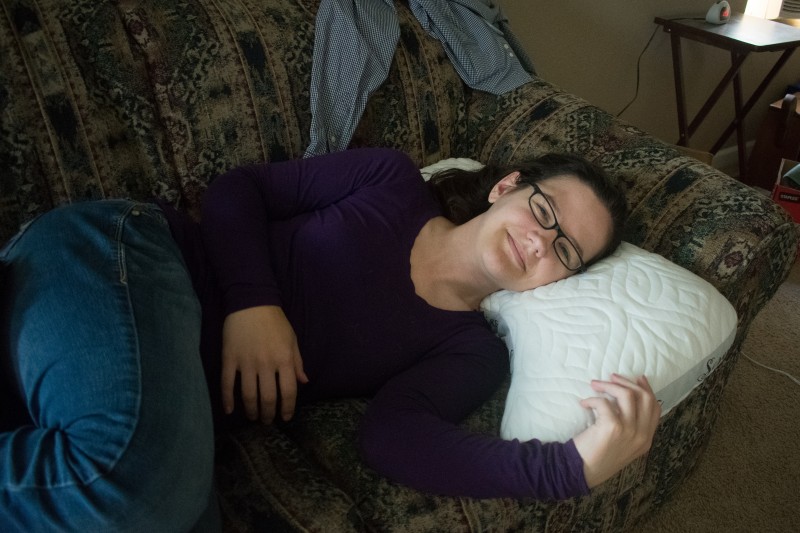 I didn't pose very well for this photo! When I am using this to sleep in bed, I pull closer to the edge of the pillow so that the curve of the pillow is in the crook of my shoulder. 
My least-favorite type of pillows are the ones that are really thick in the center but taper on all the edges. I much prefer pillows that are a standard thickness – and that is exactly how this pillow is shaped. The edge of the pillow has a "ribbon" on it that is designed to help protect the strength and height of the pillow to keep it from wearing down. The pillow has a hidden zipper that you can open to remove stuffing from your pillow if you want it to be a lower height than it arrives at. Personally I felt like this pillow seemed just slightly shallow at first so I didn't want to remove any stuffing. I have gotten used to the height now and no longer feel that it is too shallow. I imagine that some others would like a fuller pillow though, so I would like to see them include more filling when they ship out. It also seems wider than I really need. I might consider the Scrumptious travel pillow which is 6 inches narrower and 3 inches shorter. I think that would still be a reasonable size for daily use for me.
Honeydew pillows are made by hand in California. I love supporting USA-based businesses! They even offer a risk-free 60 day trial so if you decide the pillow isn't right for you within 60 days you can return it with free return shipping!
With this pillow not being a rectangular shape, it won't fit naturally in standard pillowcases. Honeydew sells side-sleeper pillow-shaped pillowcases to fit their shape. Or you could sleep on the pillow without a case. The outer cover is very soft.
As part of our holiday gift guide I get sent a lot of products to try out. I have to admit, my favorite item that I have received for myself this year is this pillow. I fell in love with it the first night I used it. I can't imagine going back to a rectangular pillow.
If you know a side-sleeper who loves being cozy and getting a good night's sleep – the Scrumptious side sleeper pillow would be a great gift.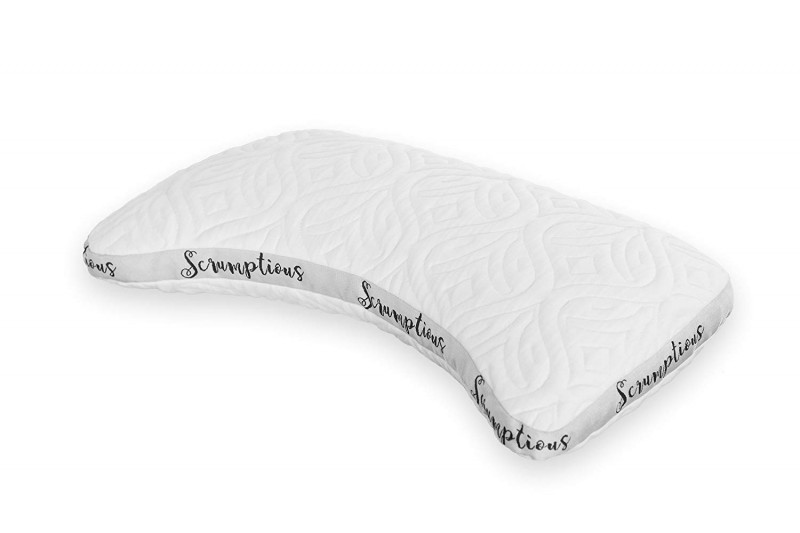 Win it: A Honeydew Scrumptious side sleeper pillow (a $99 value!). FOUR people will win! This giveaway is open to the US and will end 12/19/2019. Enter using the Giveaway Tools form below.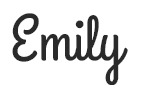 Hi there! I am Emily Evert, the owner of Emily Reviews. I am 28 and live in a small town in Michigan with my boyfriend Ryan and our two pugs. I have a large family and I adore my nieces and nephews. I love reading memoirs, and learning about child development and psychology. I love watching The Game of Thrones, Teen Mom, Sister Wives and Veep. I like listening to Jason Isbell, John Prine, and other alt-country or Americana music. I created Emily Reviews as a creative outlet to share my life and the products that I love with others.
This post currently has 19 responses.