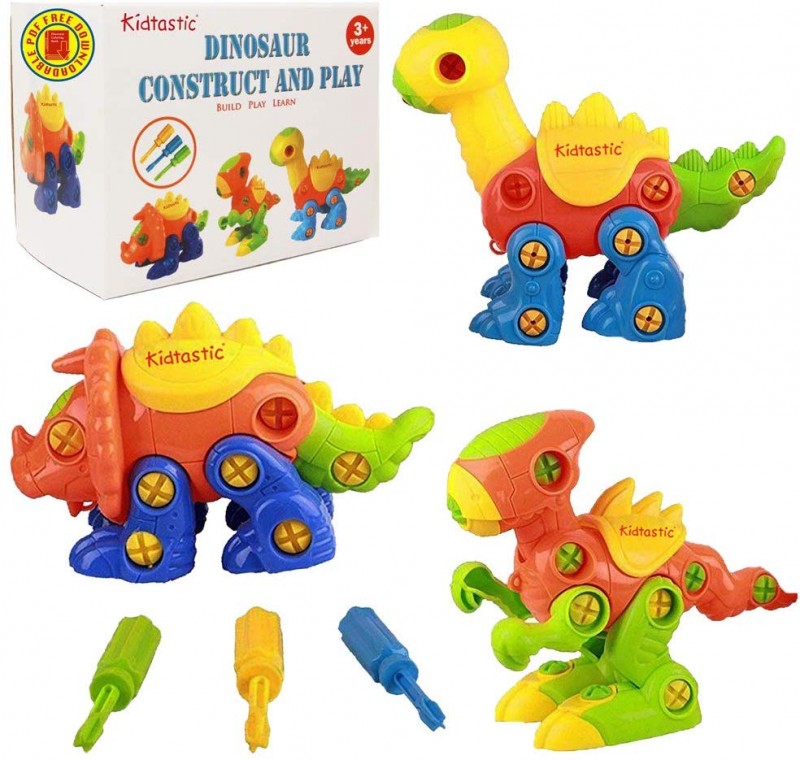 I was sent products from Kidtastic for my holiday gift guide. All opinions are my own. There are affiliate links in this post.
There are 11 days til Christmas! While there is still time for standard shipping from some sites, we're nearing that "last minute" stage. I've been an Amazon prime member for about a decade now – so my go-to for last-minute gift shopping is Amazon. It's hard to beat that two-day shipping option!
Kidtastic is a brand of toys that is available on Amazon, so these are great options as last-minute gift ordering. Here are a few of my favorites.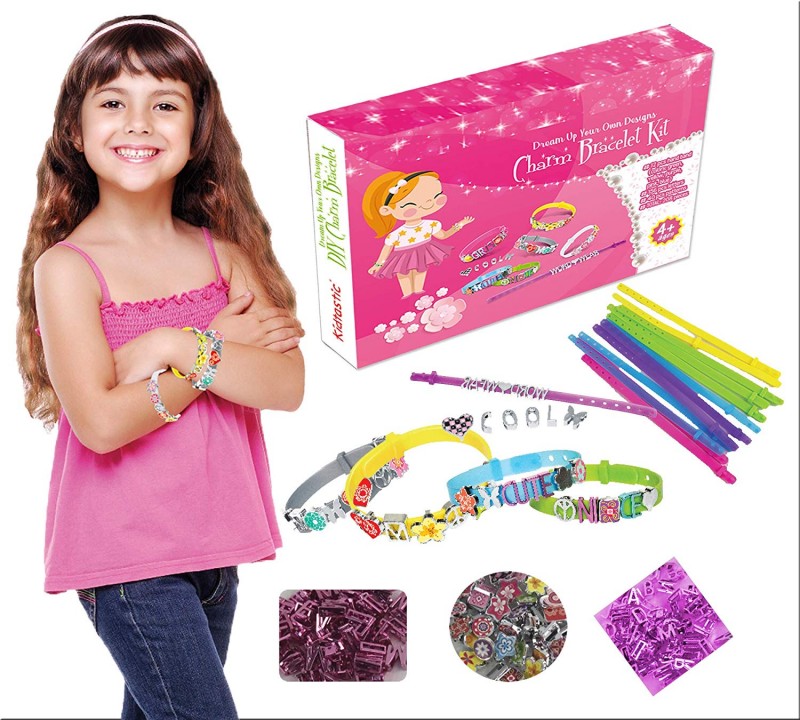 The Kidtastic Charm Bracelet kit is what I chose to gift my 6-year-old niece this Christmas. The set includes 12 bracelet bands, 156 letter charms, and 40 patterned pieces. She likes to dress up and she's learning how to read and spell. I know she will think it is fun to swap out different words on her bracelets! You can remake the bracelets by removing the charms or letters as desired. So as long as you keep track of the pieces, you can make new bracelets infinitely. This kit is just $9.99 making it an affordable and fun gift.
The story of a child who likes to be creative, but a parent who doesn't want a mess is a tale as old as time I think! The Kidtastic Color Scratch Design Kit is a good solution. On arrival, these are all-white designs. You use the wooden stylus included to scratch the surface of the designs to reveal their colors underneath. Think about how fun it is to scratch off scratch-off tickets. These are that sort of a concept except they reveal fun colors! The set includes 24 designs and is currently $9.99 on Amazon and there is a save 10% coupon available as well.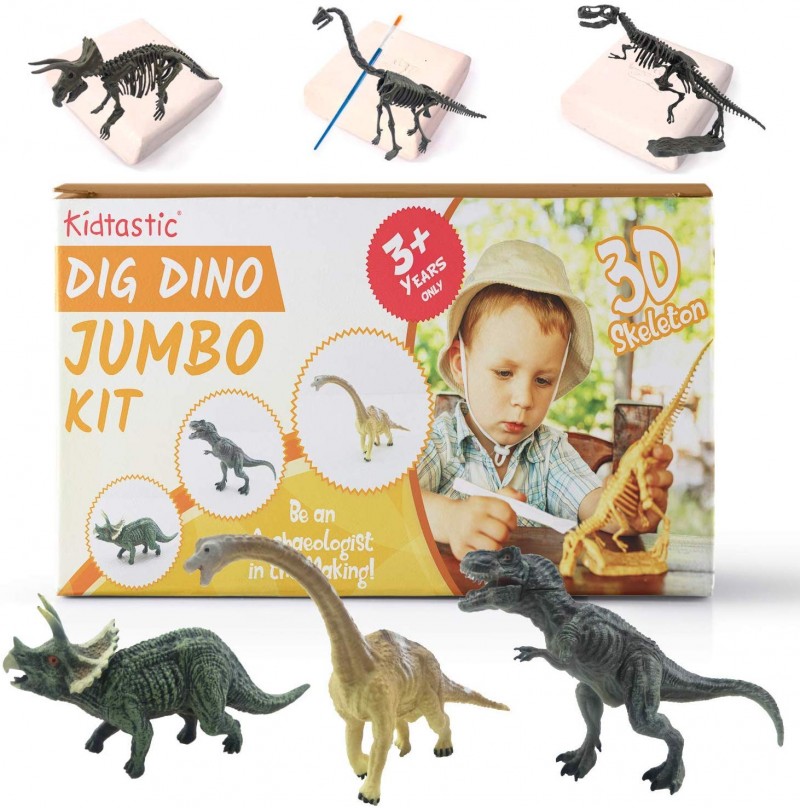 If you have a little dinosaur lover in your life, this Kidtastic Dig Dino Dinosaur Excavation Kit is a unique gift idea. The kit includes 3 3D dinosaur skeletons that are trapped in blocks. The kit includes tools and brushes to help your little one break these dinos out. This is a messy set, but it's fun and can easily be made educational, too. This set is $15.99 and also has the 10% off coupon available on Amazon.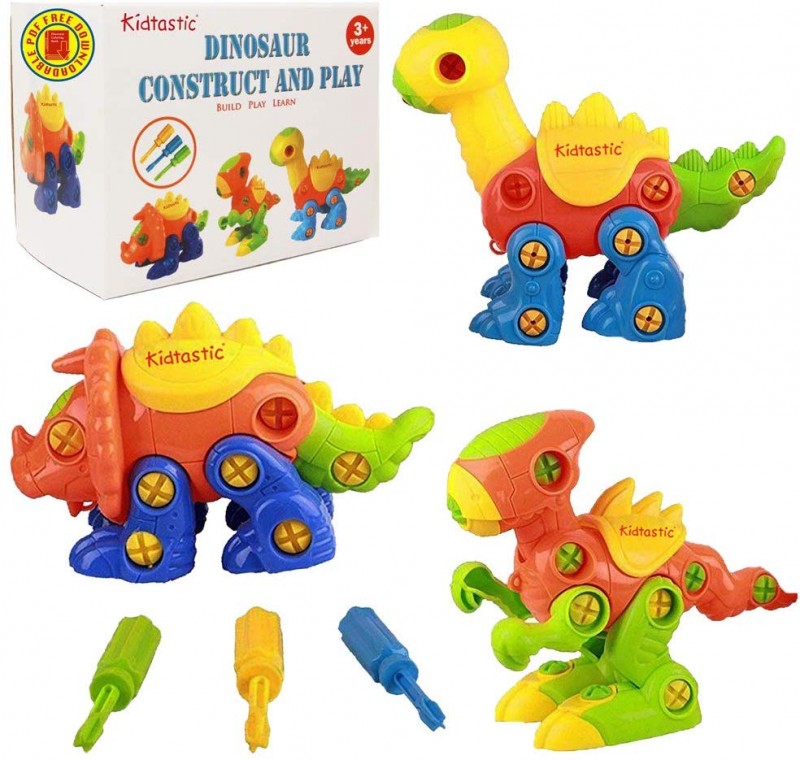 I have a little nephew who just turned 4 and he has the mind of a builder or an engineer or something. He likes building with blocks, "brick" toys and if anyone is doing DIY work around the house he's right there trying to figure out how things work, or how they get taken apart and put back together again. When I came across this Kidtastic Dinosaur take apart set I knew it was perfect for him. This set includes three dinosaurs made up of 106 pieces. It includes screwdrivers so that kids can remove the screws, take the pieces apart and then put them back together again. The screwdrivers are large in size so they are easier for small hands to maneuver. These toys can be taken apart and put back together over and over again.
These are just a few of the toys Kidtastic has to offer. Check out the Kidtastic page on Amazon for more.
Win it: A dinosaur toy prize pack! This will include the Kidtastic Dinosaur Take Apart Set and the Dig Dino Jumbo Excavating Kit. This giveaway is open to the US and will end 12/28/2019 at 11:59pm eastern.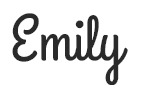 Hi there! I am Emily Evert, the owner of Emily Reviews. I am 28 and live in a small town in Michigan with my boyfriend Ryan and our two pugs. I have a large family and I adore my nieces and nephews. I love reading memoirs, and learning about child development and psychology. I love watching The Game of Thrones, Teen Mom, Sister Wives and Veep. I like listening to Jason Isbell, John Prine, and other alt-country or Americana music. I created Emily Reviews as a creative outlet to share my life and the products that I love with others.
This post currently has 5 responses.