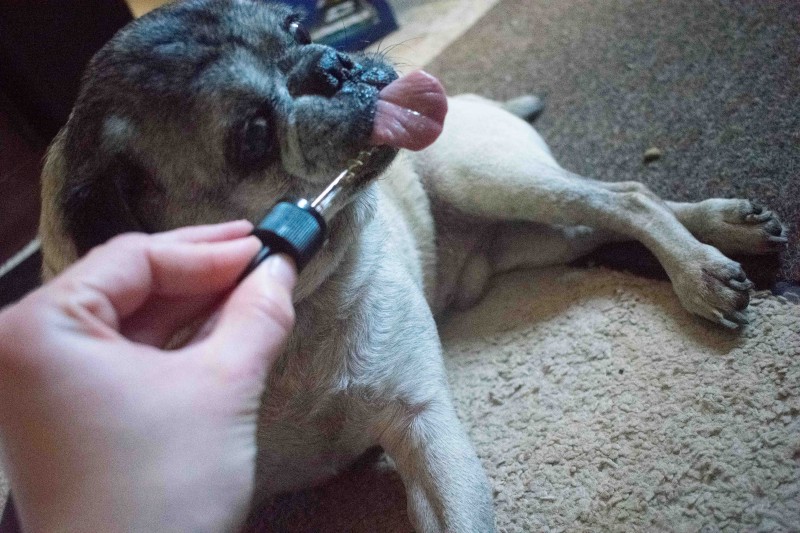 Amberwing Organic's sent me their Pets CBD oil for review. This is a sponsored post. All opinions are my own.
CBD seems to be all the rage right now. I've tried some CBD products for humans and have been uncertain if I see any clear benefits or not. I have a 15-year-old pug, Frank, who has late-stage arthritis. It's so bad that he hasn't been able to walk on his on the last few months. The arthritis causes him to stay so tight that he can't relax his back legs fully so they stay in unnatural positions at times. We have him on a doggy NSAID, and a nerve-pain medication from his vet. We know that he's in the last chapter of life, but he's still a happy dog most of the time so we're trying to support him for as long as we can.
Despite the other two pain meds, he still has moments of whining or crying. At times it's difficult to know if he's trying to communicate that he wants something (because he can't just get up and go to the water bowl when he's thirsty, for example) or if he's hurting. It's sort of like having a baby, where if he cries we try to go through the list of possible things he may need such as to go outside to go to the bathroom, water, attention, to be repositioned, etc. When nothing we do seems to help, then we assume it's probably pain. That's when I've been using Amberwing Organic's Pets CBD oil. It's said to be good for aches, pains or general stiffness which are certainly all things Frank experiences due to his arthritis.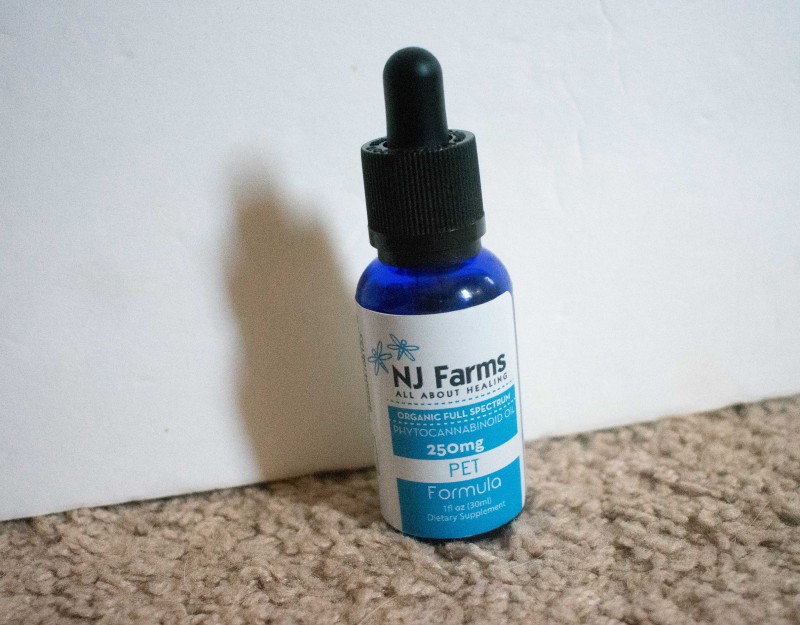 This has only happened four days since the Amberwing Organic's Pet CBD oil arrived but every time so far that I have given this to Frank, he has calmed down shortly after. While I still feel it's a bit too early to say it's definitely helping, the results I've seen so far certainly are leaning that way, where other CBD  products I've tried in the past were less clear even this early on. I'm really quite excited to have yet another option for helping to keep my old puppy comfortable. I wasn't sure how he would tolerate taking CBD oil. The human CBD oils that I've tried basically just taste like oil – not terrible, but certainly not tasty either. Frank isn't a particularly picky eater, he'll eat most any dog treats or dog food, but he won't eat some vegetables and such that we've tried to give him in the past. So I wasn't sure if he would take to this oil or not…but he just licks it right off the dropper! It recommends putting it under the dog's tongue, so it's not using it exactly as advised but if he'll lick it off the dropper that is far easier for me than trying to get his mouth open and get the dropper under his tongue so I'm fine with this method we've been using.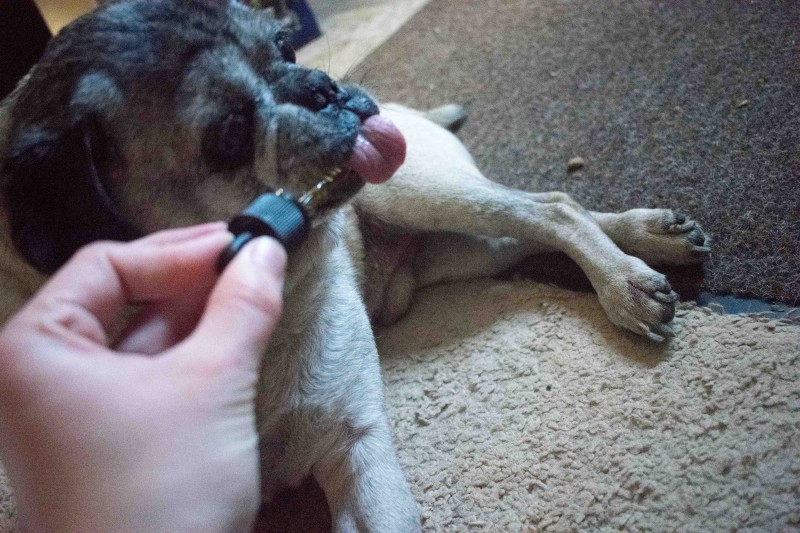 Some more information that is specific to Amberwing Organics:
Their hemp oils are full-spectrum and grown with organic farming techniques. They are extracted using a solvent-free Cold CO2 system. They control their entire manufacturing process from seed to plant and from plant to pet. Their plants are grown in Wisconsin and Minnesota. Their products are all-natural and are not psychoactive (meaning they will not cause a 'high') and they use a MCT oil base. They offer a 60-day satisfaction guarantee. So if you don't see the effects you were hoping for you can get a refund within 60 days. I love that they offer this because with CBD a lot of the hesitation is wondering if it will work the way you'd like it to.
Deal: Click any Amberwing Organics link in this blog post and then use the code EMILYREVIEWS to get 20% of your first order at Amberwing Organics!
Do you have a dog with arthritis or other aches, pains or stiffness? Would you consider giving your dog CBD?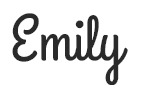 Hi there! I am Emily Evert, the owner of Emily Reviews. I am 28 and live in a small town in Michigan with my boyfriend Ryan and our two pugs. I have a large family and I adore my nieces and nephews. I love reading memoirs, and learning about child development and psychology. I love watching The Game of Thrones, Teen Mom, Sister Wives and Veep. I like listening to Jason Isbell, John Prine, and other alt-country or Americana music. I created Emily Reviews as a creative outlet to share my life and the products that I love with others.
This post currently has 12 responses.