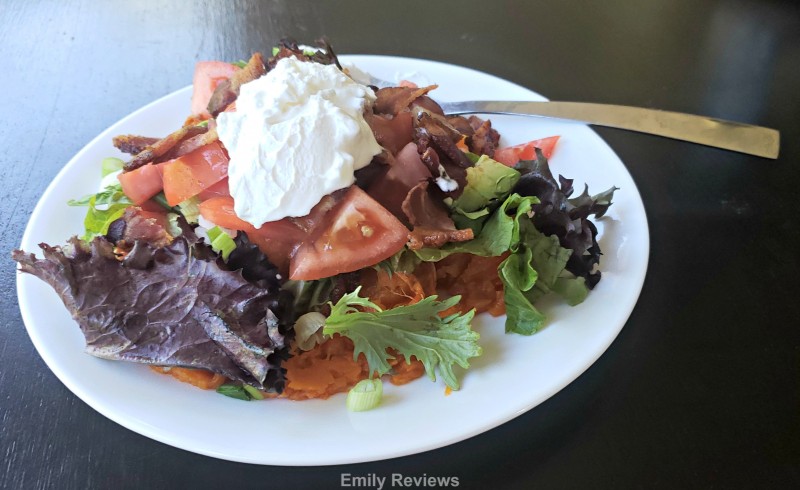 One of the blessings we have found through our time sheltering in place is that we have become more creative with our meals. With us having more time at home and fewer trips to the grocery store, we have been exploring new meals.
A few months ago, I had the idea to try a potato bar dinner. I got big bakers potatoes for my husband and two daughters and a sweet potato for myself. Then I set out a bunch of traditional baked potato toppings. It was a hit! The meal was easy to prepare, delicious, and everyone was happy getting to chose what toppings they wanted/didn't want.
With the success of our first potato bar dinner, we began brainstorming different toppings for the meal. We came up with a list of 20 topping combinations for baked potato bar night!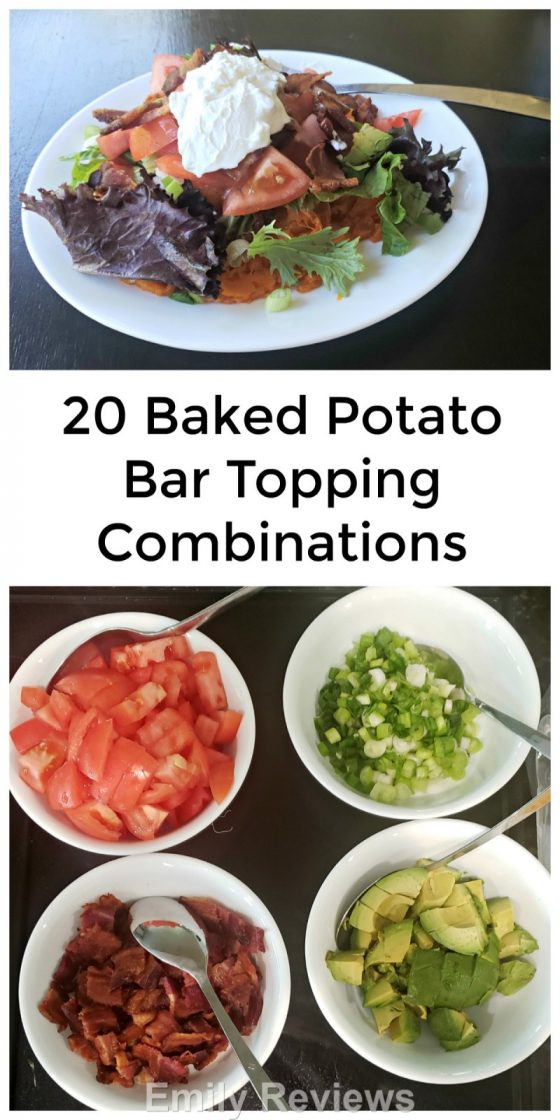 Philly Cheesesteak – provolone, thin-cut beef, caramelized onions, pepperoncini
Spicy Chicken Ranch – shredded chicken, spicy ranch dressing, cheese, bacon
Hawaiian- diced ham, caramelized onions, and pineapple chunks
Fajita – shredded meat, roasted bell peppers slices, sliced avocado, cheese, salsa, sour cream
Poutine- caramelized onion, mozzarella, brown gravy
Loaded Chili – chili, sour cream, cheese, diced onion
BBQ-shredded meat, grilled corn, green onions, bbq sauce
Pizza – marinara sauce, sausage crumbles, pepperoni, mozzarella, diced onion, bell peppers
Cuban- roasted pork, mojo sauce, swiss cheese
Shepherd's Pie – cheese, caramelized onion, cooked ground beef, peas
Denver – diced Ham, bell pepper, onion, cheddar cheese
Broccoli Cheddar – cooked broccoli and your choice of cheddar cheese
Mexican- taco meat, salsa, pepper jack cheese, avocado, sour cream
Chicken Alfredo – shredded chicken, alfredo sauce, parmesan, parsley
Vindaloo- curry pork, greek yogurt, cilantro, and mint
BLT – bacon crumbles, tomatoes, shredded lettuce, ranch dressing
Jalapeno Popper – melted cream cheese, diced jalapenos, bacon crumbles
Buffalo Chicken – shredded chicken tossed In buffalo sauce, blue cheese
Classic – sour cream, cheese, green onion
Greek – sauteed mushrooms, caramelized onion, spinach, feta cheese, sundried tomato
I have a family of four so pulling this together really isn't that much work at all. I imagine it would be fairly easy to do for a larger family and/or a group too. Before everyone arrives, you could have the potatoes baked and all your toppings prepared. Then when you are ready to eat you could just set things out and let everyone help themselves.
We are going to have a family Halloween party. I wasn't sure what to feed everyone, but I think I just decided to have a baked potato bar. We have so many different diets and food allergies in our family. A potato bar would allow everyone to choose toppings that fit their dietary needs and wants.
What are your favorite potato toppings?

Hello, my name is Laurie. I have been married to my husband for 14 years. We have two young daughters, ages 11 and 13 years old. My family and I live in Oregon so that means we are just minutes from the beach, mountains, and desert.  We love it here and try to spend as much time outdoors playing as we can. When we aren't outside playing, I enjoy reading, gardening, refinishing furniture, and other crafts.
This post currently has 6 responses.