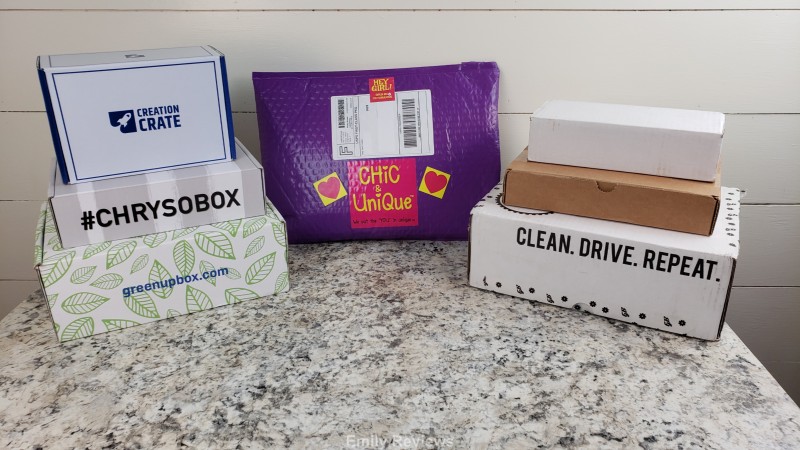 Thank you to Cratejoy for providing me with products to facilitate my blog review. All opinions are 100% my own.
Cratejoy says they have something for everyone in your family and they're not kidding. You'll find gifts for all ages, interests, abilities, and price ranges. You can even decide how many gifts you want to receive, be it monthly, quarterly, semi-annually, or annually….and you can cancel your subscription at any time.
Just to give you an idea of some of the activities you can choose from, take a look at this list and remember, it's only a very small portion of the items Cratejoy offers.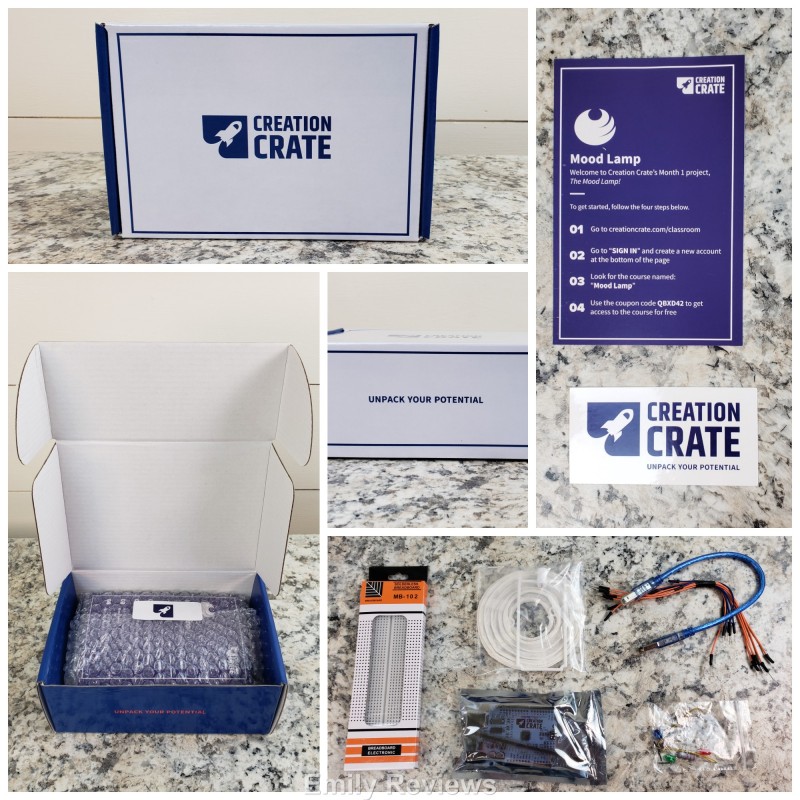 Creation Crate is an electronic project for your young coder. This kit comes with everything you need including a video tutorial that will teach coding, electronics, and engineering. The kit I was sent, enables you to build a mood lamp. How cool is that?! Creation Crate is recommended for ages 12 and above and no prior experience is needed.
My nephew is very much into building and coding. When I began looking at all of the fun options on CrateJoy, I had high hopes for finding him some sort of building kit. When I saw the Creation Crate, I instantly knew it was the perfect gift for him. He is going to love putting all of this together to build a mood lamp. I look forward to hearing about it and seeing the final results.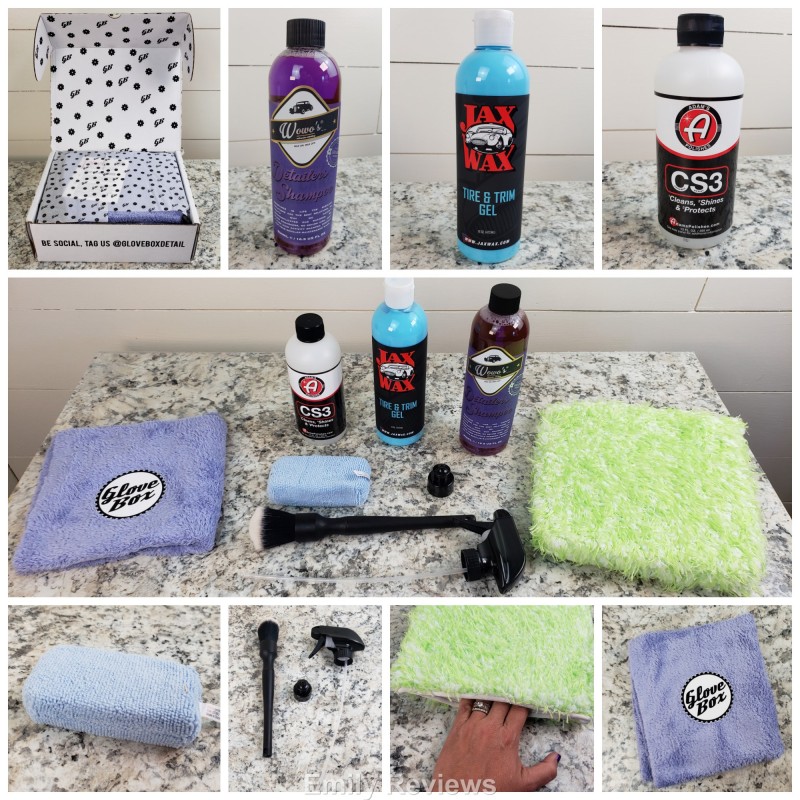 Car Made Simple's GloveBox is a great gift for car enthusiasts. Ever want to detail your vehicle and then discover that you don't have something that you need? Every month, Car Made Simple will send you a package of detailing products as well as coupons, and "how-to" instructions. Products in the box include but are not limited to car wash, paint protection, wheels & tires, interior, and glass.
We have three vehicles. It seems like my husband is always tinkering with one or another. He does a great job keeping them looking and running their best. The Car Made Simple GloveBox is my way of acknowledging what he does and thanking him for doing it.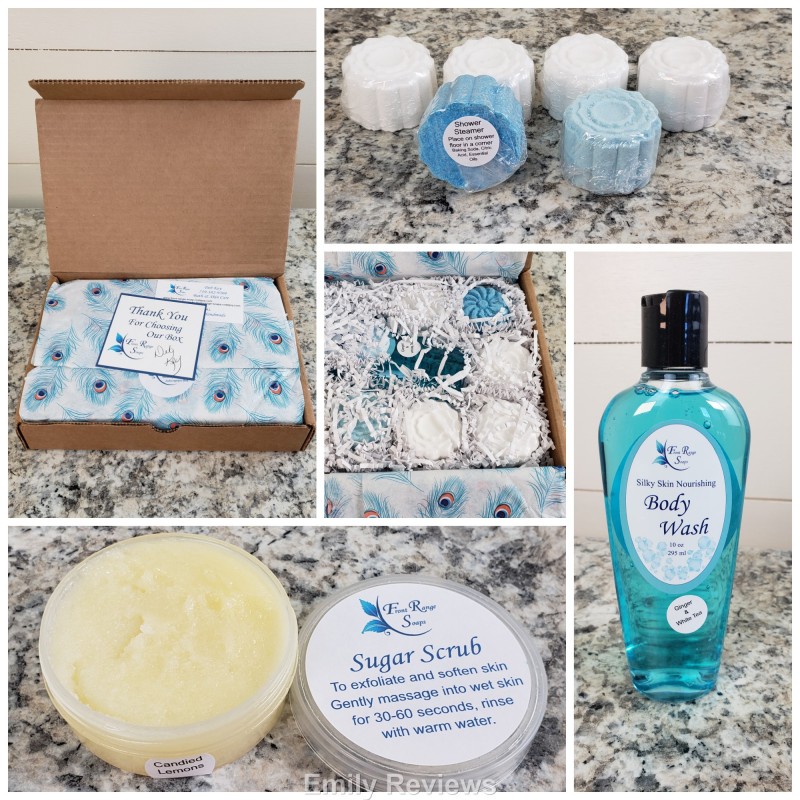 Front Range Soaps subscription box is perfect for someone in need of pampering! Each month they will send you a box full of bath and self-care products.  Products will include a body wash, 6 – 7 single-use shower steamers, and a skincare item such as lotion, cream, or Body Butter. Each item is handcrafted to ensure the highest quality.
I was impressed with the fragrances of each product. That candied lemon sugar scrub smelled good enough to eat! I have a daughter who loves bath products and could definitely use a little spoiling. She is going to love the Front Range Soaps gift set.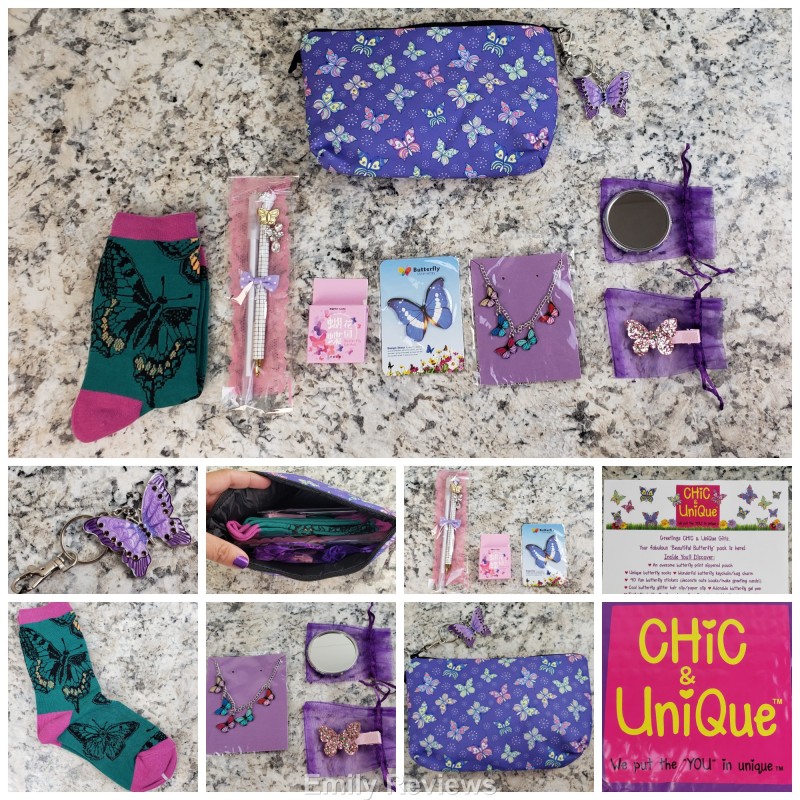 Chic & Unique is designed for tweens who like a variety of fun items that have the same theme. Each kit contains 8-10 themed items such as pencils, socks, hair accessories, stickers, etc. Chic & Unique subscription boxes make fun birthday gifts and holiday gifts. They would also be a cute party favor for guests.
The Chic & Unique set I received had a butterfly theme. It included a zippered pouch, pens, notepad, sticky notes, socks, mirror, necklace, and hair clip. I was impressed that they were able to pull together so many items with the butterfly theme. I have a niece who loves things like this. I think this will be a great gift for her. I can't wait to hear how she used every item.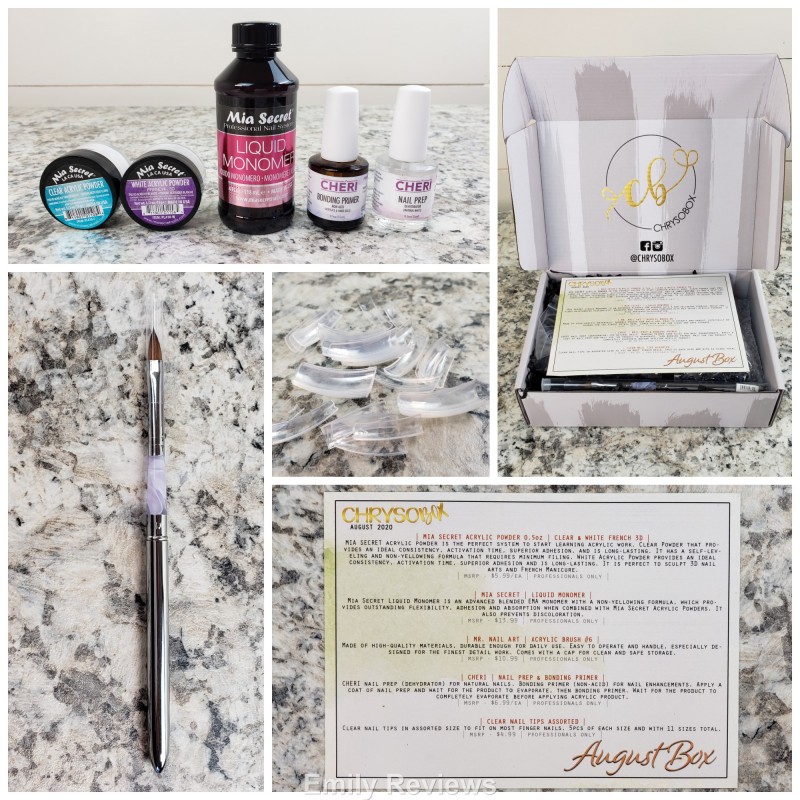 Chrysobox is everything "nails". Each Chrysobox is packed with nail and spa products for all nail enthusiasts, DIYers, technicians, and general lovers of all things nail! If you pre-pay for a 3-month subscription, they will also send you a FREE UV gel lamp!
My Chrysobox included everything to do a full set of acrylic nails. It had two acrylic powders, liquid monomer, an acrylic brush, nail prep, bonding primer, and an assortment of clear nail tips. If you have a budding nail technician on your shopping list, this would be a great gift for them.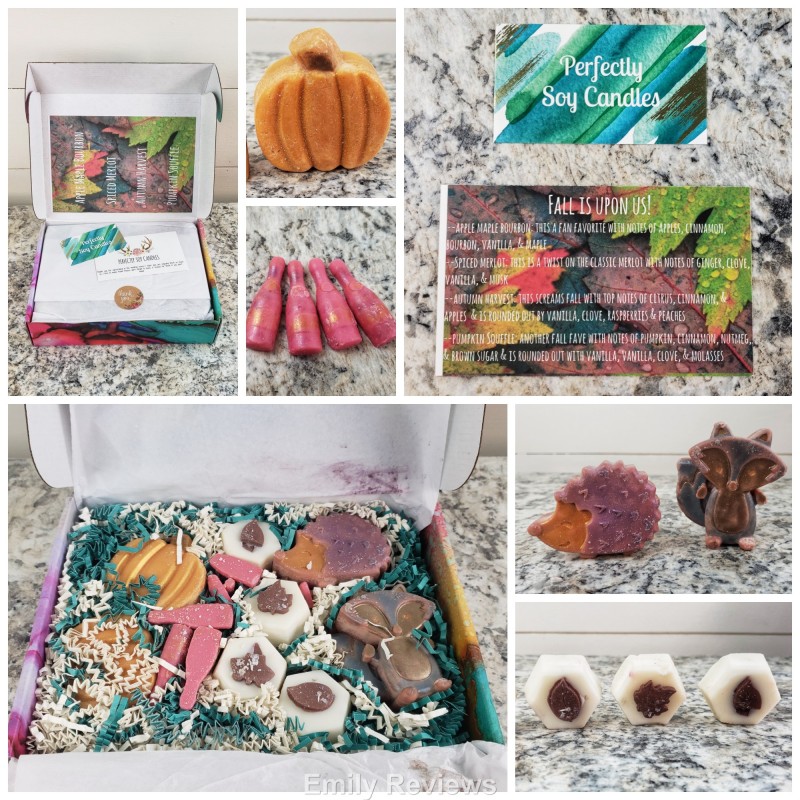 Wax Melt Subscription Box by Perfectly Soy Candles is fun gift idea for anyone who enjoys home fragrances. Each box contains an assortment of four different scented wax melts. They come in a variety of seasonal shapes and colors. Each scent will last a week on average.
If you follow me regularly, then it is no secret that I am obsessed with wax melts. I love getting to choose a scent or scent combination every morning that fits my mood. I have at least one wax warmer in every room of our house. The wax melts from Perfectly Soy Candles were cute and smelled nice.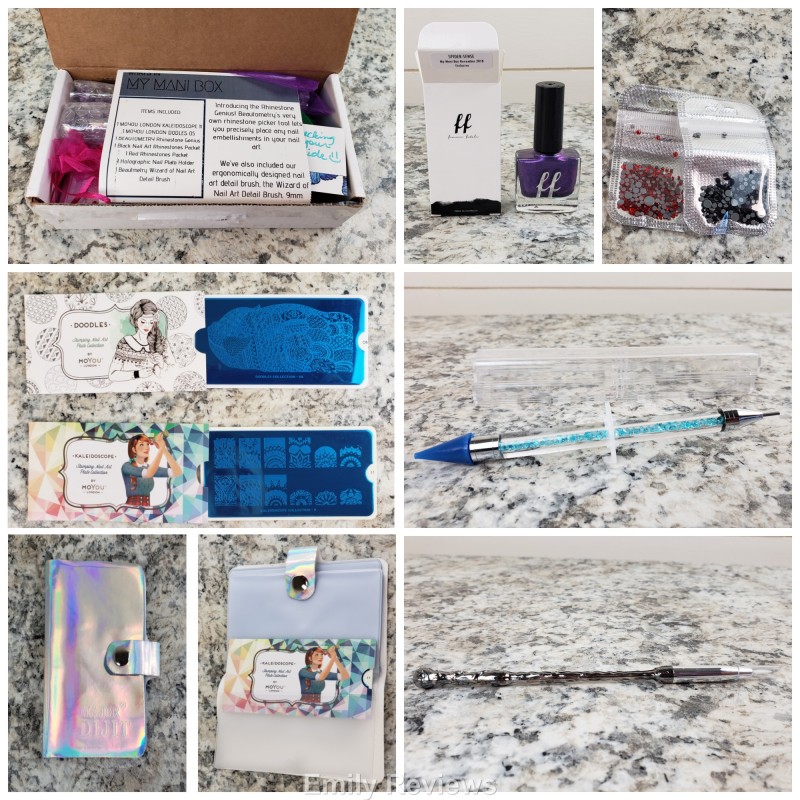 My Mani Box is perfect for anyone on your shopping list who enjoys nail art! Each month, My Mani Box will send you a box filled with nail art products from all over the world. Boxes come with approximately four to six items including two MoYou London Stamping plates (for shorter nails, images approx 1.5cm x 1.3cm) and a nail stamping accessory.
My Mani Box came with the two MoYou London stamping plates, a holographic nail plate album, a Beautometry wizard of nail art detail brush, a Beautometry Rinestone Genius tool, two packs of rhinestones, and a bottle of nail polish. My daughter is quite the nail artists!  She is going to flip when she opens the My Many Box. The stamping plates are something she has never tried. I think she will have a lot of fun with the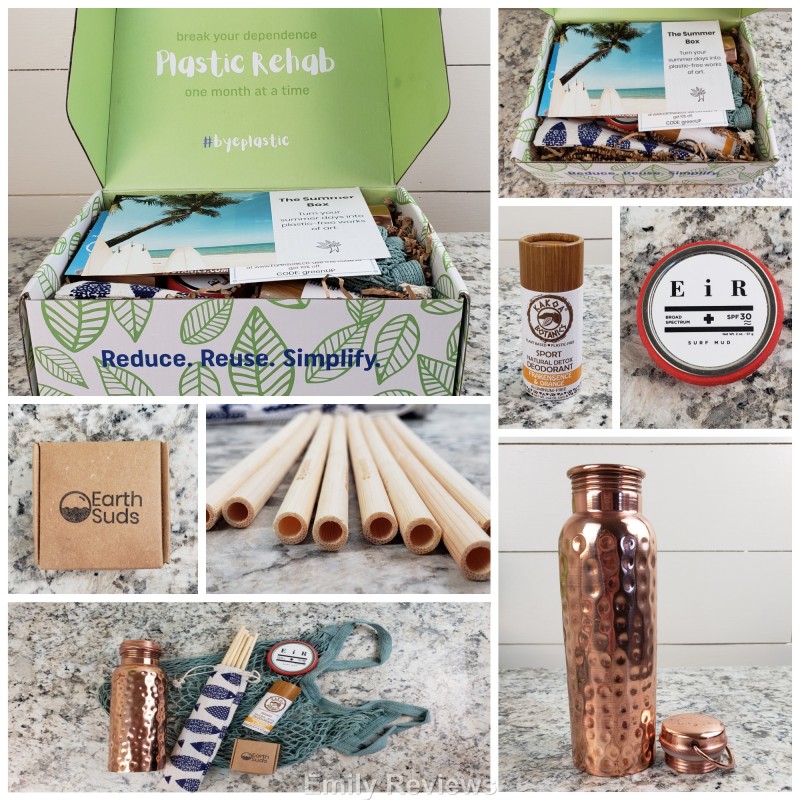 greenUP Box is a thoughtful gift for anyone who enjoys eco-friendly products. Some say this is Cratejoy's #1 rated best new box. Each greenUP box will provide you with 4-6 cruelty-free, ethically sourced items. Using (and reusing) items from the greenUP box helps you lessen your carbon footprint and become more sustainable.
The greenUp Box I received had a copper water bottle, reuseable cloth bag, deoderant, sunscreen, body wash, bamboo straws with holder and cleaning brush. This is a great gift idea for anyone on your shopping list who is looking to leave the planet better than we found it.
Whew! As you can see, I was able to cross several people off my shoppling list at CrateJoy. They really do have something for everyone!
Buy It: Please visit the CrateJoy website to see the great selection of products they offer and convenient shopping locations.
Connect: Don't forget to follow CrateJoy on Facebook, Twitter, and Instagram for the latest product announcements and special offers.


Hello, my name is Laurie. My family and I live near the Oregon coast. When we aren't at work, in school, or on the volleyball court, we enjoy traveling, cheering for our favorite sports teams, playing outdoors, and checking off items on our bucket list. We are lucky in that both sets of our parents, as well as our siblings and their families, live within an hour of us. We get together often to help one another out, celebrate milestones, and go on adventures together.
This post currently has 13 responses.