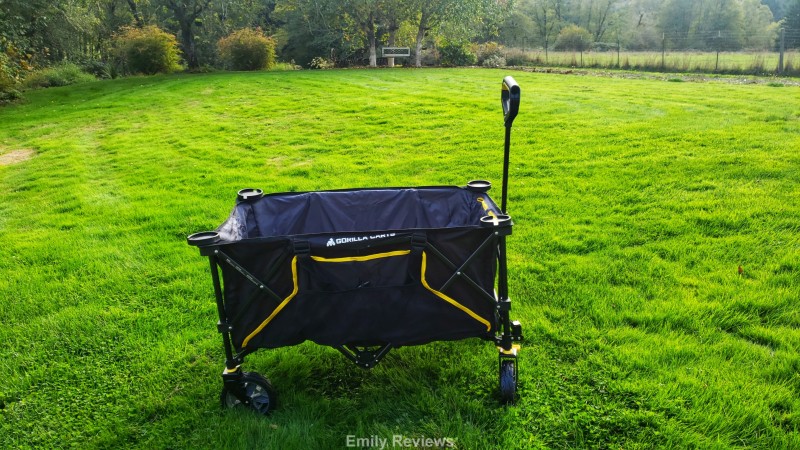 Thank you to Gorilla Carts for providing me with products to facilitate my blog review. All opinions are 100% my own.
Gorilla Carts has a cart for everyone. They offer a very wide selection of extremely well made and thought-out devices to help save our backs and make our workload lighter (literally). Even if you don't have a yard or garden that requires moving items from one area to another, how about sporting events, camping trips or even carrying something heavy from your vehicle to the house?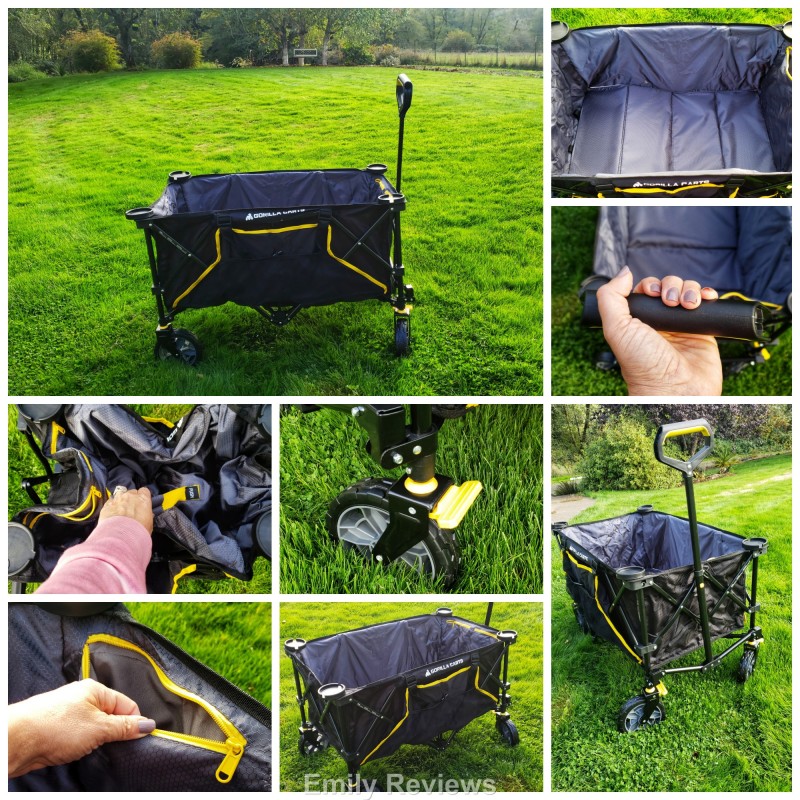 One example of the products Gorilla Carts offers is their GCSW-7P Soft-Sided Folding Wagon, It is a 7 cubic foot collapsible folding outdoor utility wagon with an oversized bed that allows you to haul up to 150 pounds of "stuff". The bed in this cart measures 36 inches by 21 inches by 15 inches and can fold into about half that size for storage and/or taking in your vehicle. The tires on this Gorilla Cart are flat-free tires, the handle is designed and constructed for easier pulling (less strain on your body) and it even comes equipped with four drink holders! …but you don't have to use them just for drinks. You can use them for tools, your cell phone, etc. You can even fill the compartments that are conveniently located on the exterior sides of this cart.
My parents have a motor home. As soon as I saw the GCSW-7P Soft-Sided Folding Wagon, I knew it was the perfect gift for them! The cart folds fairly small so they can easily store it and take it on trips with them. When they arrive at their destination, they can use it to help set up camp. They are going to love it!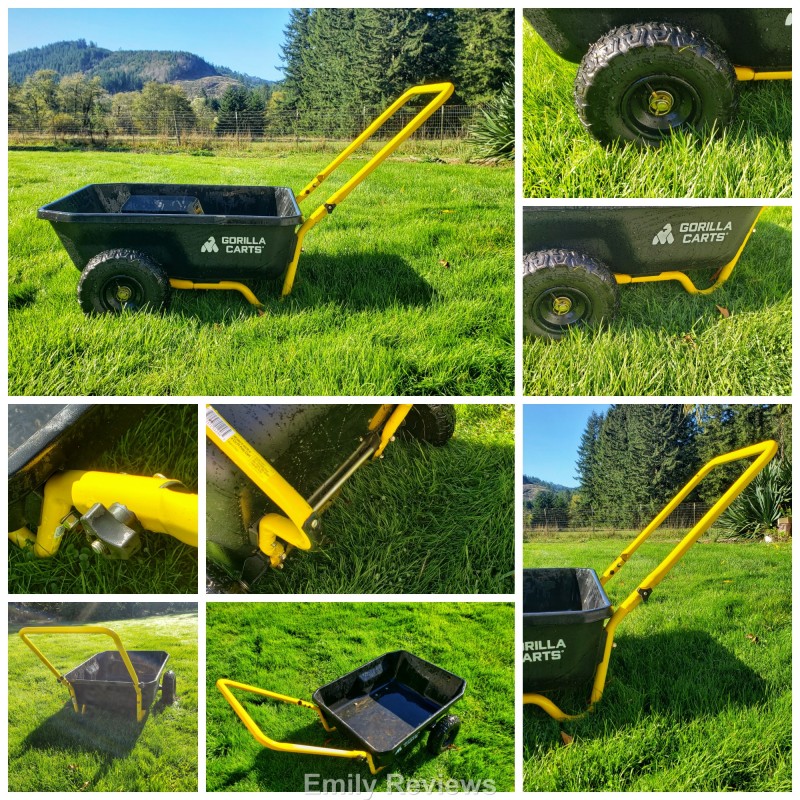 The Gorilla Cart GCR-4 is a 4 cubic foot poly yard cart. It is a great substitution for the wheelbarrow. The GCR-4 is 30 inches by 24 inches and can hold up to 300 pounds. Unlike the typical wheelbarrow, this Gorilla Cart has a very low center of gravity so doesn't tip over nearly as easily and allows you to maneuver a lot of cargo with very little effort. The handle is made of heavy-duty steel and, at the same time, is foldable for ease in storage.
Immediately after I put the GCR-4 poly yard cart together, I put it to use! We always have at least one project going on at home. This day, I happen to be working on landscaping. I was moving a ton of flowers from one garden bed to another. The GCR-4 poly yard cart was a great help in transporting them. I was able to overfill the cart and not worry about it tipping over on the rough and uneven terrain. It was great!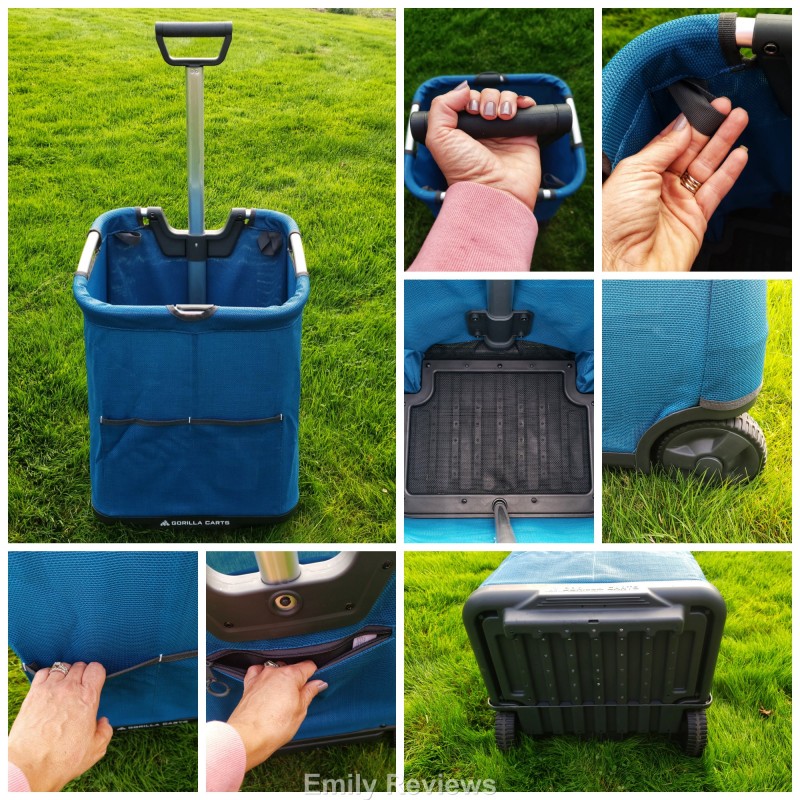 Gorilla Cart also has the GCSS-11B Soft-Sided Folding Cart. It is a lightweight cart that is great for use inside and outside your home. This cart can easily be stored between uses. The fabric used in this product is breathable and easy to clean. You can even clean it by hosing it out because there are drainage holes in the bottom. The carrying capacity for this cart is 2 cubic feet.
My in-laws are also always on the go. I think the GCSS-11B Soft-Sided Folding Cart will be a great gift for them. I can image them using it for transporting items at various gatherings (they are very involved in their community,) using it to help haul groceries from the car into the house, and/or helping with one of their landscaping projects. I have no doubt they will put it to good use!
We now have four Gorilla Carts. I can honestly say we use them all and we use them on a regular basis. We each have our favorite. We use them for SO many projects. They sure make our life easier.
Buy It: Please visit the Gorilla Cart website to see the great selection of products they offer and convenient shopping locations.
Connect: Don't forget to follow Gorilla Cart on Facebook, Pinterest, and Instagram for the latest product announcements and special offers.
Win it: One winner will receive a GCSW-7P Soft-Sided Folding Wagon. This is a US giveaway and it is scheduled to end on 11/16/2020. Good luck!


Hello, my name is Laurie. My family and I live near the Oregon coast. When we aren't at work, in school, or on the volleyball court, we enjoy traveling, cheering for our favorite sports teams, playing outdoors, and checking off items on our bucket list. We are lucky in that both sets of our parents, as well as our siblings and their families, live within an hour of us. We get together often to help one another out, celebrate milestones, and go on adventures together.
This post currently has 9 responses.