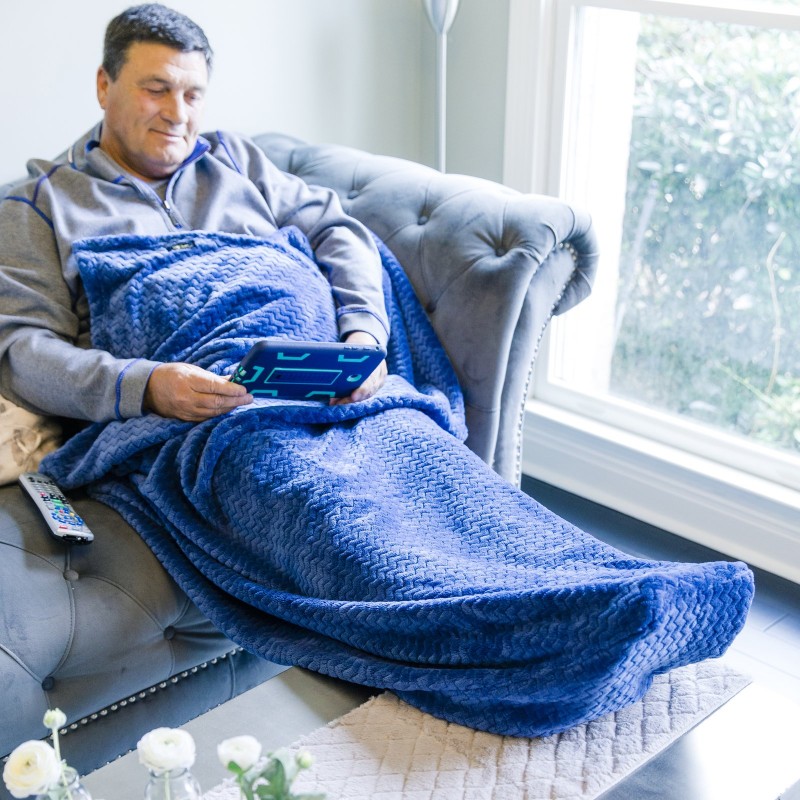 I was sent a Pedipocket blanket for review. All opinions are my own.
I try to use the gift guide season to plan gift ideas for my loved ones. The season is more about giving than receiving and I really love planning gifts for others. Yet, each year, I usually end up working with at least a couple of brands on behalf of myself. This year, the PediPocket blanket was an item I just couldn't help but keep for myself.
I was one of those kids who was mega-attached to a certain blanket. I've just never fully outgrown my love of blankets, I guess! I get cold easily, and Ryan tends to feel warmer than I do so I often sit under a blanket while working on my blog or watching Tv. You will never hear me say that I own too many blankets, as I just don't think that is possible. However, I have definite favorites.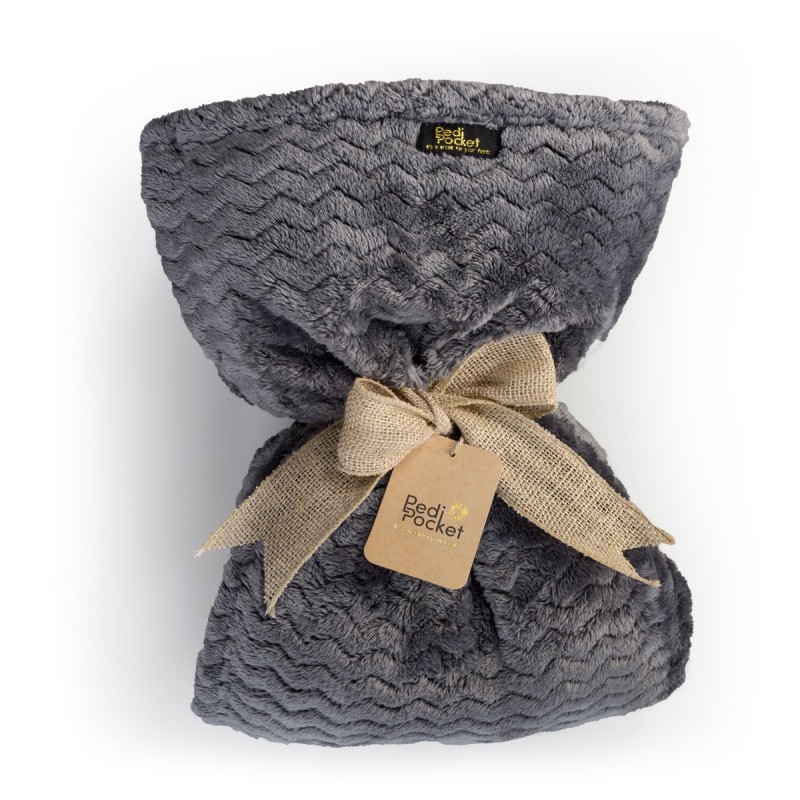 I love really soft blankets, with minky being one of my favorite fabrics, but minky blankets are super expensive. I have some traditional fleece blankets that were soft for the first few washes but quickly change their feel. Beyond the material, size matters to me. I am only 5'1″ so it's surprising to me how standard throw blankets feel too short for me, but they do. Many throw blankets are 50″ by 60″. The 50″ wide is great, but 60″ is a few inches too short for me. Why? Because I like to hide my feet in a little knot of the material at the bottom, while also covering my shoulders…and I can't do that with a 60″ long blanket.
Wanting to knot my feet up in the blanket is why I immediately fell in love with the idea of the PediPocket blanket. This blanket has a pocket sewn into the bottom of the blanket, just so you can wrap your feet up in the fabric! Then when I got reading closer and saw that it's a 50″ by 70″ blanket…10 inches longer than most throw blankets, I was even more excited!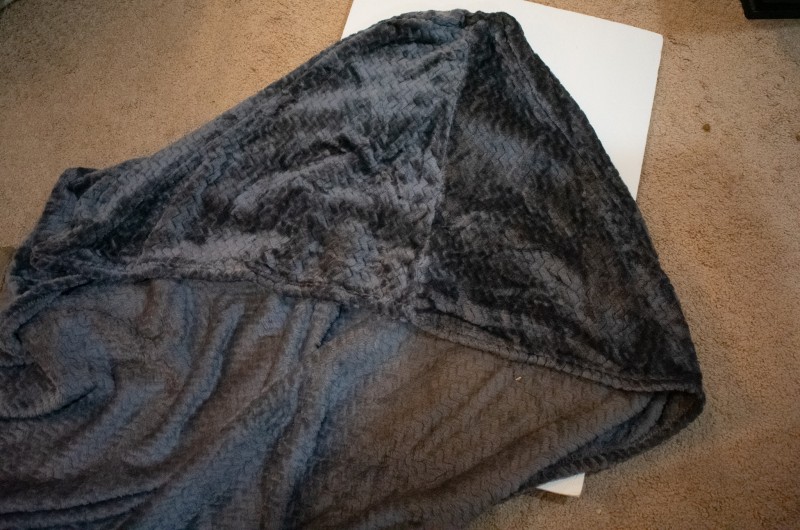 These blankets are said to be "plush fleece with a velvety feel". I don't know a ton about fabrics or how these are defined or how the terms are regulated or anything like that. So it may be "incorrect" in marketing or brand terms….but as a layperson, if I would have felt this and been asked to call it something, I would have said micro-plush. I wouldn't have thought of fleece. It's softer than how I think of fleece, and more fuzzy. The blanket I was sent is the "sultry smoke" which is a gray blanket with sort of a zig zag type texture to it. I really like the texture, I find it satisfying to 'pet' this blanket not just because of the softness but also because of the texture that the zig-zag pattern in the stitching creates.
I was curious if the pocket would cause the lower portion of the blanket to be very narrow, sort of making the overall blanket V-shaped. It does narrow at the bottom to aid with creating the pocket, but it doesn't narrow in a way that makes the blanket feel skinny or small at all. Overall, using this blanket, it feels generously sized compared to any of my other throw blankets. I easily cover my feet and my shoulders at the same time, and am able to wrap this blanket around my sides very easily as well. I have washed it twice and it held up great, it didn't lose any fibers as far as I could tell.
I've slept with his blanket on chilly days and have not struggled to keep well covered and comfortable. It is just one layer thick, but it is very warm. We've had some unseasonably warm days this November here (like 75 degree days!) in Michigan and it's been a bit too warm for me some days but it will be great for most of the winter and early spring here in the upper midwest.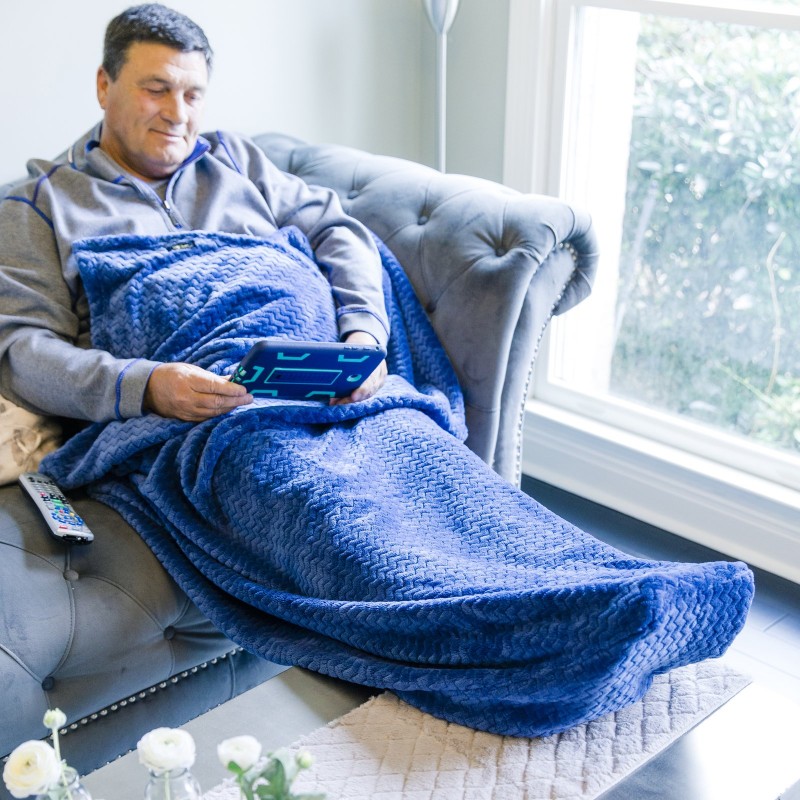 Something a little funny about this blanket, is it makes you conscious of the "foot end" of the blanket! I regularly grab this and try to dig my feet into the pocket but can't find it, only to realize the foot pocket is up by my head, instead. My reaction is to be grossed out! Yet, it's made me realize that with other throw blankets I probably reverse the ends regularly without having a clue that I'm now snuggling with the part that was at my feet last time!
The PediPocket comes in 15 colors or prints for the adult PediPocket. They also make a kids PediPocket blanket and an XXL PediPocket blanket!
Buy it: PediPocketBlanket.com.
Win it: An Adult sized PediPocket blanket in winners choice of color or print from those available! This giveaway is open to the US.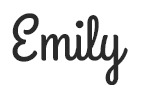 Hi there! I am Emily Evert, the owner of Emily Reviews. I am 28 and live in a small town in Michigan with my boyfriend Ryan and our two pugs. I have a large family and I adore my nieces and nephews. I love reading memoirs, and learning about child development and psychology. I love watching The Game of Thrones, Teen Mom, Sister Wives and Veep. I like listening to Jason Isbell, John Prine, and other alt-country or Americana music. I created Emily Reviews as a creative outlet to share my life and the products that I love with others.
This post currently has 7 responses.