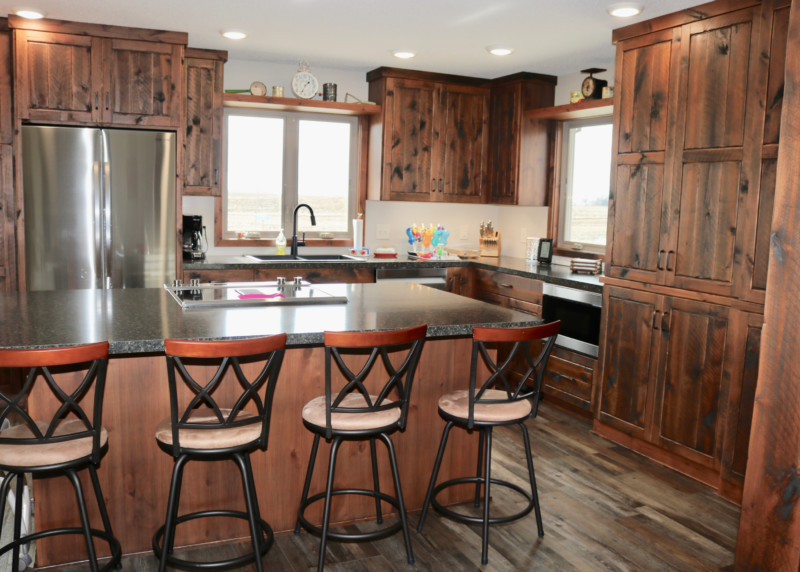 We just completed a home remodel. We live in a bi-level and we remodeled the upper level of the house as well as the entryway. This is our first home and also hopefully our forever home. So 6.5 years after we bought it, we finally decided to take on a remodel to make it the home of our dreams.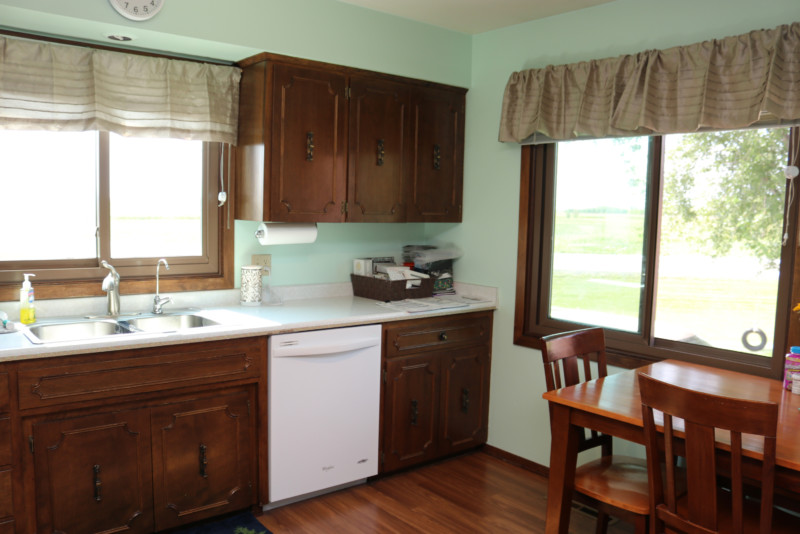 We removed a wall between the kitchen and living room to make an open concept kitchen/dining/living room. We took out the bulkhead in the kitchen and took the walls down to the studs, added insulation, new windows, electrical, sheetrock, lighting, cabinets, countertops, appliances and an island. We added a fireplace in the living room, and new paint and flooring in the entire upper level and entryway. We also completely updated the upstairs bathroom with new flooring, cabinets, countertop, fixtures and paint.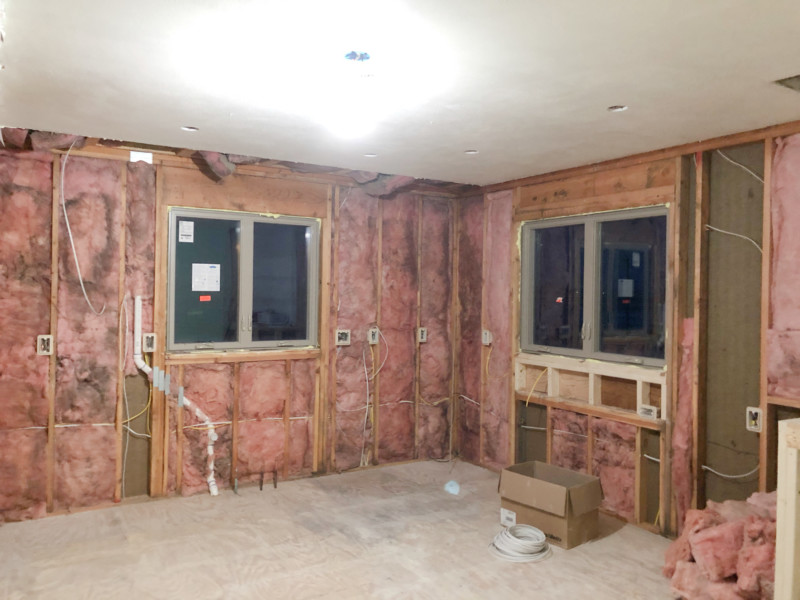 Neither my husband or I had ever done a remodel before. We asked advice from friends and family who had completed remodels, researched online and learned on the fly. We've now completed the remodel and I wanted to share my
Top 5 Tips For Planning Your Remodel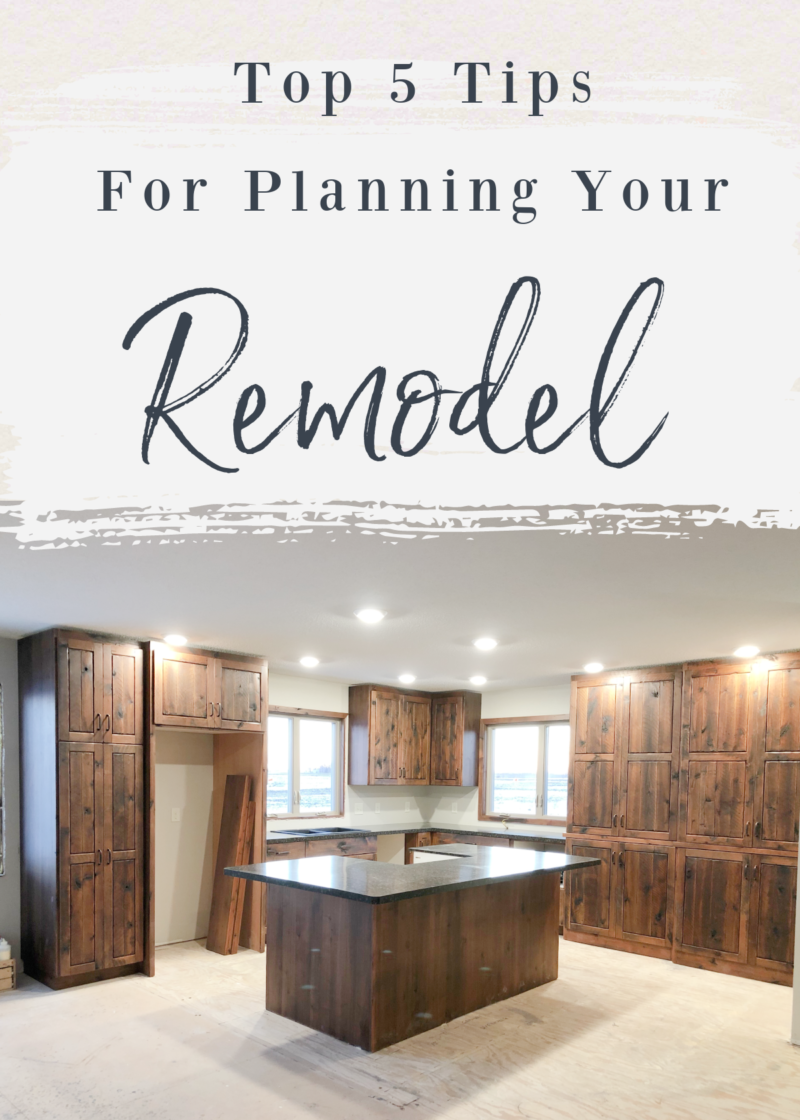 Tip #1 Make a vision board of ideas and materials you like on an app like Pinterest or Houzz. Take your time. Go on a tour of homes if there is one offered in your area. Ask local friends and family about their favorite companies to work with (such as plumbers and electricians), as well as those to stay away from.
Tip #2 Decide on a budget before you begin. Make sure that can afford the changes you are planning to make. The last thing you want is to get half way through your project and run out of funds.
Tip #3 Get quotes from at least two companies for each service you need (construction, electrical, plumping, flooring, painting, etc.) Make sure ask about timing when you are getting the quotes – if one company can begin work next month, but the other company is booked six months out, you'll need to take that into consideration.
Tip #4 Plan ahead. If you are contracting your own remodel, order materials and get on the schedules for the lectrician, plumber, flooring installation etc. sooner rather than later. You can always adjust dates as you go, but it's important to get on their schedule. We scheduled our backsplash in January and weren't able to get on the schedule for installation until April! We also found out that many of the materials needed took months to receive after ordering. It took us 2.5 months to get windows after ordering. A friend's new oven took 9 months to receive!
Tip #5 Make a plan for your living arrangements during the remodel. Can you live in your home while remodeling it? Will you have access to a toilet, shower, running water and electricity the whole time? How and where will you cook? Where will you sleep? Can you handle living in a mess? (I was told that it was going to be messy, but I underestimated the amount of dust that was everywhere) If you have little kids, where will they play? Will it be safe for them? If you aren't able to live in the home, renting a place, going on a vacation (if you are not the one doing the contracting), or living with a friend or family member may be your best option.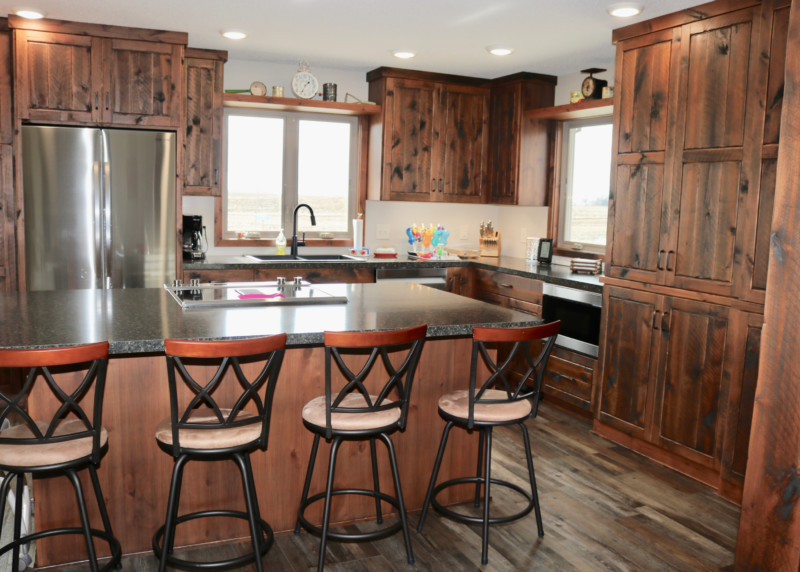 Keep watching the blog, a post with tips for remodeling with little children in the home is coming soon!

Hi, my name is Asha. I am 34-years-old and am a nurse by profession. Right now I am battling Breast Cancer. My husband and I have been married for 8 years and together we have a sweet seven-year-old daughter, a fun four-year-old son, and a lovable bunny named Caramel. I enjoy spending time with family, taking photographs, scrapbooking, hunting, fishing, cooking and gardening.
This post currently has 14 responses.