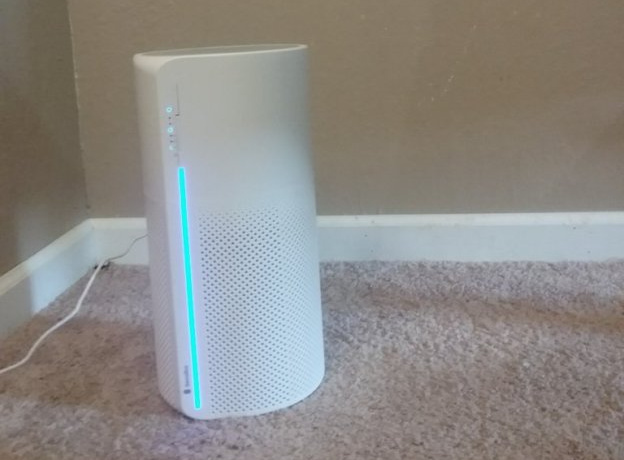 I was sent a Sensibo Pure smart air purifier for review. All opinions are my own.
Sensibo Pure Smart Air Purifier Review
Something we've learned through the last year of barely socializing or leaving the house – is Ryan and I both have worse allergies than we realized! We used to think we got mild colds frequently. We've basically quarantined all year. We've found that we get cold-like symptoms sometimes even though we haven't been around anyone to have caught a cold. We used to think we only had seasonal allergies, but we've both had allergy symptoms outside of season changes.
I still feel a bit silly that it took long-term quarantine to realize we had allergies but, I am glad we now know. We don't really know what we are specifically allergic to, unfortunately. Still, we thought we should try an air purifier to see if we could filter out some allergens. We've been using the Sensibo Pure which is a smart air purifier.
It uses strong HEPA and carbon filters which can remove particles as small as .1 UM and protect against viruses, bacteria, dust, smoke and even bad odors. I had no idea that air purifiers could assist with odors, did you?
My favorite aspect of the Sensibo Pure is how you leave it on all the time, and it uses smart detection to decide when to run.
The Sensibo Pure can work with Amazon Alexa devices, Google Assistant or Siri depending on which program you prefer to use in your home.
You can use the app to get information from Sensibo such as check your current air quality in different rooms, the fan level on the device and more.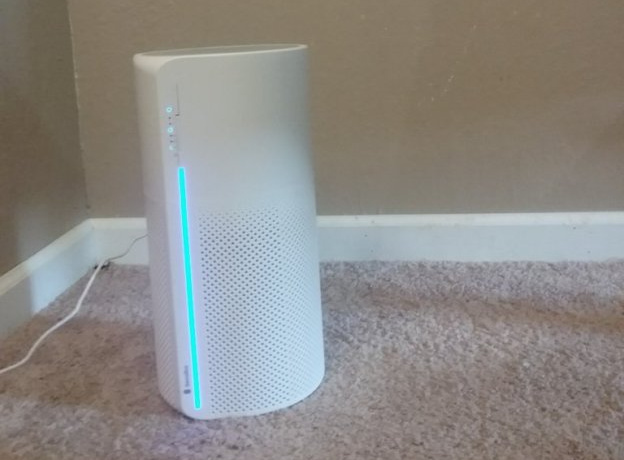 We aren't a household that is super into "smart" devices. We don't currently use any of those programs very much at all. We have an Alexa-enabled speaker that we use for music but that's really about it. I appreciate that some people really like being really tuned-in with various appliances or devices in their home but I'm just not into managing things that closely.
Maybe that sounds a bit lazy, but I'd rather just let things sit and run – which is why I love that the Sensibo Pure senses when it needs to run. I don't have to remember to turn it off and on. I can just let it set and it takes care of itself. That's my kind of device!
With air purifiers I've owned in the past, I've found myself wondering if they were really doing anything. It's often hard to really know, seems how we can't see air quality. Something Ryan and I have liked about the SensiboPure is how it has different light colors depending on the current air quality.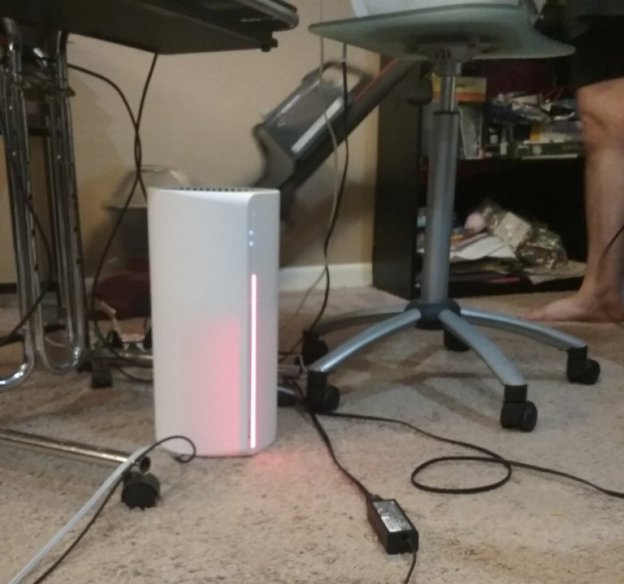 We've noticed that when we vacuum in the same room as the air purifier, within a few moments the air purifier will turn on, and the light will turn from blue to yellow. When we were using a carpet shampooer last week, it even returned red, so I snapped this picture real quick. This tells me that it's sensing the increase in the dust/dirt in the air that has resulted from the process of vacuuming, and the air purifier is getting to work to clean that air that has been kicked up.
In other words, it gives me confidence that the Sensibo Pure really is detecting the air quality accurately, and is kicking on or working harder as needed.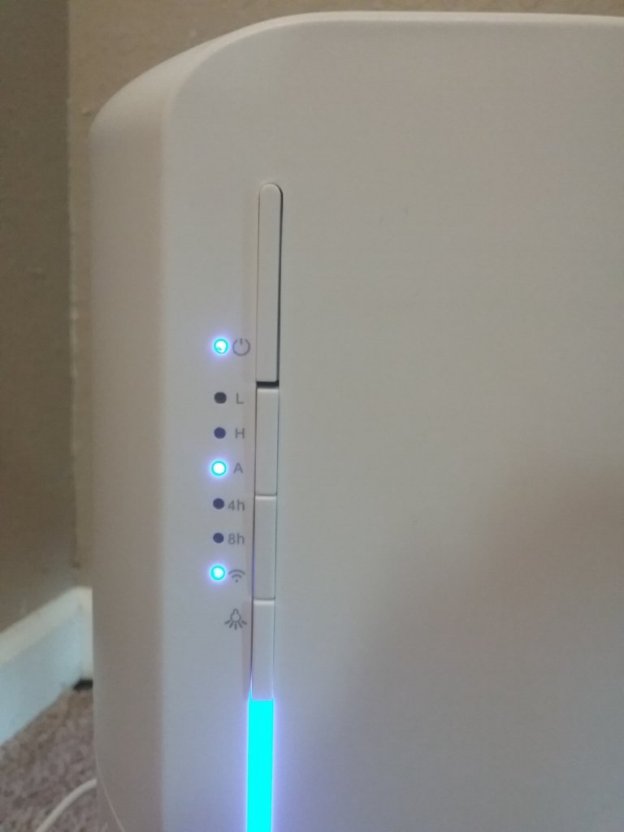 It does also have some manual buttons. You can set it to low, high or automatic. Or you can set it to run for 4 hours, 8 hours, or to use the smart sensing via wifi. There's also a button that allows you to turn off the light if you want it to stay off. While we haven't used these buttons beyond just initially setting them, I do like that they are offered. When it kicks on high, the fan works harder and it makes a little bit of noise. If it were to be trying to run on high while you needed quiet, it would be nice to be able to set it on low manually, or just temporarily turn it off. Or if you are using this in a bedroom, it may be nice to be able to turn the light off.
The Sensibo Pure is for rooms ranging from 173 square feet, to 294 square feet. This will cover most individual rooms. If you want to filter multiple rooms, you'd want a unit for each room, most likely.
Sensibo Pure Air Purifiers
Currently, the Sensibo site doesn't mention replacing filters. When speaking to someone who works for Sensibo, they said they will be recommending that filters are changed every 6 to 12 months. They will be selling filters for $35 individually, or they'll be allowing people to subscribe to get new filters sent to them automatically, and that service will offer the filters are a 'greatly reduced price'.
Win it: Sensibo is offering a Sensibo Pure Air purifier to one lucky winner! This giveaway is open to the US and will end 4/26/2021.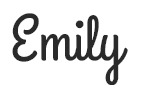 Hi there! I am Emily Evert, the owner of Emily Reviews. I am 28 and live in a small town in Michigan with my boyfriend Ryan and our two pugs. I have a large family and I adore my nieces and nephews. I love reading memoirs, and learning about child development and psychology. I love watching The Game of Thrones, Teen Mom, Sister Wives and Veep. I like listening to Jason Isbell, John Prine, and other alt-country or Americana music. I created Emily Reviews as a creative outlet to share my life and the products that I love with others.
This post currently has 8 responses.