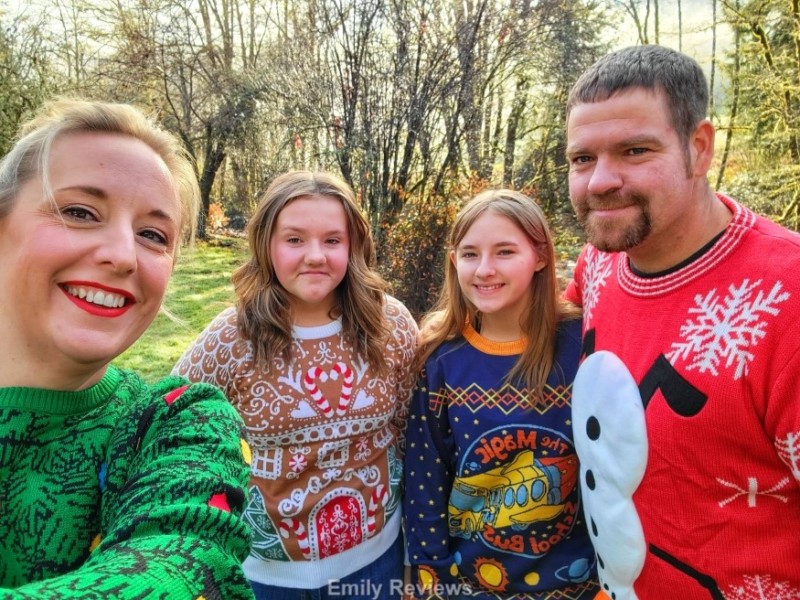 Thank you to Fun.com for providing me with products to facilitate my blog review. All opinions are 100% my own.
For the last five years, we have hosted a Christmas Eve party for my family as well as my husband's family. We have a delicious potluck, play some games, exchange gifts, and enjoy each other's company. This year, we decided to make the gathering an Ugly Christmas Sweater party. We thought it would be fun to see the sweaters everyone comes up with.
We haven't been to an Ugly Christmas Sweater party in fifteen years so we didn't have anything on hand to wear. While gift shopping on Fun.com, I noticed they had a great selection of Ugly Christmas Sweaters to choose from. My family and I sat down and decided which sweaters we wanted for the party.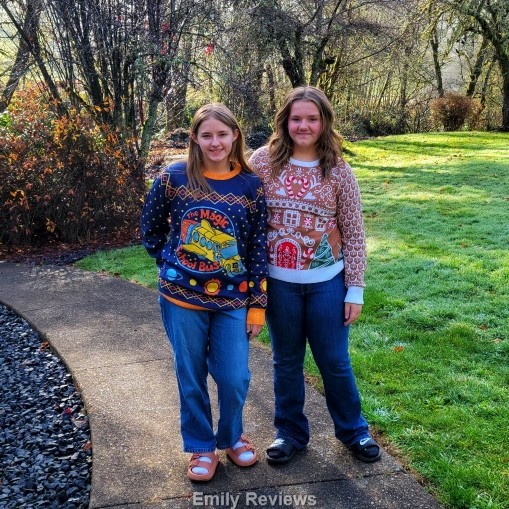 My almost 15-year-old daughter chose the Adult Magic School Bus Ugly Christmas Sweater. Apparently, my daughter is a fan of Ms. Frizzle. (I have never seen this show. My daughter tells me I am missing out and need to watch it asap!) The sweater has a fun outer space-themed pattern and a bright school bus on the front. The Adult Magic School Bus Ugly Christmas Sweater has a loose-knit and cozy feel.
My 12-year-old daughter selected the Gingerbread House Ugly Christmas Sweater for Women. The sweater has a beautiful intricate gingerbread house pattern on the front and back. The gingerbread house is complete with white icing designs, peppermint swirls, and Christmas trees. The Gingerbread House Ugly Christmas Sweater for Women is made with comfortable knit and has an attractive fit.
My husband decided on the Snowman Balls Ugly Christmas Sweater. This sweater has a playful snowman standing on his head. The snowman has an attached 3D stuffed carrot nose, dangling Christmas balls, and festive tinsel. The sweater is soft and has a relaxed fit.
I had to have the 3D Squirrel in the Christmas Tree Ugly Sweater for Adults. Christmas Vacation is one of my top five favorite Christmas movies. I have seen it more times than I can count. The sweater is made with a plush knit material. The adorable stuffed squirrel figure attaches to the left shoulder of the sweater with metal snaps. The squirrel is approximately 7″ tall.
I am excited to see the variety of Ugly Christmas Sweaters we have at our Christmas Eve party!
Buy It: Please visit the Fun.com website to see the great selection of products they offer and convenient shopping locations.
Connect: Don't forget to follow Fun.com on Facebook, Twitter, and Instagram for the latest product announcements and special offers.


Hello, my name is Laurie. I have been married to my husband for 14 years. We have two young daughters, ages 11 and 13 years old. My family and I live in Oregon so that means we are just minutes from the beach, mountains, and desert.  We love it here and try to spend as much time outdoors playing as we can. When we aren't outside playing, I enjoy reading, gardening, refinishing furniture, and other crafts.
This post currently has 5 responses.