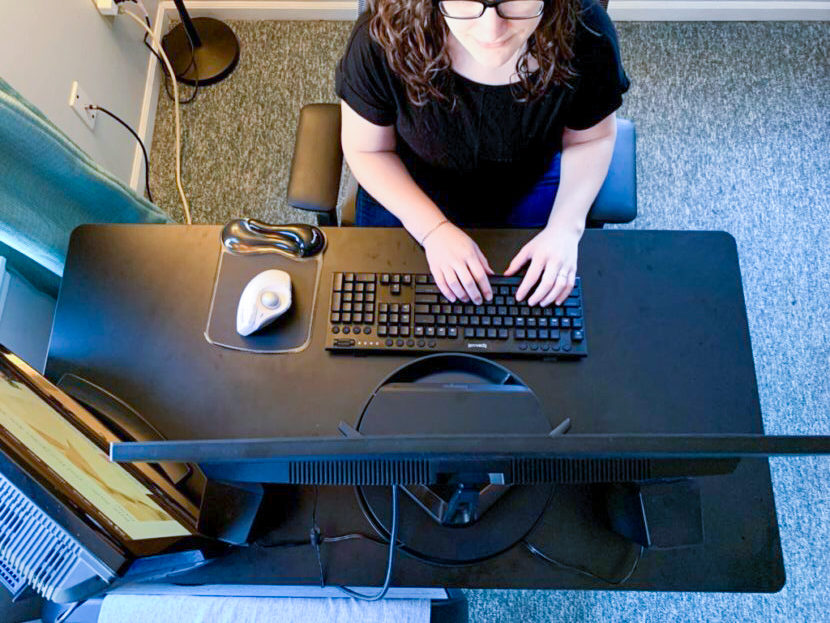 Victor Technology sent me their High Rise Height Adjustable Electric Full Standing Desk DC840B for Review. All opinions are my own.
With the start of a new year, many of us think about our health. Most people think about our diet and exercise, and stop there. There are so many other elements of health to consider! For those who work on computers, considering how much you're sitting is an important aspect of your health to consider.
More and more, we see that sitting too much leads to adverse health effects. While getting exercise is important, even standing up while working can improve our well-being. At the same time, most of us don't want to stand up all day at work!
The Victor High Rise Adjustable Electric Full Standing Desk is a great way to sit some, and stand some, throughout your workday.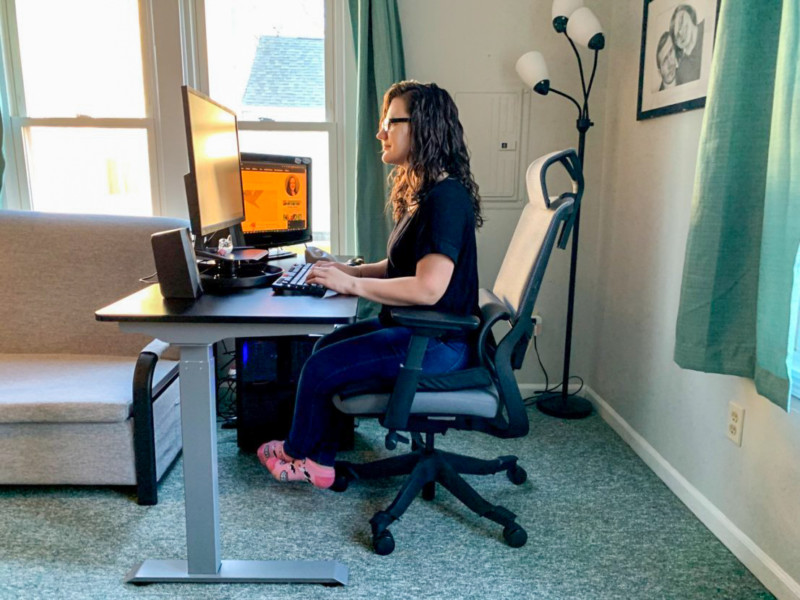 This desk measures 48″ wide and 23.6″ deep. This desk is reasonable for small offices or homes, as it's smaller than some. Ryan used to have an L shaped desk, which was okay at our last home, but since we moved this fall it was really taking up a lot of our living room. We switched to this Victor standing desk because it was a smaller width. Still, it's been an easy adjustment for him to make because it's deeper than his old desk was.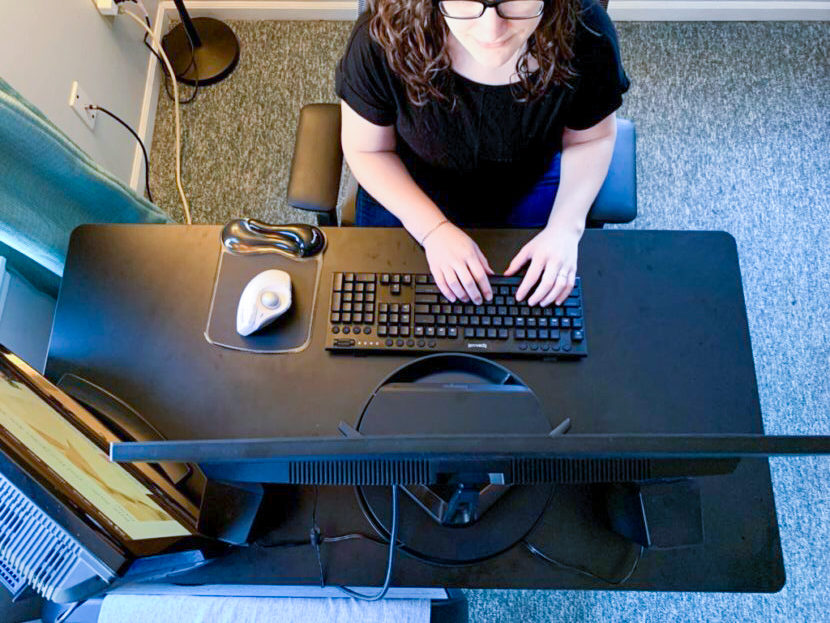 Ryan enjoys having two monitors to work from (both are pretty large), and a desktop keyboard. All three fit on the Victor high risk standing desk, without it feeling too crowded in terms of the depth. The underside of the desktop has cable management to help keep your cords secure and out of sight.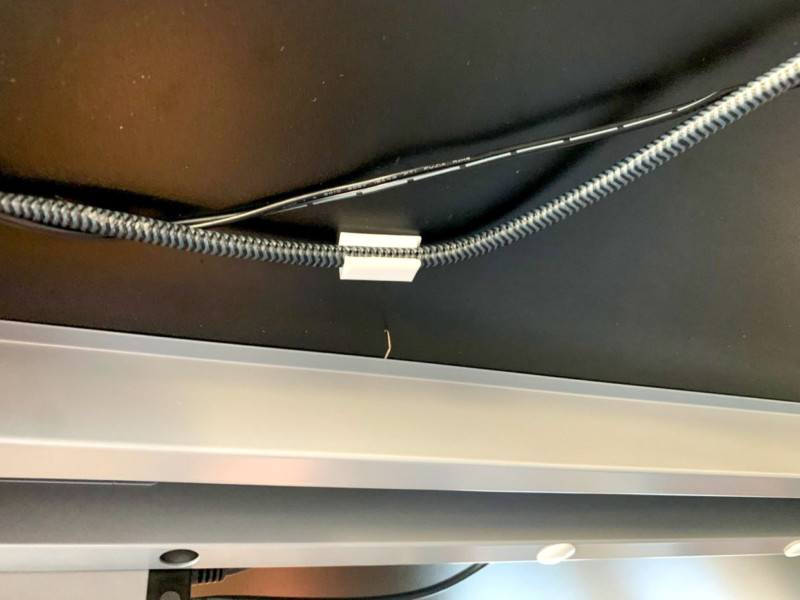 This white piece is part of the cable management. There are several pieces included and you can place them wherever works best for your set up.
Ryan wanted to work on spending less time seated while working, so the ability to adjust the height from 28.7 to 48.4″ heights is really nice. It has a memory setting function that will save four different heights. This means he can set one button to his preferred sitting height, and one to his preferred standing height.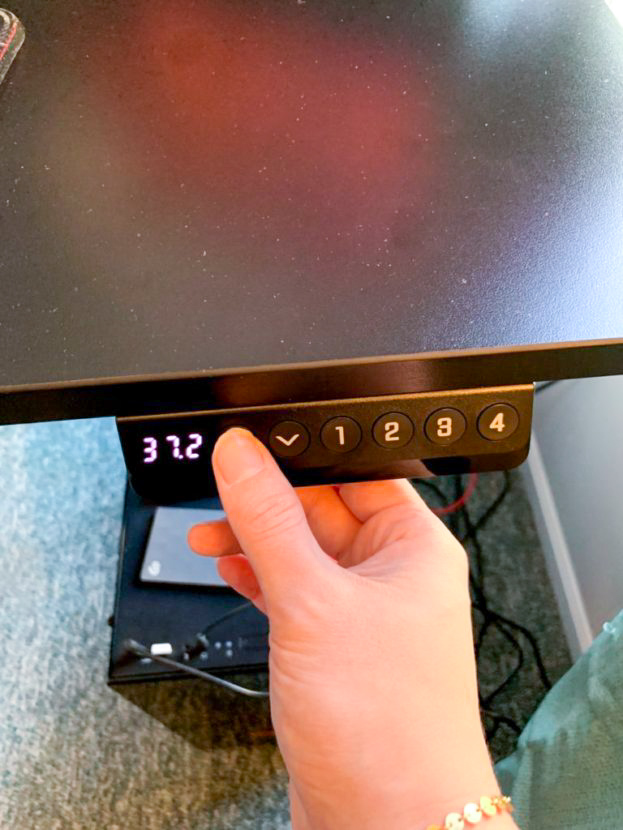 In addition to the adjustments being a great way to allow you to stand and work, it's also good for getting an ergonomic fit while sitting.
Ryan uses a desktop and I have a laptop, so we don't share his desk. If your office (or home) has multiple people using the same desk, you could program the other two buttons to the settings that someone else prefers, which would be really convenient.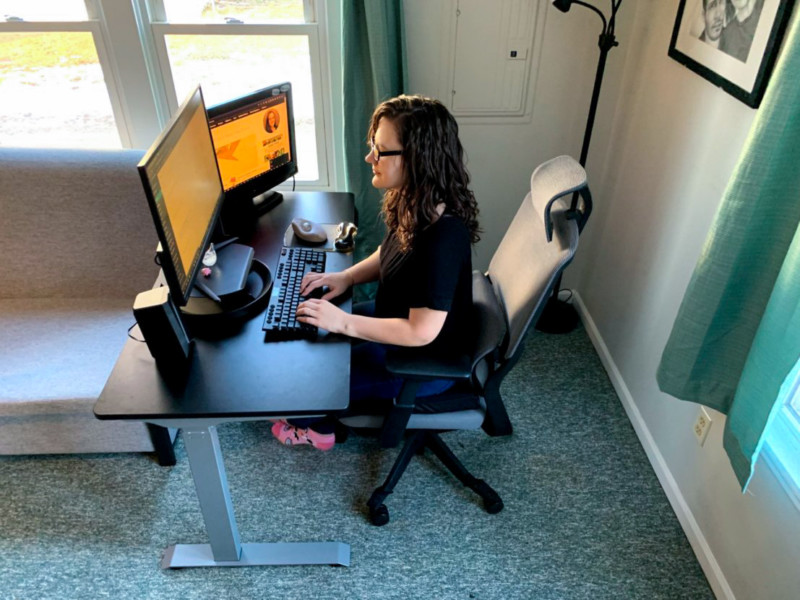 While there are four programmable buttons, you can also just use the up or down buttons to customize the height of the desk to any height you'd like, at any time. You aren't limited to choosing just four options.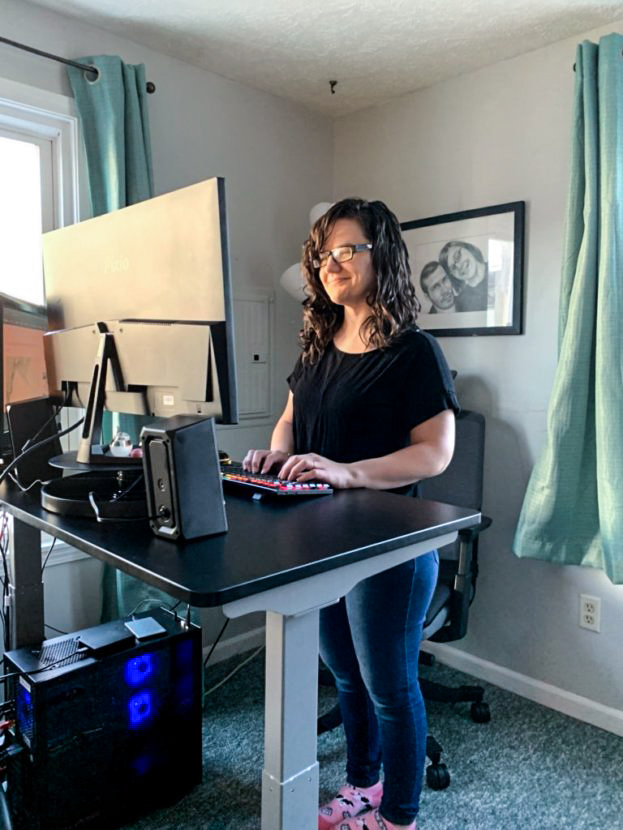 This is with the desk adjusted to my standing height (I had the desk at about 37 inches tall here, and I'm 5'1″. The height can adjust from 28.7 to 48.4 so this height is just shy of halfway between the shortest and tallest heights).
We both love how the height has an electric adjustment. Ryan's computer monitors cost a pretty penny, so we'd worry about having to manually adjust the height on a non-electric desk. Thankfully, this one is electric and it moves slowly and really just glides its way up or down while you're adjusting it. There is no 'roughness' to the movement, so we don't worry about anything on the surface of the desk being knocked off.
The adjustment is also really quiet, so you don't have to worry about disrupting those around you while you adjust the height of your desk.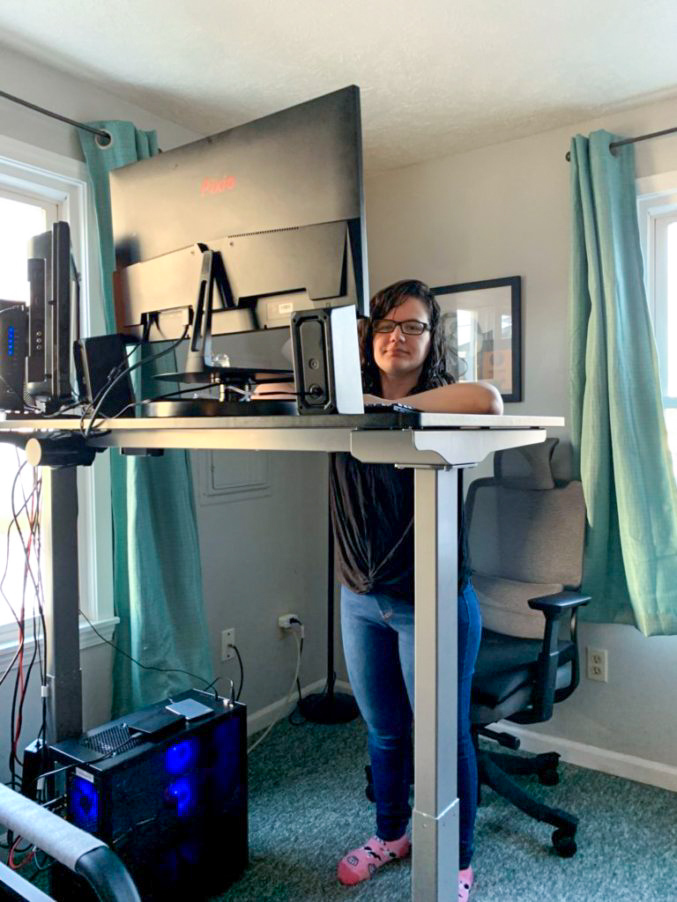 I'm short, but when this desk is at its max height of 48.4″ tall – that's REALLY tall for a desk. This desk will definitely accommodate people of all heights.
The desk is pretty heavy, the legs are steel and the desk surface is 3/4 of an inch thick. It feels very sturdy and well made. I imagine this desk will last us for years to come.
Buy it: You can purchase the Victor High Rise Height Adjustable electric standing desk DC840b on the VictorTech.com website, Amazon.com, BestBuy.com or at other retailers.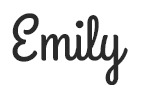 Hi there! I am Emily Evert, the owner of Emily Reviews. I am 28 and live in a small town in Michigan with my boyfriend Ryan and our two pugs. I have a large family and I adore my nieces and nephews. I love reading memoirs, and learning about child development and psychology. I love watching The Game of Thrones, Teen Mom, Sister Wives and Veep. I like listening to Jason Isbell, John Prine, and other alt-country or Americana music. I created Emily Reviews as a creative outlet to share my life and the products that I love with others.
This post currently has 6 responses.