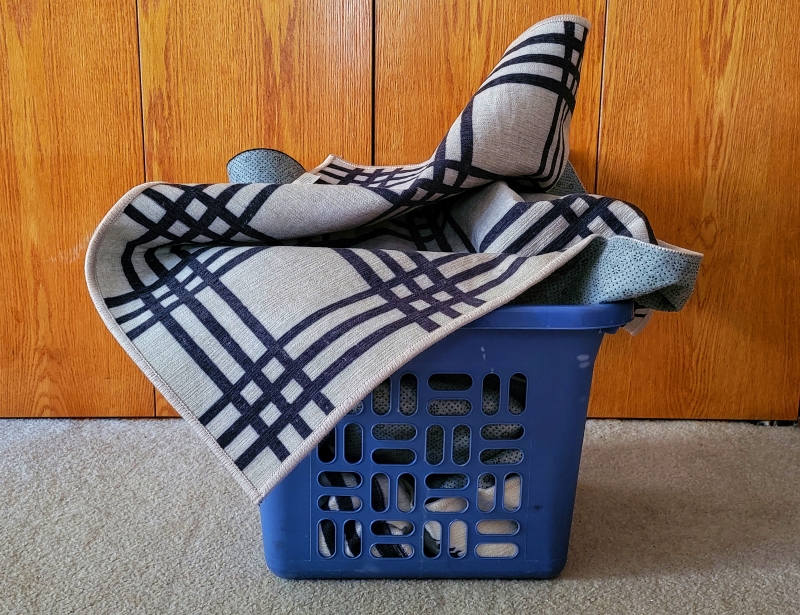 Thank you to My Magic Carpet for providing me with products to facilitate my blog review. All opinions are 100% my own.
I love the cozy feel that area rugs give a home. I enjoy the soft feeling under my feet and the visual interest that area rugs provide. To me, area rugs are like an accessory that pulls the room's outfit together.
What I don't love about area rugs is the fact that they collect hair, dust, debris, and other things I don't want to think about.
When I learned about a company called My Magic Carpet that makes machine washable area rugs, it was like someone had read my mind!
My Magic Carpet offers its customers an assortment of area rugs and runners that are made durable enough to be machine washed and dried. They fit any standard-sized washer and dryer.
I went through the assortment of area rugs offered. I chose three 5×7 area rugs, one for each of the interior/exterior doors of our home. (Please ignore the door trim. We are in the process of updating it. 🙂 )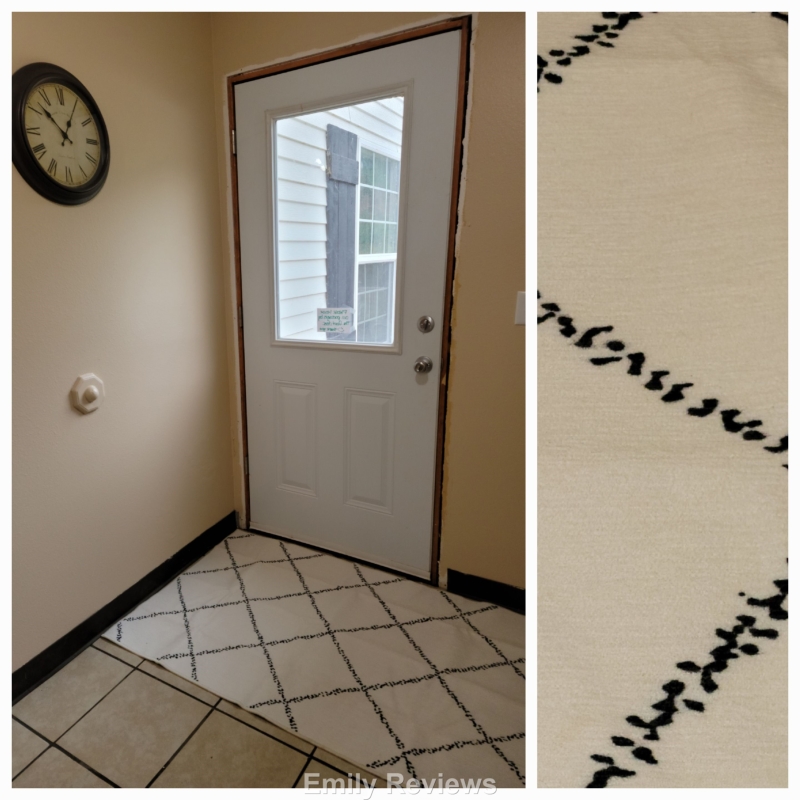 For our mudroom (aka the dogs' room) I selected the Medina Moroccan Diamond Ivory Washable Rug.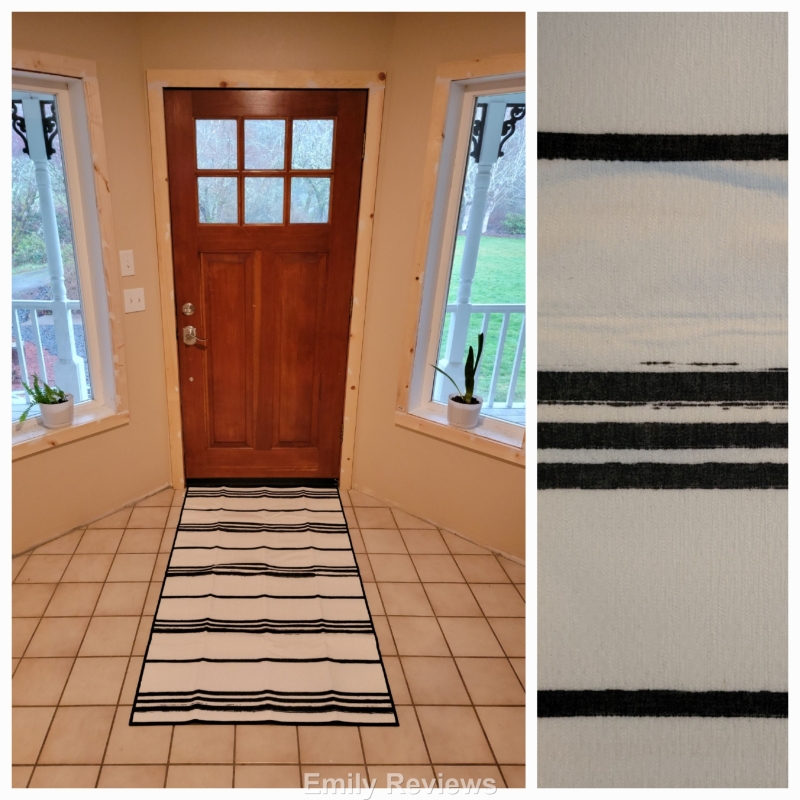 I chose the Stripe Black and White Washable Rug for our front door entryway.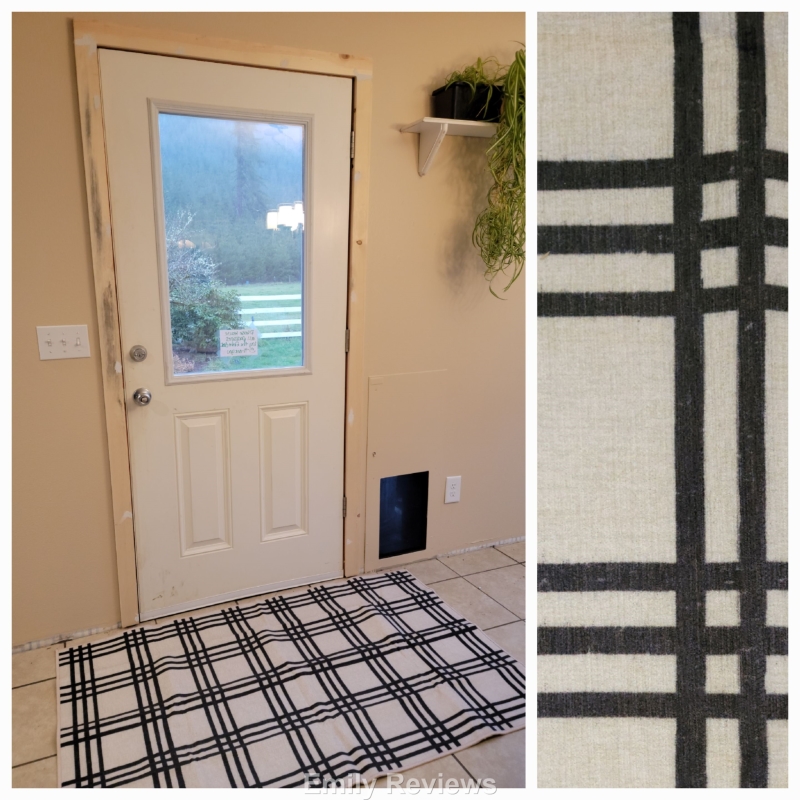 Finally, I decided on the Plaid Black and Cream Washable Rug for our kitchen door.
My Magic Carpet rugs have a patent-pending nonslip backing. They are safe for use on all vinyl, hardwood, tile, or laminate surfaces.
My Magic Carpet rugs are stain-resistant and have a waterproof lining.
I have had the My Magic Carpet rugs in place for about a month now. Because it is spring in Oregon that means a lot of mud and rain have been tracked in on our shoes and paws. I have washed my area rugs a couple of times. They have come out looking fresh both times.
I am pleased with our My Magic Carpet area rugs.
Discount: Right now, My Magic Carpet is offering Emily Reviews readers a gift code for 30% off purchases. Use code: WOW30 upon checkout for savings.
Buy It: Please visit the My Magic Carpet website to see the great selection of products they offer and convenient shopping locations.
Connect: Don't forget to follow My Magic Carpet on Facebook, Pinterest, and Instagram for the latest product announcements and special offers.
WIN IT: One winner will receive a 5×7 Shag Rug from My Magic Carpet. This giveaway is open to US residents. The giveaway is scheduled to end on 4/21/2022. Good luck.


Hello, my name is Laurie. My family and I live near the Oregon coast. When we aren't at work, in school, or on the volleyball court, we enjoy traveling, cheering for our favorite sports teams, playing outdoors, and checking off items on our bucket list. We are lucky in that both sets of our parents, as well as our siblings and their families, live within an hour of us. We get together often to help one another out, celebrate milestones, and go on adventures together.
This post currently has 81 responses.