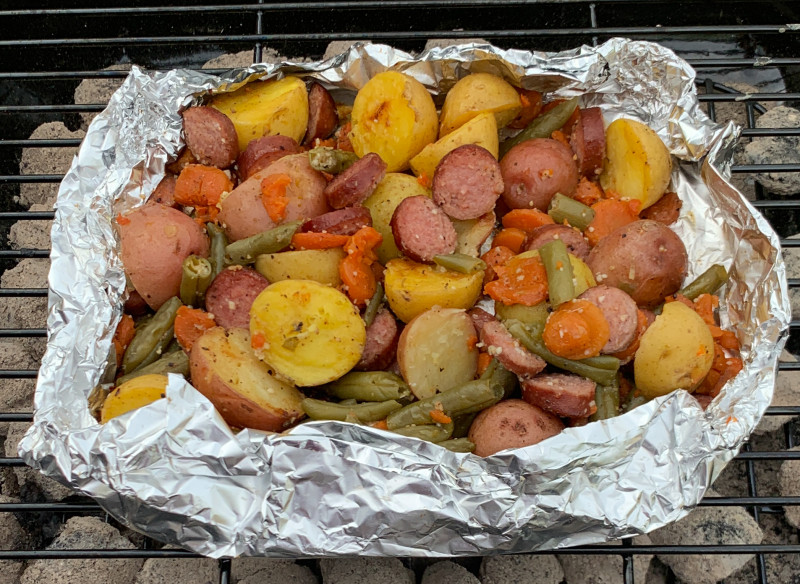 This blog post is sponsored by FinaMill. 
Summer is officially here! With warm weather, we love to spend time outside and have dinners on the grill. Recently we tried a version of a dinner we make inside, but converted it a bit for the grill. We both really loved it and plan to make it regularly this summer. I thought I'd share it with you all as well! This is a sausage & veggie hobo pie or sausage & veggie foil packet, with garlic & onion seasoning. 
Before we get into the recipe, a quick note! In this recipe I use my FinaMill whole spice grinder. If you purchase through the Fermat widget below, you'll save 11% and get free shipping!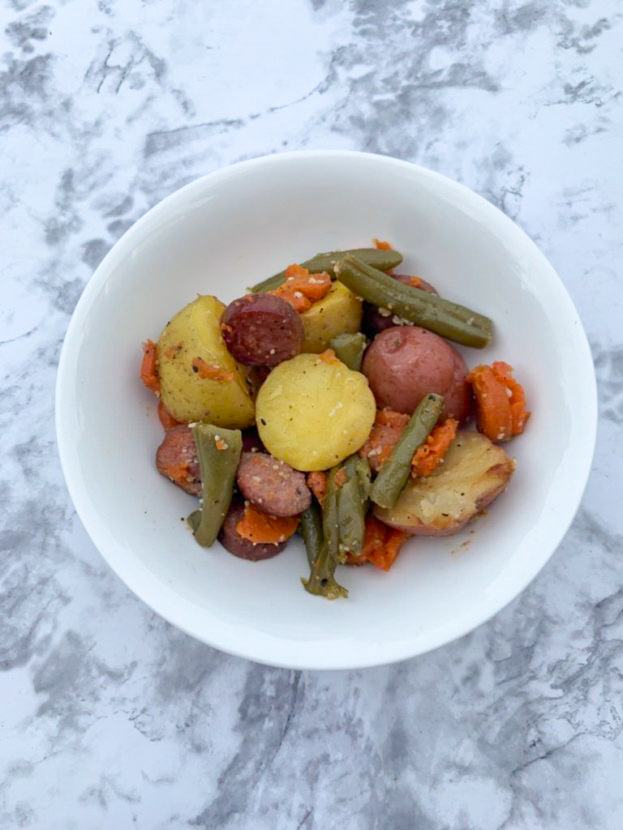 A hobo pie or a foil packet? What is the difference?
Hobo pies and foil packets are two names for the same thing. When I was a kid we'd toss whatever meat and veggies we had on hand into what we called "hobo pies" when camping. The name seems a bit crude, which I think is the reason why many have begun to call them "foil packets" instead. It also just makes sense though! They are packets of foil. 
Sausage & Veggie Foil Pack On The Grill
Garlicky Smoked Sausage & Veggies Foil Packet or Hobo Pie
Prep time:
Cook time:
Total time:
Garlicky smoked sauage, fingerling potatoes and veggies foil packet or hobo pie recipe.
Ingredients
12oz smoked sausage
1lb fingerling potatoes
7-8oz Canned Green Beans
7-8oz Canned Carrots
2 tbsp salted butter
½ tspn olive oil
Black Pepper
Sea Salt
Dried Minced Garlic
Dried toasted onion
Instructions
Cut sausage into bite-sized pieces.
Wash fingerling potatoes and cut them in half.
Brush olive oil on all sides of all of the potatoes.
Lay a long strip of heavy duty foil on a table or counter. If you don't have heavy duty foil, use multple layers of regular foil. Fold edges along two sides of the foil.
Pile sausage, potatoes, carrots and green beans in the center of the foil.
Season generously with sea salt, black pepper, dried minced garlic and dried toasted onion.
Add two tablespoons of salted butter on top.
Bend the long ends of the foil up over the top, making a foil packet. Pinch edges of the foil together to seal it.
Place on medium-heat grill for 40 minutes.
I'd encourage you to make this on a charcoal grill if you have one. Aim for a medium heat on your grill to ensure that your potatoes will soften rather than get crispy.  Why charcoal? I like the way it makes food taste, personally. If you have a gas grill, use that on medium heat as well. 
FinaMill Whole Spice Grinder
A while back we got a FinaMill spice grinder. I hadn't owned a pepper grinder before, so I was impressed with how much more flavor we got when grinding black pepper in our FinaMill vs using pre-ground black pepper. You can really taste a difference when it's fresh!
The FinaMill grinder isn't just for peppercorns though, it can grind other whole spices as well. I've found that I love using it to grind other things as well. Garlic and onion are two of my go-to seasonings. With the FinaMill I can freshly grind dried minced garlic and dried toasted onion flakes. It adds SO much flavor vs store-bought, pre-ground seasonings. 
The slight downside to the FinaMill is you can't easily measure how much you are putting on. For this recipe, I used all four seasonings (sea salt, black peppercorns, dried minced garlic and dried toasted onion) generously so that I could see a seasoning coating across all the veggies. 
We've really loved having our FinaMill whole spice grinder. It really enhances the flavors that we cook with. We keep our go-to seasonings (pepper, garlic and onion) in different FinaPods so they're always ready to be popped in the FinaMill grinder. I'm excited to eventually experiment with using more whole spices with our FinaMill. 
The grinders come in six colors so you can match your decor or just pick your favorite color. Looking to purchase a FinaMill? You can do so using the widget just below the recipe card above.
How Long Does A Foil Packet Take To Cook?
How long foil packets take to cook will vary depending on the ingredients. This recipe takes around 40 minutes but the potatoes are the only product that really requires that cook time, the other ingredients could be done as soon as they're warmed. If you add other veggies or use larger potatoes that would require more cook time. 
Can You Make A Foil Packet In The Oven?
You can cook a foil packet in your oven if you prefer. Medium heat on a grill is approximately 350 degrees, so if converting this recipe to use in your oven go with 350. 
How To Make It Low Calorie
If you'd like to make this low calorie, you could use turkey smoked sausage in place of regular smoked sausage. You could also adjust the ratio of ingredients. Using less meat and more vegges would reduce the calories. You could also experiment with adding in additional veggies like onions, zucchini and others. 
How To Make It Keto
Use a sugar-free smoked sausage, and reduce the ratio of potatoes and carrots, focusing more on low starch veggies.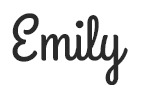 Hi there! I am Emily Evert, the owner of Emily Reviews. I am 28 and live in a small town in Michigan with my boyfriend Ryan and our two pugs. I have a large family and I adore my nieces and nephews. I love reading memoirs, and learning about child development and psychology. I love watching The Game of Thrones, Teen Mom, Sister Wives and Veep. I like listening to Jason Isbell, John Prine, and other alt-country or Americana music. I created Emily Reviews as a creative outlet to share my life and the products that I love with others.
This post currently has 30 responses.