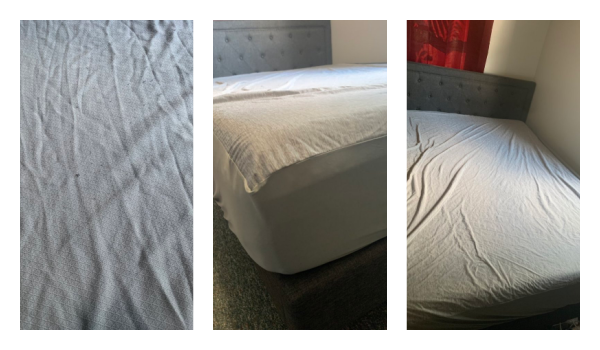 I was sent products from Elegear. All opinions are my own.
Many years ago I read about how mattresses "gain weight" as they age. They collect dust, dead skin cells, oils and moisture over the years. This grossed me out! If we sleep 8 hours a night that is 40 hours a week that we're laying on our mattresses and it just doesn't seem very hygienic to think about sweat, dust mites, skin cells and so on getting deep into our mattress and being stuck there.
Since then, I've always used a mattress protector. I want to do what I can to keep my mattress protected. On occasion, I've had people over while I was changing my bedding and they kind of laughed, asking if we pee the bed. They were joking of course, but some really do see it as strange for adults to use mattress protectors. I don't think it should be seen as odd at all! Mattress protectors can keep your mattress cleaner which is just cleaner and healthier. My boyfriend and I both suffer from allergies which is yet another reason to want to keep our bed as clean as possible.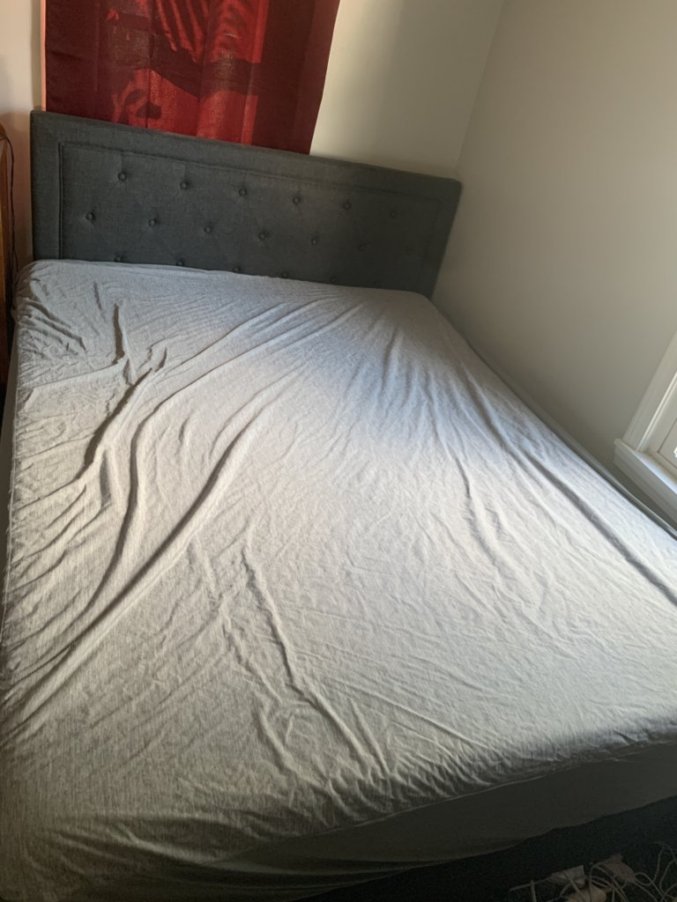 My old mattress protector had gotten pretty old, so I was excited to try the Elegear waterproof mattress protector. This mattress protector uses "Arc cool" fibers which absorb body heat to keep you cool and reduce the odds of getting sweaty at night. It's OEKO certified as safe for family use. It is machine washable which is super important for me. I try not to buy anything that isn't machine washable.
I was sent the queen-sized set in dark gray. The top is a slightly different color than the edges. The edges are thinner and very stretchy. They have nice deep pockets to help it stay on your mattress and not pop out of place. The top of the mattress feels a bit "slick" and is cooler to the touch than regular cotton bedding would be.
The brand says you can sleep directly on the mattress protector, and it would feel cooler to your body to do that, I think. Personally though, I like to use a sheet on top of my mattress protectors in general. This is even more true with this set though because the fabric just has a cool, slick feel to it that would feel strange for me to sleep on, I think! I'm used to sleeping on cotton or materials that feel similar to cotton, at least. This feels a bit like athletic wear. You can tell it is moisture-wicking.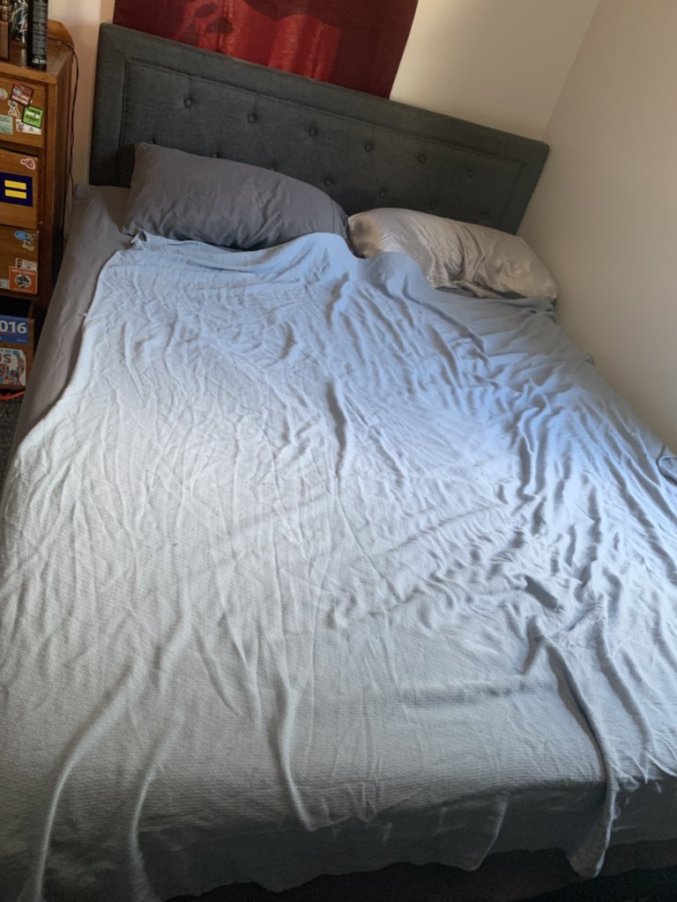 We were also sent a blanket from Elegear, the Elegear bamboo blanket. I got this for Ryan as he's been trying out different blankets trying to find a new favorite blanket to sleep with in the summer. This bamboo blanket is very thin for a blanket, it's more like a heavy sheet. It has a diamond-type pattern on it and comes in several colors. It is soft to the touch, feeling similar to cotton. It does feel cool to the touch at first, but with regular use it doesn't stay cool. Ryan doesn't feel that it keeps him any cooler than a regular cotton blanket would. Still, he likes this blanket. It's a decent blanket if you like thin ones to sleep with during hot weather.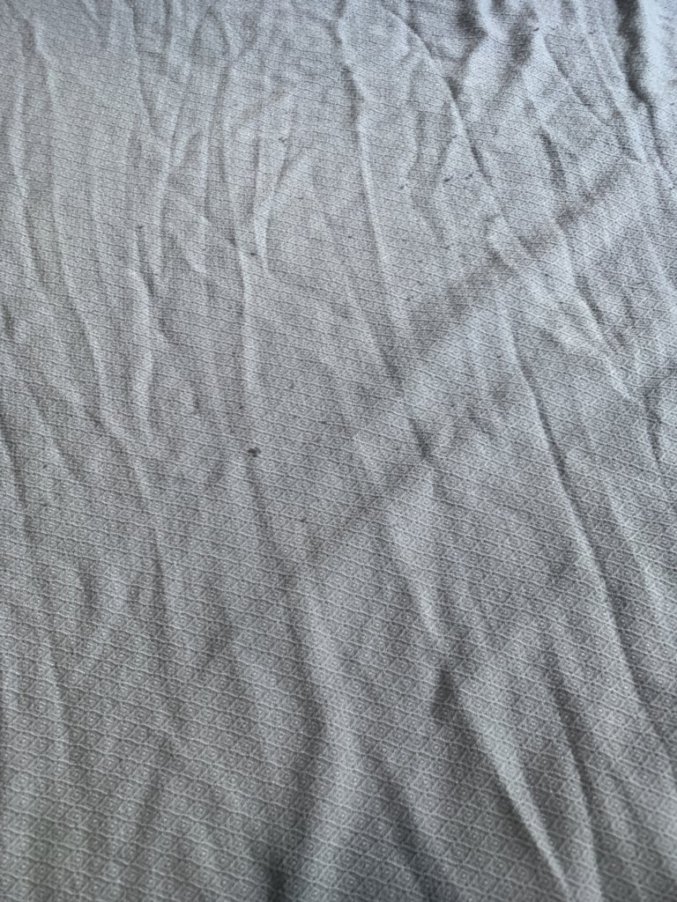 We did find that it got some pilling after we dried it for the first time. After that I double-checked and saw that it isn't supposed to be machine dried. I find this really unfortunate, as I think most people expect to be able to machine dry their bedding. So, that's something to consider if you're considering purchasing this blanket. We will continue to use it and will continue to machine dry it and just use it for as long as it lasts.
Win it: Elegear is offering a cooling mattress protector as a prize. The winner will be able o choose the bed size. This giveaway is open to the US and will end 8/5/2022.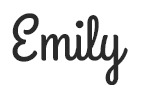 Hi there! I am Emily Evert, the owner of Emily Reviews. I am 28 and live in a small town in Michigan with my boyfriend Ryan and our two pugs. I have a large family and I adore my nieces and nephews. I love reading memoirs, and learning about child development and psychology. I love watching The Game of Thrones, Teen Mom, Sister Wives and Veep. I like listening to Jason Isbell, John Prine, and other alt-country or Americana music. I created Emily Reviews as a creative outlet to share my life and the products that I love with others.
This post currently has 5 responses.