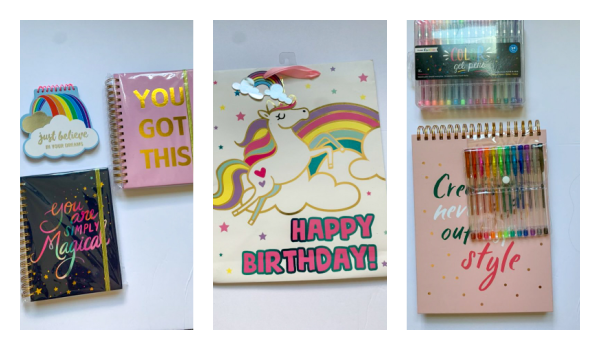 This is a sponsored review. All opinions are my own.
All of my work is online so others who do similar work may opt to do everything digitally. For me, there's just something more satisfying about keeping my work organized on paper. I keep a paper planner, and make written to-do lists. I often just prefer putting pen to paper rather than keeping digital word documents, I guess. It's so satisfying to physically cross off your to-do list, too!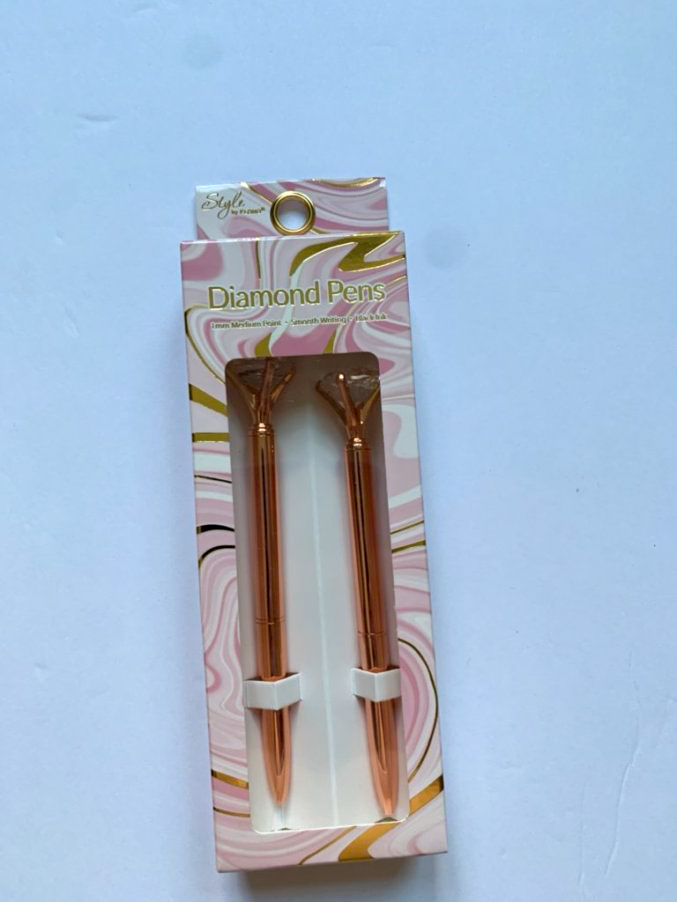 Anyway, I like to keep notebooks and other stationery items around the house, and I like picking out notebooks and writing utensils that appeal to my personality. It makes working a little bit more fun if you just love the design on the front of your notebook, or if you really love the pen you're writing with. I think it does, anyway! I know a lot of kids like choosing the design of their school accessories for the same reason. Check out the flomo fashion stationary section for more.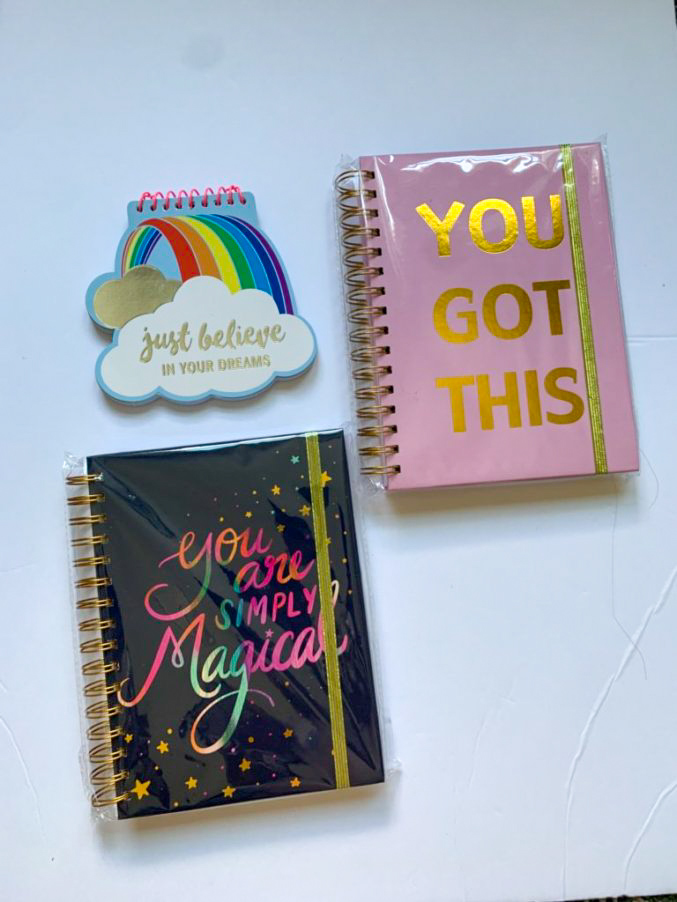 Flomo has journals, writing utensils and other stationery in a wide range of themes. They have lots of journals with encouraging and inspiring messaging. I think a lot of us could use positive messages these days! I received a few journals from Flomo and they all feel really sturdy and just well made. I like how some of their smaller notebooks come spiral bound in fun shapes and designs like unicorns and rainbows.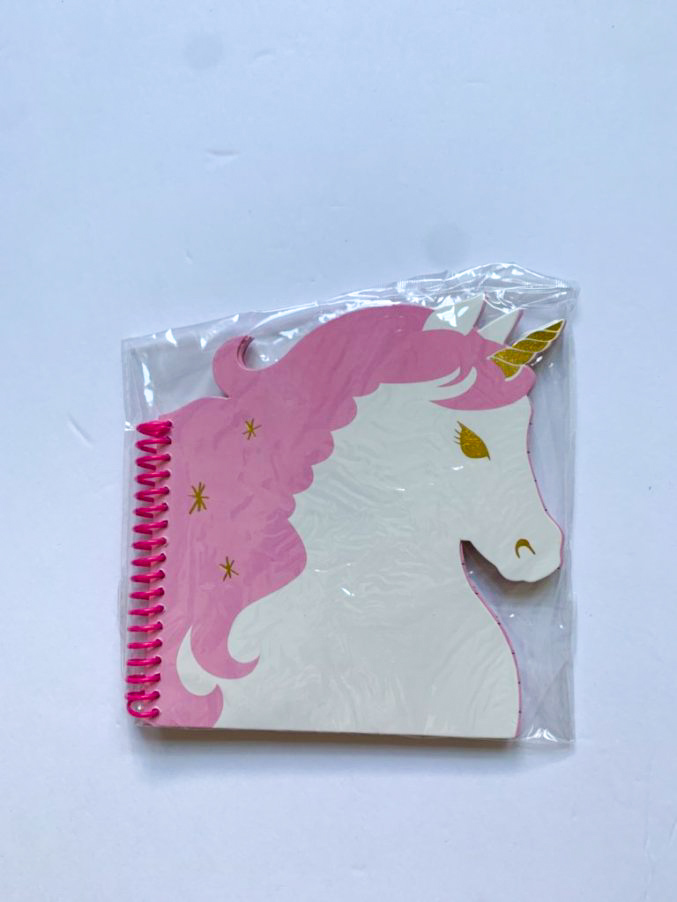 FLOMO also sells birthday party supplies like balloons, party favors, birthday candles, banners, gift bags and more. They have a whole selection of unicorn-themed party supplies which I love because I know so many young girls who love unicorns right now!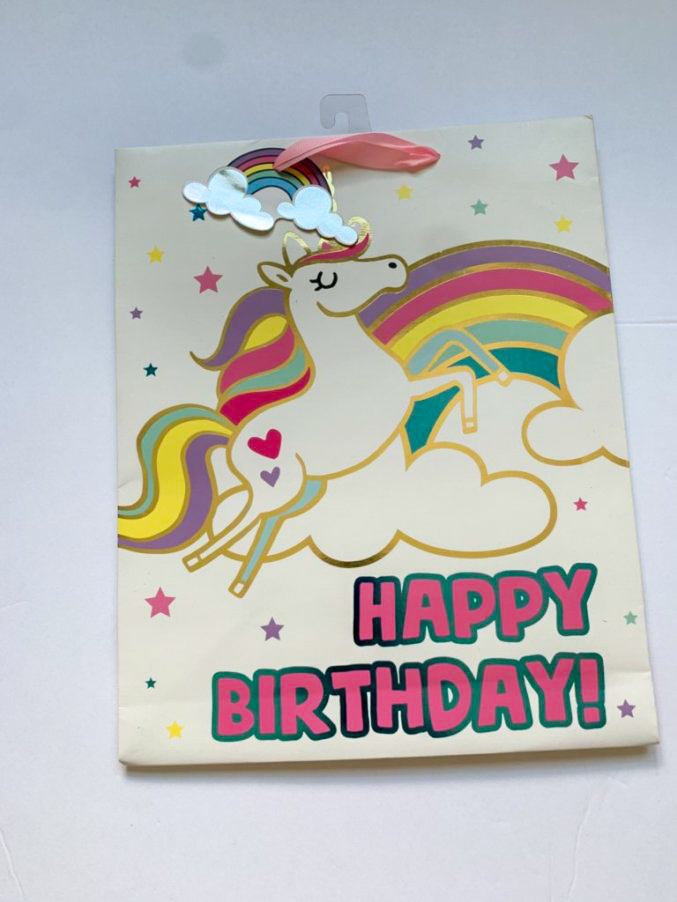 I thought the pin the horn on the unicorn was a really fun twist on pin the tail on the donkey.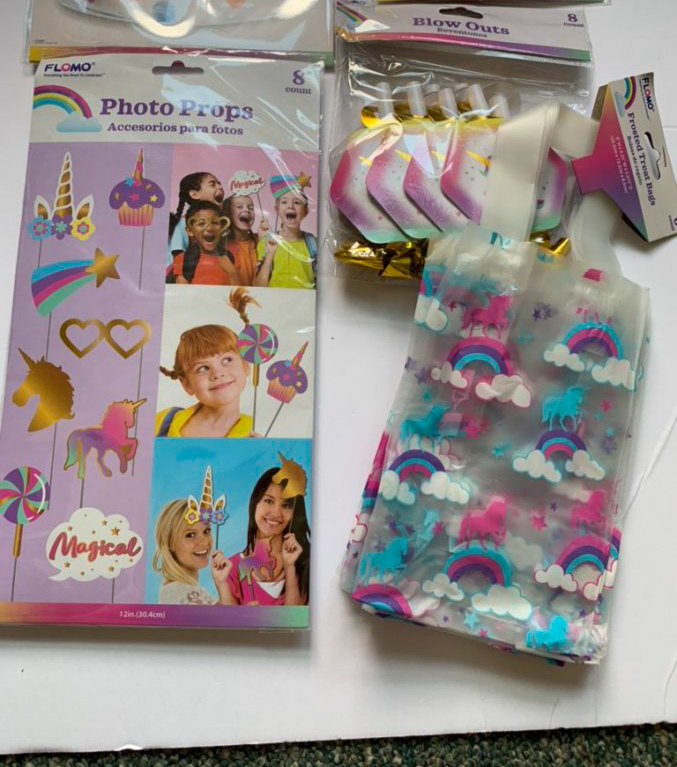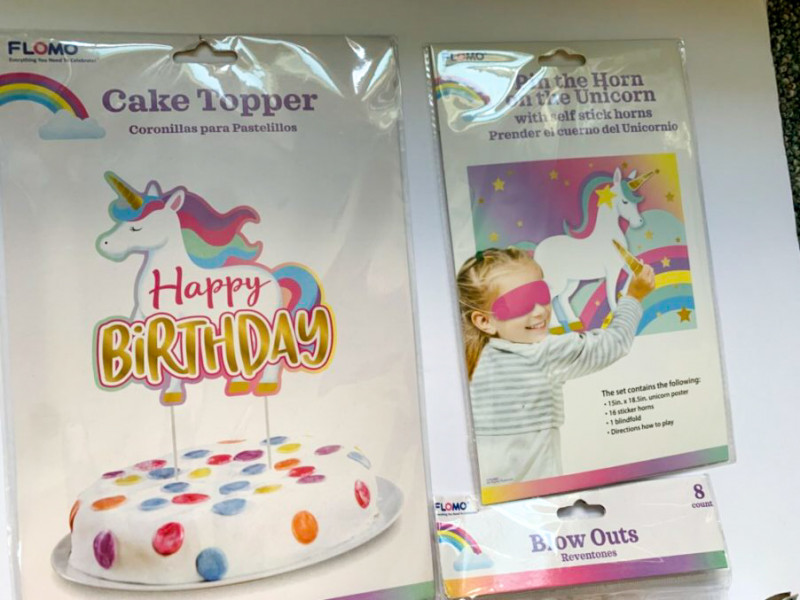 FLOMO also has an arts and crafts section which is perfect for little artists, or even casual adult artists! I'm far from a artist but I like doodling, painting, cross stitching and doing some other basic arts and crafts as stress relief or a creative outlet sometimes. I loved gel pens in middle school but hadn't purchased a set in years, but now that I have some again I'll be using them to make my writing and planning a bit more fun!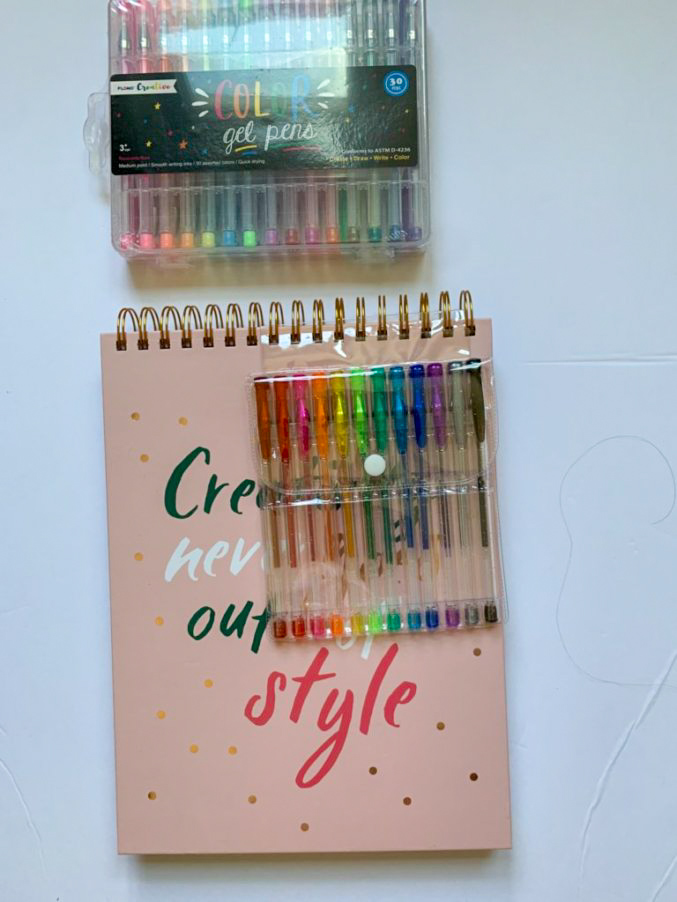 The color gel pens set has 30 pens, 15 of them are pastel colors (back in the day we called those types of gel pens milky pens), 9 of them are glittery gel pens, and 6 of them are fluorescents. They all write pretty smoothly for gel pens, as you can see in the photo below where I sampled them for you. The squares are the 15 milky gel pens, he triangles are the glitter and flurecent pens.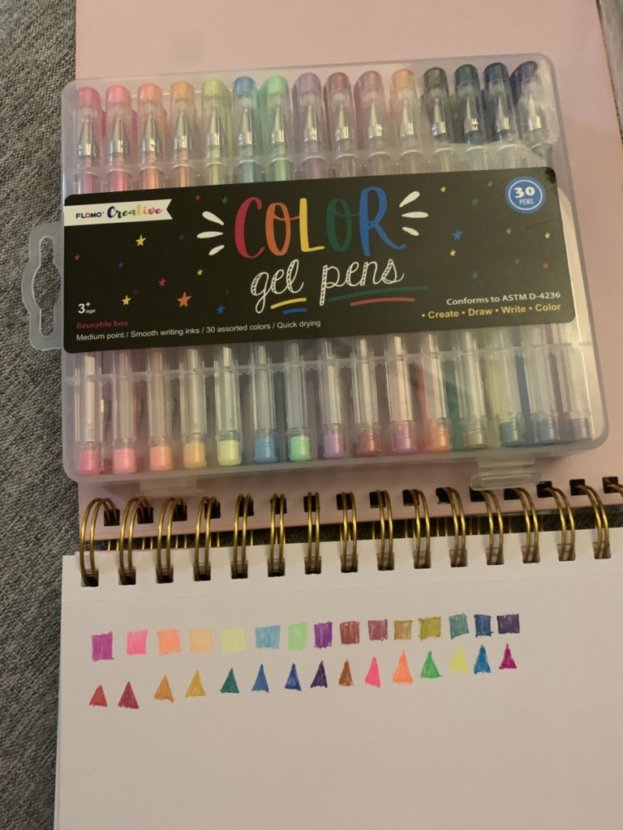 I like how the "creativity ever goes out of style" drawing pad comes with a set of gel pens, too. The set would be a great gift!
I thought the Flomo eco-friendly erasers were especially cool. I'll confess, I never thought about what erasers were made out of before! Flomo's are made out of thermo plastic rubber polymer. They're PVC-free, latex-free, erase clean and without any harmful fumes.
FLOMO primarily sells in bulk, but you can use the Flomo contact page to get in touch with them about making orders.
Win it: Flomo is offering two giveaways! One is aimed a younger kids and teachers, the other is for older students.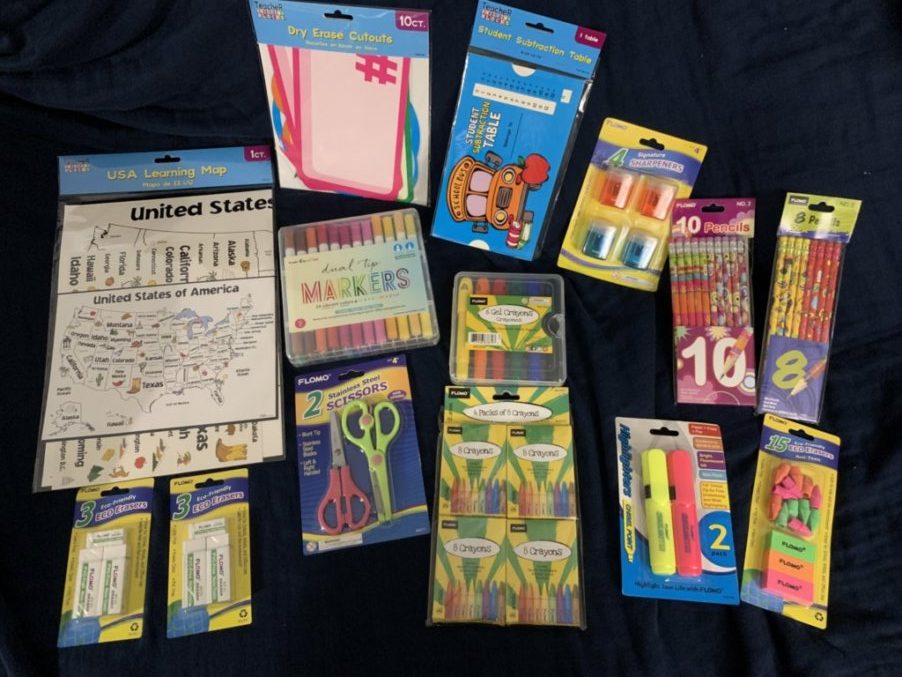 The first prize pack "for younger kids" will include everything pictured above. This includes a US states map set, two packs of 3 eco-friedly erasers, dry erase cutouts, dual tp markers, a two pack of scissors, a student subtraction table banner, a six pack of gel crayons, four packs of 8 count crayons, two highlighters, a pack of pencil-top and regular easers, two packs of pencils, and a four count set of pencil sharpeners.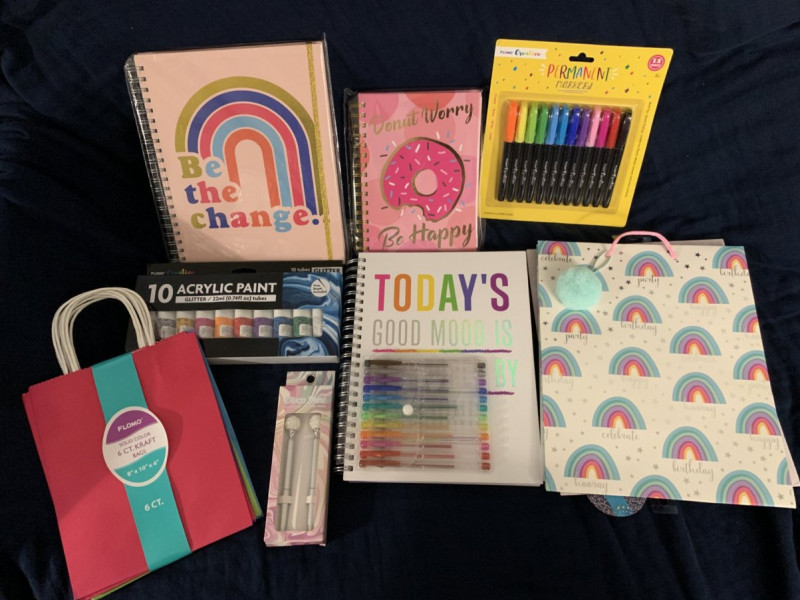 The second prize pack "for older kids" includes a rainbow "be the change" journal, a "donut worry be happy" journal, a 10 pack of acrylic paints, a six cout set of small gif bags, a set of two pens, a "today's good mood is brought to you by creativity" sketchbook and gel pen set, a 12 pack of permanent markers, and three medium-sized gift bags.
To enter to win either of these prize packs, fill out the Giveaway Tools form below by August 18th at 11:59pm Eastern. This giveaway is open to the continental US.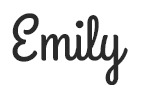 Hi there! I am Emily Evert, the owner of Emily Reviews. I am 28 and live in a small town in Michigan with my boyfriend Ryan and our two pugs. I have a large family and I adore my nieces and nephews. I love reading memoirs, and learning about child development and psychology. I love watching The Game of Thrones, Teen Mom, Sister Wives and Veep. I like listening to Jason Isbell, John Prine, and other alt-country or Americana music. I created Emily Reviews as a creative outlet to share my life and the products that I love with others.
This post currently has 3 responses.