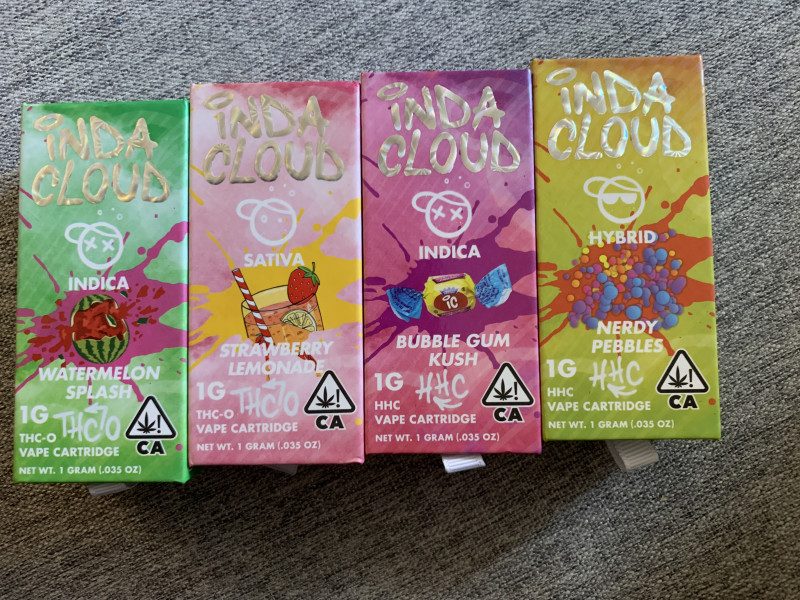 IndaCloud sent me cartridges for review. All opinions are my own.
I sometimes enjoy using Delta-8 products to help me relax, to help me sleep, or just for fun. I knew that THC-O and HHC products were fairly similar to delta-8, though I hadn't tried them. I had tried Delta-8 products from IndaCloud last year though and I was happy with those. So I thought I'd try their THC-O and HHC cartridges this time around.
IndaCloud has lots of fun flavors of cartridges. I selected Strawberry Lemonade and WaterMelon Splash THC-O cartridges. For HHC, I went with Bubble Gum Kush & Nerdy Pebbles.
When I've tried Delta-8 cartridges, gummies and tinctures in the past from other brands, they often have claimed to be flavored a certain way. I had always found that at best I could get just a hint of the intended flavor, but it was always overpowered by the taste of the delta-8 itself. I expected the same with these.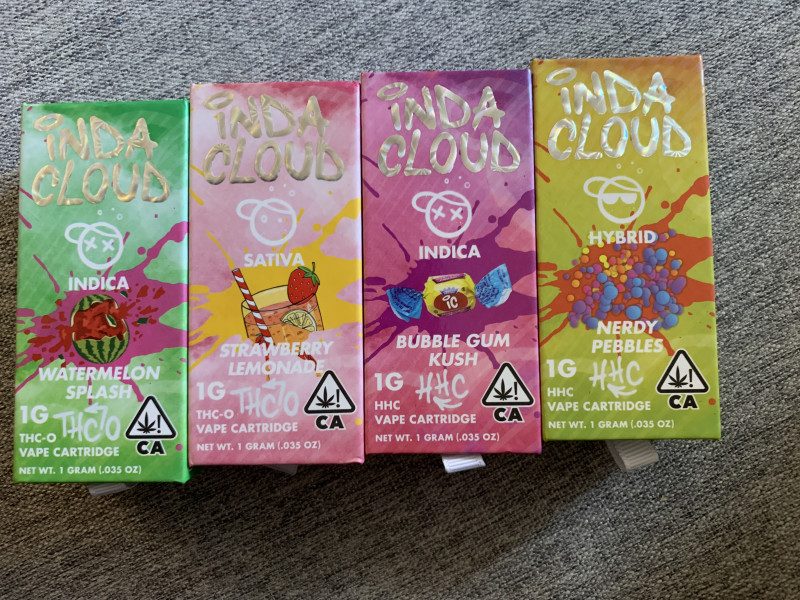 I was pleasantly surprised at how these taste. The flavor isn't super strong, but it's a lot more than 'barely there' – and you don't get a strong weed-like flavor or smoky flavor like I've experienced with most other vapes. I thought the watermelon splash was a candy-like watermelon flavoring. I was also pleasantly surprised by how smooth these are to use. No coughing, no burning sensation in my throat or chest. I actually found it was easier to over-use these if I wasn't mindful because they are so smooth and have such a decent taste to them that it can trick you into expecting a really mild result.
I've read that THC-O is supposed to be milder than delta-8, but I found these really powerful. I'd advise going really slowly your first few times until you get a sense of how these work so you can control your experience.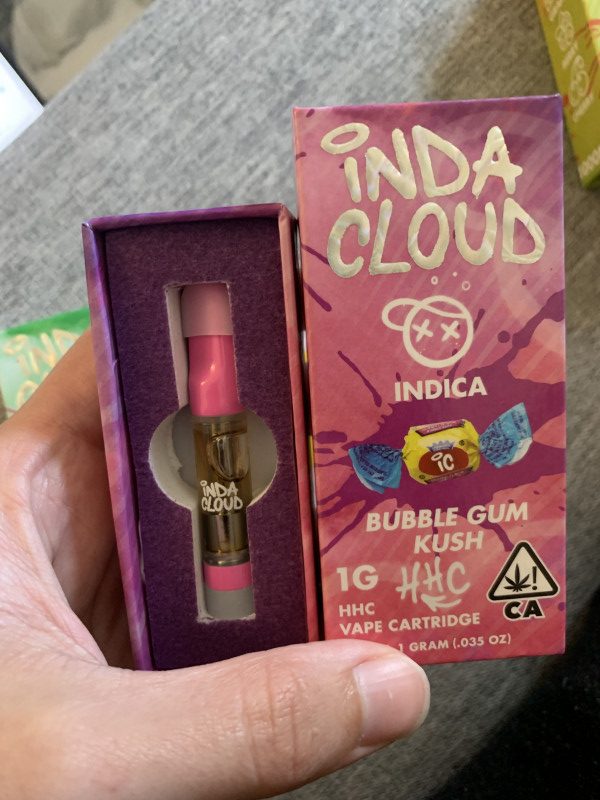 Ryan tried the HHC Nerdy Pebbles. This is supposed to taste like the candy nerds and it is pretty close, he thought. He was surprised at how smooth this was. Similar to my experience, he found this cartridge really powerful and felt like he had overdone it a bit without meaning to. He has a higher tolerance than I do, so I think that really speaks to the powerful effects of IndaCloud products.
Our overall takeaway was IndaCloud makes very powerful products that taste good and are really smooth. We like them, but advise caution in using them when you first try them, as they are really strong.
If you purchase from Indacloud use the code EmilyReviews15 to get 15% off your order!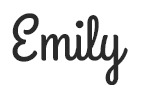 Hi there! I am Emily Evert, the owner of Emily Reviews. I am 28 and live in a small town in Michigan with my boyfriend Ryan and our two pugs. I have a large family and I adore my nieces and nephews. I love reading memoirs, and learning about child development and psychology. I love watching The Game of Thrones, Teen Mom, Sister Wives and Veep. I like listening to Jason Isbell, John Prine, and other alt-country or Americana music. I created Emily Reviews as a creative outlet to share my life and the products that I love with others.
This post currently has 6 responses.