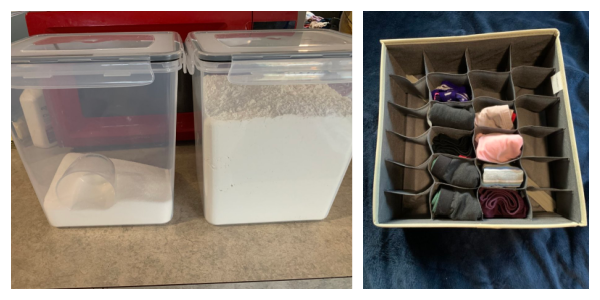 Lifewit sent me products for review. All opinions are my own.
Several months ago I did a Lifewit storage products review. I shared how different Lifewit products have helped us to get our really small house organized. When your whole house is under 400 square feet, organization is a big deal! It's the only way to maintain sanity when living in a really small space, I think.
We've been pleased with the first Lifewit products we got, so I was excited to try more products from this brand. This time I got some air tight food storage containers, and a wardrobe organizer bin.
For some reason, I've never had containers for storing sugar, flour and other baking items. I've always known that transferring these items into an airtight storage container is best, but I just had never owned any so we had always clipped the bags shut. I thought it was well past time to correct this, though!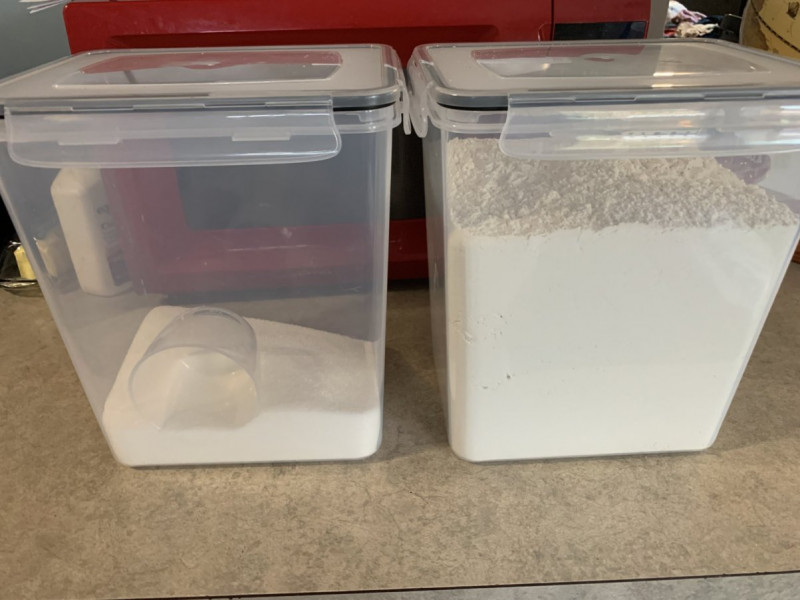 We were sent the Lifewit 5.2L/175oz 4 count storage containers. These are a good size for 5lb bags of flour, sugar or similar foods. I thought with these four we can store regular sugar, powdered sugar, flour and brown sugar. The set comes with four 1-cup measuring cups as well. The lids snap closed on all four sides of each container to ensure an airtight fit. They fight so tight that you can store them sideways if you have really limited space. They don't have to stay upright to avoid making a mess. These are a good size for us as we don't do a ton of baking. If you like to keep more than 5lbs on hand, they also offer these in a bigger size, 6.5L each.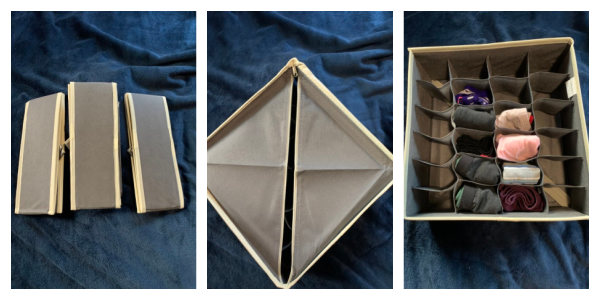 The next item we were sent is drawer organizers. These fold small and flat. When you open it, one side has a cloth bottom that you can zip closed to keep it in shape. The inside has cloth dividers in sort of a diamond type of pattern. These are quite small, so they are best suited to garments like socks, underwear or perhaps ties. I am not large-chested but these are too small to fit my bras.
I like these organizers because they make it easy to see a lot of your garments at once, rather than having a big helping pile to dig through. These are available in sets of two and they come in beige, faint gray, or gray.
Lifewit products are available on Amazon and their prices are reasonable. Check them out if you have any home organization needs, they have quite a selection.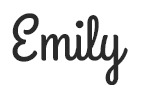 Hi there! I am Emily Evert, the owner of Emily Reviews. I am 28 and live in a small town in Michigan with my boyfriend Ryan and our two pugs. I have a large family and I adore my nieces and nephews. I love reading memoirs, and learning about child development and psychology. I love watching The Game of Thrones, Teen Mom, Sister Wives and Veep. I like listening to Jason Isbell, John Prine, and other alt-country or Americana music. I created Emily Reviews as a creative outlet to share my life and the products that I love with others.
This post currently has 2 responses.