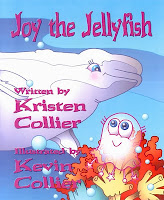 Joy the Jellyfish, written by Kristen Collier is a heartfelt book about a sweet Jellyfish named Joy who doesn't think she has a friend in the world.  She roams through the ocean hopelessly searching for someone to call her friend.  Joy eventually roams so far that she gets lost, but this is the best thing that could have happened to her.  Joy learns an invaluable lesson; that you must be a friend to make a friend.
Upon reading the book myself I thought that it might be a little over Little C's head, however he absolutely loved it!  I have been reading to Little C since birth and he has embraced the love of books which melts my heart.  There is nothing better then him wanting to crawl up in my lap or lay on the bed and read a book. He loves animals and there are several different  sea creature characters in the book such as an anemone, seahorses, a blowfish and a dolphin.  The pages are brightly colored and captivated Little C.  He asks me to read Joy the Jellyfish almost every night.
Joy the Jellyfish has an extra special website where your children can learn to draw Joy, do a crossword puzzle, navigate Joy through a maze and color Joy and some of her friends.  Not only does this book offer a great lesson to kids both young and old the website caters to both age groups as well.
You can find Joy the Jellyfish on Amazon for $11.99.  You can find Joy the Jellyfish on Facebook!


This post currently has one response.