I don't normally wear heels, but it is good to have a pair on stand-by for a date night or things like that. So when Ssh-oes offered to send me a pair to review, I was happy. When they came they were of a very high quality and looked lovely. Sadly enough, I messed up my ankle during yoga class and was not able to wear them. Luckily I had a friend who was in the market for a quiet high heel. Kay only wears heels, but she had recently started a new job as a physical therapist at a geriatric center where the "click clack" of high heels was unappreciated. So this brand of ssh-oes was something she was really interested in trying out. She was absolutely stunned at how quiet the shoes were. They make a noise, obviously, but so much less than other high heels. They have a patent-pending "heel lift" that makes it so quiet it is almost unbelievable. Kay is able to wear these shoes to work now with no complaints from the powers that be and that makes her super happy.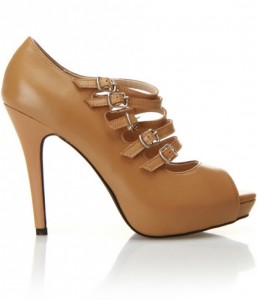 She also says ssh-oes are more comfortable than other heels she has purchased. She said there was less blistering in the "wearing them in" process due to the fact that they have "memory foam" in the bottom of the shoe and are lined with leather and lycra. She plans to buy more pairs of them in the future due to the overall comfort and quiet nature of them. She thinks they weigh less than normal shoes, but I am not sure why that would be the case. Besides pumps they also carry booties and slingbacks. They run $129-$149 so they are not the cheapest shoe out there, but the quality seems worth the price to my friend.
If you would like more information on these ssh-oes you can check them out on their website , facebook, and twitter pages.


This post currently has one response.