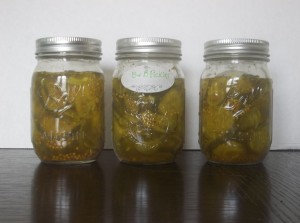 Ball Jars are rather iconographic in America. They evoke images of a simpler time when the country had more rural communities and ran just a little slower. I am sure even most people in the city have seen them, but to me seeing one brings back memories of long ago on my Grandma's farm in Texas. She would can at the end of the season and the house would smell so good. But when the jars had been emptied out they became our drinking glasses.
As an adult I moved to the city and away from the farms and never really thought of Ball Jars anymore. A few years ago,though, I moved to a farming community in NE Ohio and saw so many "canned" items at the local farm markets that it really made me want to do what my Grandma had always done. It seems like we have gotten further away from our relationship to the land and our foodstuffs and I was missing that connection that I had been raised with. So three years ago, a friend asked if I would want to share a garden with him and we have been doing it ever since.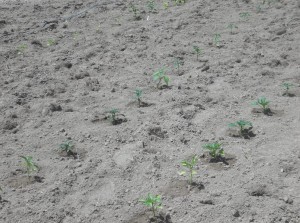 He likes to grow veg, but doesn't like to eat it. Me? I live primarily on vegetables so it was a win/win situation that took me back to the earth and the great taste of food straight off the vine. Since then I have been saying I was going to learn to can so I could keep those tastes throughout the winter, but the idea of it seemed really intimidating. I remember how scary my Grandma's pressure cooker was back in the day, so that was part of it; but last year I told myself I was going to bite the bullet and learn, so I bought a pressure cooker. I have since used it, though not for canning. So the last 2 years I have ended up freezing a lot of sauces, salsas, pestos, and the like, but they would lose a lot of their texture and be runnier than I wanted.
So when Ball Brand contacted me to see if I would review some of their products for them, I hoped I could rise to the occasion and felt excited at the same time. The package they sent me was filled with everything a beginning canner like me might need including the Home Canning Discovery Kit, Blue Book Guide to Preserving, 2 16 oz. Ball Freezer jars, Classic Pectin, RealFruit Low or No-Sugar Pectin, 60 dissolvable labels, and a coupon for a free case of ball jars.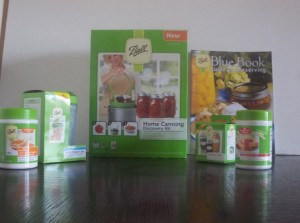 The first thing I picked up was the Ball Blue Book Guide to Preserving. It is like a bible of canning knowledge. It has everything one might need to know about canning. It is technical, but very helpful with lots of images to help you understand even better. It teaches you which types of foods need pressure cooked as opposed to those that need a water-bath which is something I was not at all aware of. Another thing about canning is that you have to follow specific temperatures and ingredients depending upon what you are cooking. You can't throw together a canning project all willy-nilly. It takes science and it turns out beautifully. This book gives you recipes for everything from salsas to jams to chutneys to pickles all the way to how to can your own meat (though I don't know I will ever go quite that far!).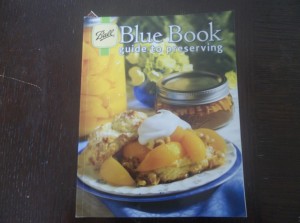 Then I opened up my Home Canning Discovery Kit. It comes with 3 Ball jars, a canning rack with lifter, and a Beginner's Guide to Canning/Recipe Booklet that gives you all the pertinent information in a much more concise form. You could read this and still follow all of the easy steps it takes to can without having the Blue Book Guide. The recipes in the booklet are great because they are for precisely 3 pints which makes it so you don't have to do the math to make the recipe fit the amount of jars you have. The only problem I had was that, because the recipes had been modified from original recipes, the measurements were strange like "1 1/4 Tablespoon." What is a 1/4 of a Tablespoon?
The canning rack worked superbly for my canning purposes. It looked a little flimsy when I got it, so I was unsure, but it worked great and cut out having to buy a lot of the equipment you might normally need. If you are a novice canner and only need to can a few things at a time this is right for you! At only $12 it is a great way to learn canning and see if you want to take it to the next step to buy larger canning investments. It should be noted this product is only for water-bath canning not the pressure cooker, but it tells you these things in the enclosed booklet. I followed the booklet step-by-step and made the Bread & Butter Pickles you see above, which is the first recipe in the booklet. The kitchen smelled great and the process was much easier than I ever would have thought.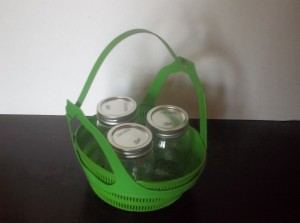 I have not yet had the chance to use the pectin. I thought my first foray into canning I would make a jalapeno jelly, but the peppers are slow in coming up this year, so I had no need for the pectin in my first canning project. I was not aware that they made ball Freezer Jars, but I love them. Like I said earlier, I have been freezing my produce the last couple of years. These containers are great because they have a fill-line to not go over so that your storage doesn't overfill during the freezing process. They also have a technology that keeps them from leaking. You can also use them for lunch or in the fridge. Both of which I have already done. As for the removable labels, even after only one foray into the canning business, I can tell they will be useful as well as pretty. They come on a roll so are easy to use. They easily go on the jar and come off without leaving any residue. Which is something I want since I plan on using the same jars again.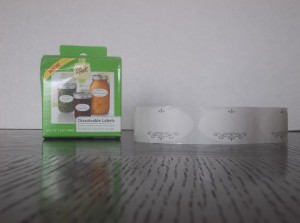 If you are interested in learning more about canning, this coming Saturday, July 14 is the 2nd Annual National Can-It Forward Day. There will be canning classes throughout the country, as well as live webcasts throughout the day on Ball's website where viewer's questions will be answered in real time. You can also join in the conversation on twitter that day with the hashtag #canitforward or connect through social media such as facebook.
The Ball Brand has graciously offered one of our readers a case of Ball Jars of their very own. Just fill out the widget below. Good luck. Open to US only. Ends 7/27.
Javascript must be enabled to enter this giveaway. Learn how to activate Javascript by
clicking here.

Loading Entry-Form


This post currently has 2 responses.