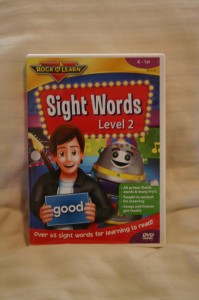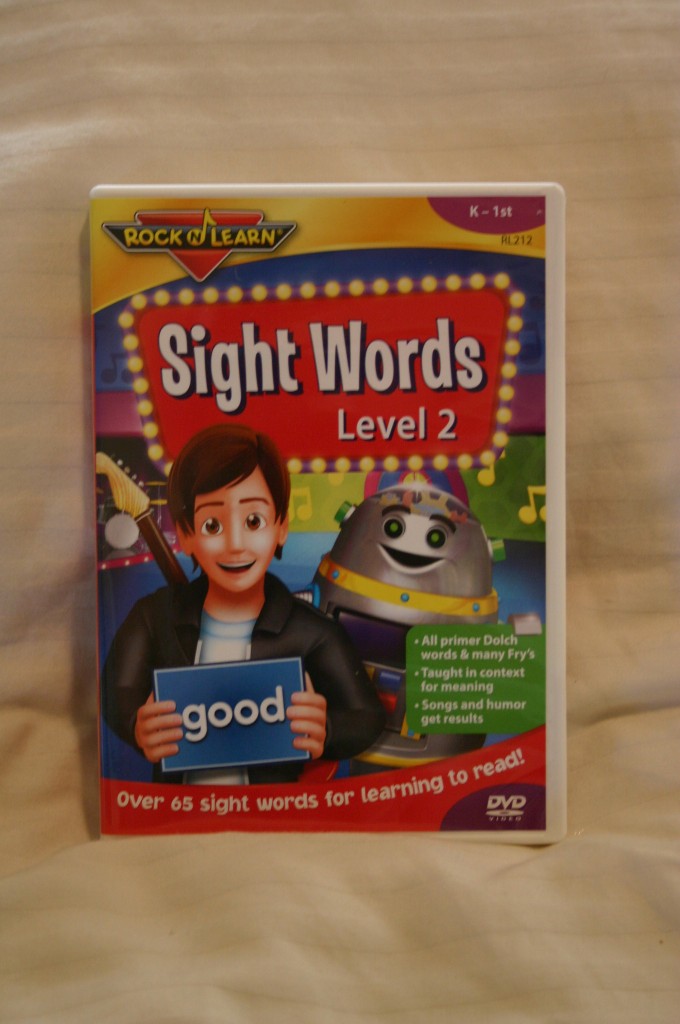 For over 26 years, Rock 'N Learn has been creating fun and educational DVDs, CDs, and books for children. Over 50 Rock 'N Learn products teach on a variety of topics including- phonics, reading, writing, math, science, social studies, languages, and more.
For our review, we received Sight Words, Level 2. This DVD helps review the lessons taught in Sight Words, Level 1 and then builds upon those skills. Sight Words, Level 2 presents words found on the Dolch and Fry's sight words lists. Words are presented in context so children can better comprehend their meanings and they are repeated to better set them in memory.
We have a few Rock 'N Learn videos. They all have upbeat music, playful characters, and the material is well presented. My Daughters have watched this video several times. My 5 year old Daughter stays engaged and really seems to remember the material. My 3 year old Daughter enjoys the songs and characters; she sings the songs over and over.
As a parent, I appreciate how Rock 'N Learn teaches each lesson. You can tell that they have done extensive research into how children learn and the different ways to present materials so that kids of all learning styles pick up on the lessons.
Rock 'N Learn products are suggested for ages 2 years old and older but, I can see where they would be useful for "children" of all ages. For example, I have never tried to learn a second language because the task intimidates me. If I had a Rock 'N Learn language DVDs, the task would be fun and I could see my Daughters and I really having a good time learn another language together.
Rock 'N Learn is on facebook and twitter. At RockNLearn.com, you can sign-up to receive their E-newsletter so you can stay current with their fun products and creative teaching ideas.
Right now Emily Reviews readers can use coupon code JQ7711 for 25% off your entire purchase at www.rocknlearn.com.
If you visit www.free-phonics-worksheets.com, you can download Sight Word Flashcards and other FREE study materials.
One lucky winner is going to receive their choice of a Rock 'N Learn DVD or CD; this is a US giveaway that will end on 8/04.
Javascript must be enabled to enter this giveaway. Learn how to activate Javascript by
clicking here.

Loading Entry-Form



Hello, my name is Laurie. My family and I live near the Oregon coast. When we aren't at work, in school, or on the volleyball court, we enjoy traveling, cheering for our favorite sports teams, playing outdoors, and checking off items on our bucket list. We are lucky in that both sets of our parents, as well as our siblings and their families, live within an hour of us. We get together often to help one another out, celebrate milestones, and go on adventures together.
This post currently has one response.