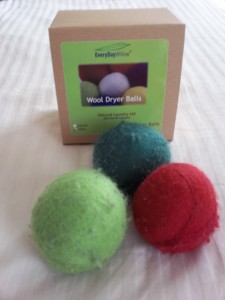 The Willow Store offers products that stay in tune with the environment's natural cycle. In 2005, Catherine Bolden created the Willow Store to share her belief that all things "return to earth." Each of the products she sells has been hand selected because it maintains qualities that are near and dear to her heart, for example:  they are all manufactured in the US, support small businesses, and embrace living wages. Products are made from high quality materials and, whenever possible, they include organic materials as well.
For my review, I received three Willow Store Wool Dryer Balls in cherry, spearmint, and lime colors. Willow Store suggests placing 2-3 Wool Dryer Balls in your clothes dryer along with your wet laundry as a means to reduce your drying time. Wool Dryer Balls are handmade in the US with 100% natural wool. They are reusable and will last through many years of laundry.
In addition to cutting down your drying time, energy & money, Wool Dryer Balls will also naturally soften your clothing. No more money spent on fabric softeners and no unnecessary chemicals being released into the environment.
I know what you are thinking because I had the same thoughts…won't the colors fade on my clothing or the wool rub off on my laundry? The answer is NO to both of those questions. As you use the Wool Dryer Balls, some pilling may occur but they will not damage your laundry in any way.
I have used my Wool Dryers Balls with every load of laundry since I received them. They REALLY do cut down on dryer time. I love my Willow Store Wool Dryer Balls.
The Willow Store is on facebook and twitter.
One lucky winner is going to win a set of three Willow Store Wool Dryer Balls; this is a US & Canada giveaway that ends 8/01.


This post currently has 6 responses.