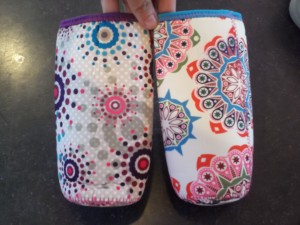 I love finding "Kid inspired, Mom invented" products. Today I am going to tell you about Lindsay, Landon, and Kidzikoo! While drinking cold milk from a sippy cup, Landon's hands got really cold. Mom, Lindsay, joked with him saying he needed an insulator for his sippy cup. She searched the internet for kid-friendly insulators but couldn't find any. Lindsay (and Landon) had their "Ah-ha" moment and launched the Kidzikoo product design and development.
After a year of making Kidzikoo insulators, Lindsay expanded her product line to include Kooleez for freezer pops and Koverz for sports bottles. For our review, we received two Kidzikoo Koverz in the Summer Rain Drops and Kaleidoscope designs.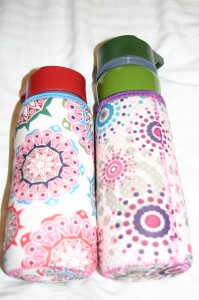 Koverz are made with stretchy neoprene. They shield little hands from cold/hot beverages, help to keep beverages at their desired temperature, absorb condensation and protect bottles when they are dropped or fall.  Koverz are 7 inches tall and 3 inches in diameter which means they fit most 25-32 ounce bottles.
My girls (ages 3 and 5) use their Koverz on Stainless Steel sports bottles. They say that they are "pretty" and "squishy". I love the playful patterns and bright colors. I also appreciate that Koverz are machine washable.
Since we are in the middle of summer, we have only used Koverz with cold drinks and have found that it has helped keep their drinks frosty while their hands are comfy. I can imagine that this winter our Koverz will be used to help keep our hot chocolate hot and their hands warm.
Kidzikoo is on facebook and twitter.
One lucky winner is going to win their choice of a Kidzikoo; this giveaway is open to the US & Canada, it will end on 8/22/12.
Loading Entry-Form…


Hello, my name is Laurie. I have been married to my husband for 16 years. We have two young daughters, ages 15 and 13 years old. My family and I live in Oregon so that means we are just minutes from the beach, mountains, and desert.  We love it here and try to spend as much time outdoors playing as we can. When we aren't outside playing, I enjoy reading, gardening, refinishing furniture, and other crafts.
This post currently has one response.