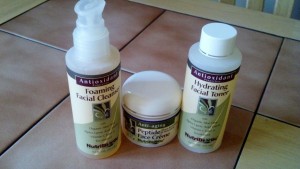 NutriBiotic was founded in 1980 based on inspiration from research performed by Linus Pauling, Ph.D., (the world's only two-time Novel Laureate).  NutriBiotic's founders believe that the public deserves to have access to a variety of quality family products that are safe for individuals who might be food or chemical sensitive.
In 1987 they added to their already successful line of products by incorporating the use of grapefruit seed extract.
NutriBiotic has developed products that include nutritional supplements as well as personal care products such as skin cleaners, bath and shower gels, deodorant, dental products, and powders just to name a few.
For my review, I received a set containing The Antioxidant Foaming Facial Cleanser, the Antioxidant Hydrating Facial toner, and the Anti-Aging Peptide Face Crème.   All three of these products contain Organic Aloe along with many other nutrients that help maintain/repair our skin.
I was a little hesitant to use the products simply because I tend to breakout when I use new products.  I am very pleased to report that I did not break out after using these products.
The first step is to use the Foaming Facial Cleanser.  I decide to put this in my shower so I would remember to use it.  I notice that it "foamed" nicely.  I could tell it was working and when I rinsed my face, I could feel the difference between "before and after".
After blotting dry with a towel, I applied the Hydrating Facial Toner.   I didn't experience any burning sensation like I do when I use some toners.
The Peptide Face Crème is the last step.  I will admit that this is where I messed up.  I wasn't sure how much to use so I really overdid it.   Within a few hours my face looked as if someone had sprayed oil on it.   It wasn't just shiny…it was horribly oily.    So the next time I used the Peptide Face Crème, I used a lot less.  I was still way too shiny within a few hours so I decreased the amount again.  I used just a very small amount and dabbed it on my forehead, cheeks, and throat area before rubbing it in; much better results.    I would say it's best to err on the side of not using enough of this product.
After using these products for several days, I noticed that my face looked "plumper".  By that I mean, my pores weren't as noticeable and it seemed like the lines at the corners of my eyes were a little more filled in and less noticeable also.
I'm definitely impressed with these products.
One lucky winner is going to receive the Peptide Face Crème. This is a US giveaway that will end on 09/12/12.
Loading Entry-Form…
…



Hello, my name is Laurie. I have been married to my husband for 16 years. We have two young daughters, ages 15 and 13 years old. My family and I live in Oregon so that means we are just minutes from the beach, mountains, and desert.  We love it here and try to spend as much time outdoors playing as we can. When we aren't outside playing, I enjoy reading, gardening, refinishing furniture, and other crafts.
This post currently has one response.