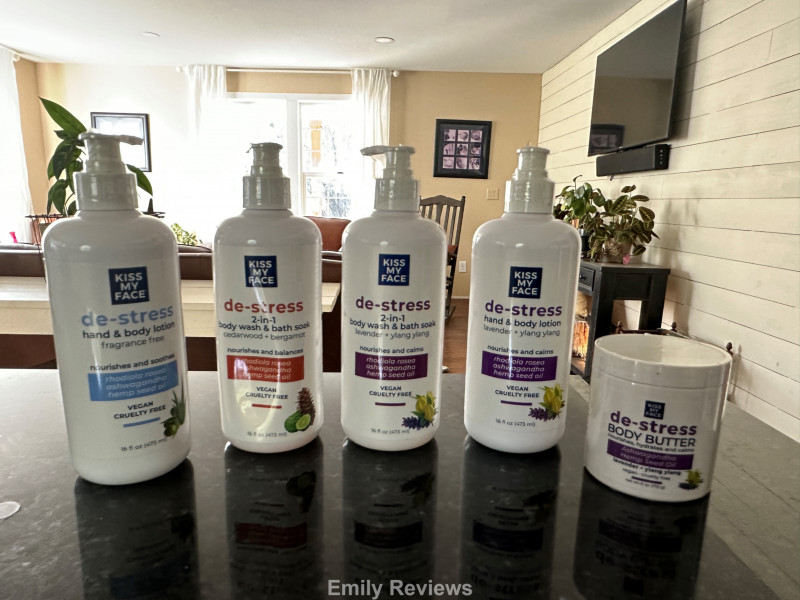 Thank you to Kiss My Face for providing me with products to facilitate my blog review. All opinions are 100% my own.
Kiss My Face specializes in wholesome personal care products. Their collection of products includes cleansers, lotions, hair care, deodorant, oral care, sunscreen, and more. All of the Kiss My Face products are made with clean ingredients. They use as many natural ingredients as possible and use them in sustainable ways.
I was asked to try the new De-Stress Collection of 2-in-1 Body Wash & Bath Soak, Hand & Body Lotion, and Body Butter. After taking a look into the items available, I knew these would be perfect for my two teen daughters. My daughters are fourteen and sixteen. They have a lot going on with school and their extracurricular activities. They have both been feeling a bit overwhelmed lately. The De-Stress Collection sounded like the perfect pick-me-up!
The products in the De-Stress Collection are infused with Rhodiola Rosea, Hemp Seed Oil, and Ashwagandha. These ingredients are known for their soothing properties that help promote relaxation and clarity.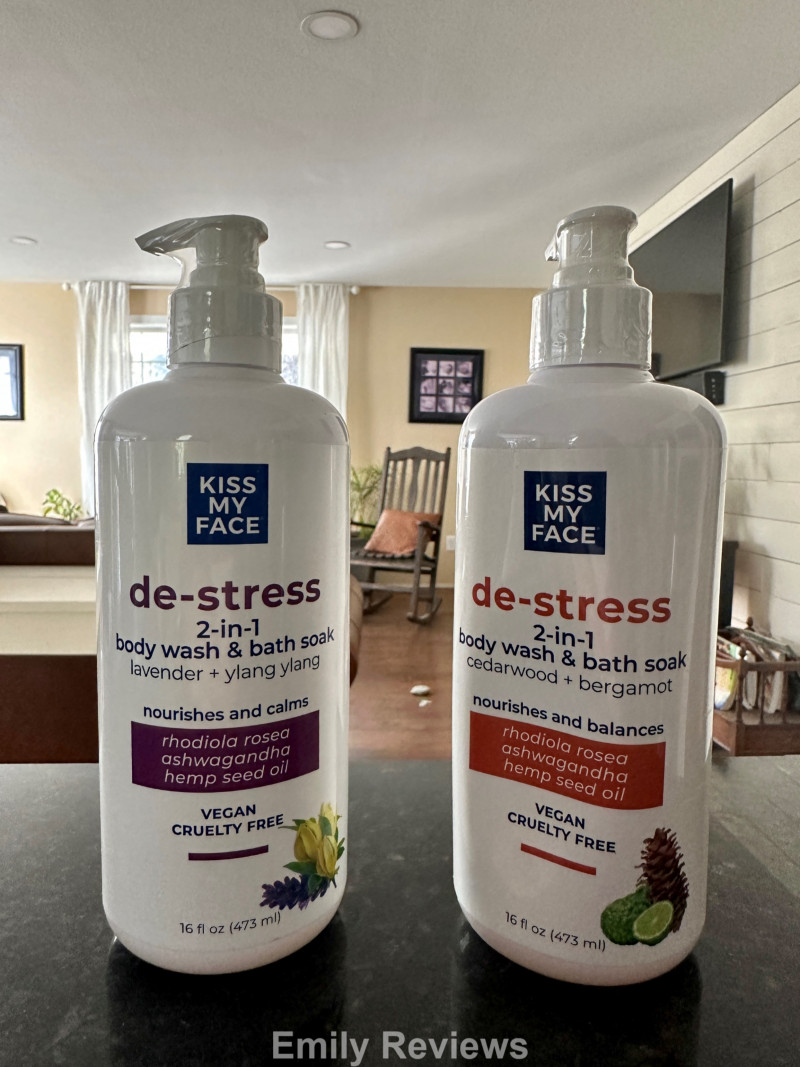 De-Stress 2-in-1 Body Wash & Bath Soak is a great way to help reduce stress. The rich formula is perfect for lathering your body while you shower or papering you while you soak in a warm bath. De-Stress 2-in-1 Body Wash & Bath Soak is available in Lavender + Ylang Ylang, Cedarwood + Bergamot, Lemongrass + Juniper Berry, or Peppermint + Clary Sage.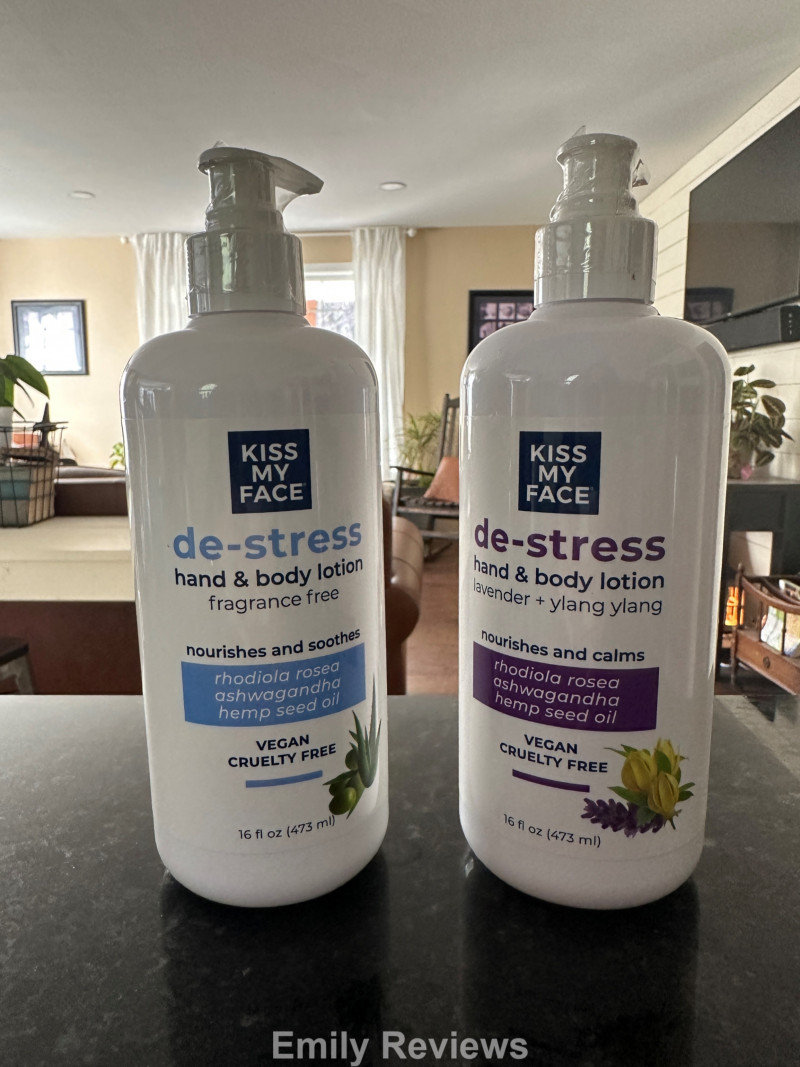 De-Stress Hand & Body Lotion is perfect for moisturizing and nourishing your skin. It has a light creamy texture that leaves your skin smooth and soft. De-Stress Hand & Body Lotion comes in Peppermint + Clary Sage, Lavender + Ylang Ylang, Lemongrass + Juniper Berry, and Fragrance-Free.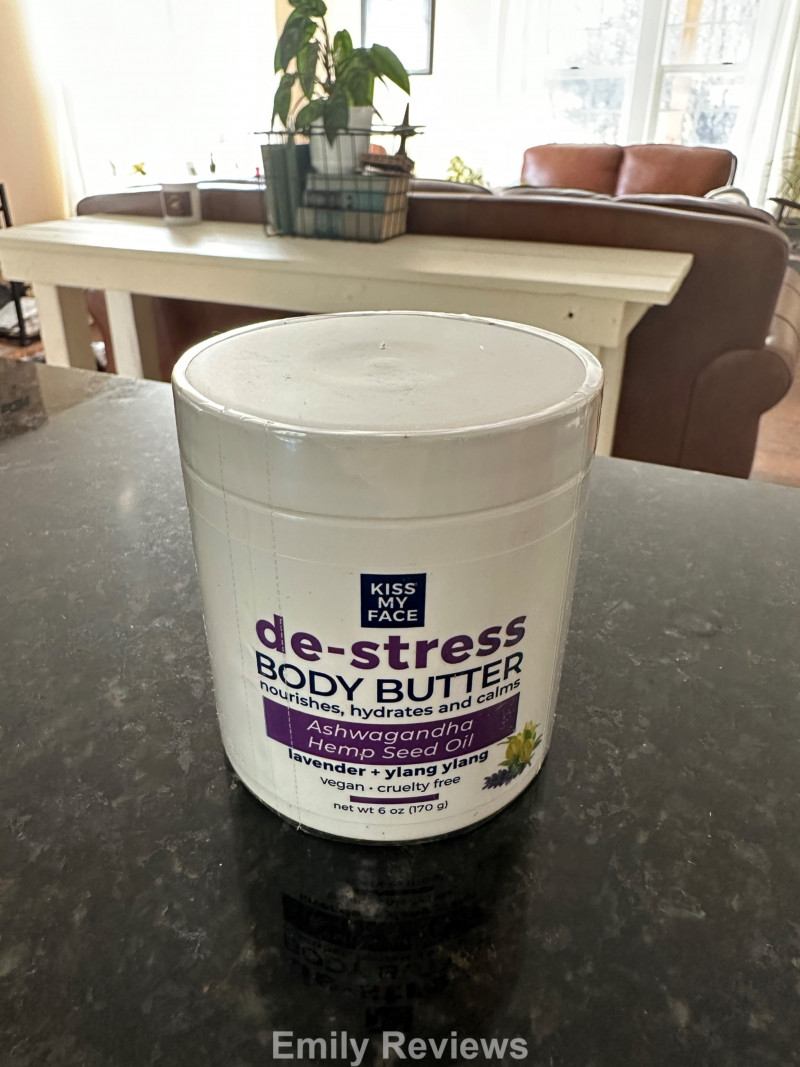 De-Stress Body Butter – Lavender + Ylang Ylang might be exactly what you need for a restful night of sleep. Like the above products, the Body Butter contains Rhodiola Rosea, Hemp Seed Oil, and Ashwagandha. It also contains Marshmallow Root. Some say that Marshmallow Root can help soothe irritation and inflammation.
The girls seem to appreciate the De-Stress Collection of personal care products. My youngest, who tends to focus on how products make her skin look and feel said they were nice and left her skin feeling soft. My oldest seems to be more interested in the aromatherapy aspect. The day I gave her her gift, she went to sleep two hours earlier than normal. While I have no way of knowing if it was connected or not, I appreciate that she was able to get some rest.
How do you de-stress?
Buy It: Please visit the Kiss My Face website to see their great selection of products and convenient shopping locations.
Connect: Don't forget to follow Kiss My Face on Facebook and Instagram for the latest product announcements and special offers.


Hello, my name is Laurie. I have been married to my husband for 16 years. We have two young daughters, ages 15 and 13 years old. My family and I live in Oregon so that means we are just minutes from the beach, mountains, and desert.  We love it here and try to spend as much time outdoors playing as we can. When we aren't outside playing, I enjoy reading, gardening, refinishing furniture, and other crafts.
This post currently has 4 responses.