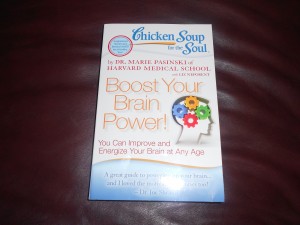 Chicken Soup for the Soul books have been very popular for several years.  I can remember reading them when I was younger.  I loved all of the topics that were covered and I felt like I could relate to the stories.  I also enjoyed giving them as gifts.  Who doesn't like Chicken Soup for the Soul?  Well now that I am older, I still enjoy a good Chicken Soup book.  I find them comforting and fun, but you can also learn a great deal from them as well.
For review I received Chicken Soup for the Soul "Boost Your Brain Power!"  I laughed at the title when I received it in the mail, as I knew this was the perfect book for me.  I am only in my 30's, but I find it harder and harder to remember stuff.  I'm not sure if it is because I am now a mom and my life focuses more around my son or if it is just the fact that since I quit work to be a stay at home mom I don't get as much adult interaction.  Either way, I am fine with the path my life has taken.  With that being said, I would still like to stay sharp in the mind as I continue to age.
Marie Pasinski, MD is the author of this fantastic book!  She is a Harvard Medical School graduate and part of their faculty.  She is also a neurologist at Massachusetts General Hospital.  What I love about Chicken Soup for the Soul "Boost Your Brain Power!" is the short stories intertwined with actual medical advice  and tips that can help you improve your memory and stimulate your brain.
Make sure you also check them out of Facebook and Twitter!
Win It: 3 winners will receive a copy of Chicken Soup for the Soul "Boost Your Brain Power!"
Loading Entry-Form…
…



This post currently has 6 responses.