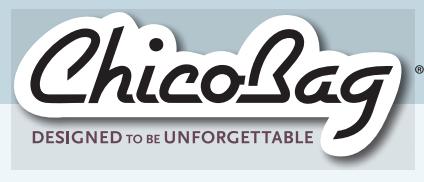 There are so many ways to be green nowadays. I personally try my best to make green choices whenever I can and truly believe that each and every single contribution that we can make as individuals will positively impact our health and our environment. Chico Bag also believes that big environmental problems can be solved with small solutions such as ditching single-use plastic bags for reusable bags.
Andy, who is the president and creator of ChicoBag, was determined to create a product that was convenient and practical. Sure, we have all some of the those huge grocery bags but honestly, how many of you forget to bring them along when it's time to go shopping? I'm certainly guilty of it myself. Chico bags are different because they all have an integrated stuff pouch and a carabiner. There's no excuse now: they fit perfectly into a purse, the glove compartment of a car, even a coat's pocket! You can have a Chico bag with you everywhere you go so you never had to resort to plastic bags ever again.
ChicoBag actually didn't stop at creating reusable bags: they now have a whole selection of products made in a fabric that comes from 100% post-consumer recycled fibers! Look for the 'rePETe' logo for bags that are made of recycled bottles. Not only is it green in its function by also in its design and production. How awesome it that!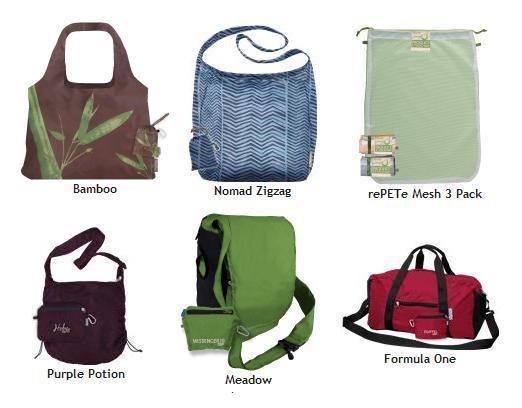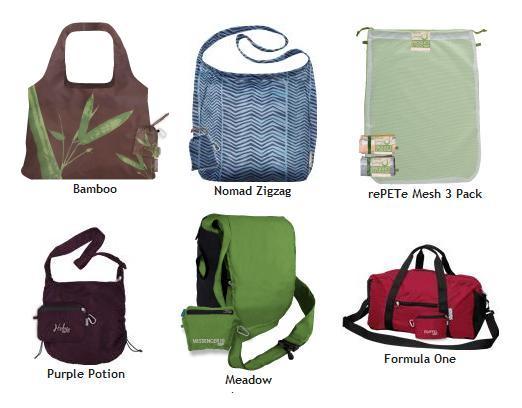 ChicoBag's line of products has expanded a lot since the launch of its first bag in 2005. They now offer sling bags, hobo bags, messenger bags, snack bags, and even daypacks, travel packs, and duffel bags! Their bags come in bold solid colors as well as many prints. Look for their geometric, contemporary, timeless designs and more!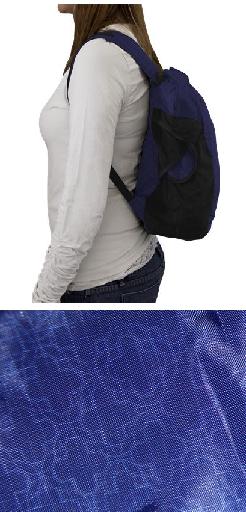 I received one of their newest products: the DayPack15 rePETe which was launched this Fall. It measures 16" by 18" and can contain up to 15L. The pouch measures approximately 7.5" by 5". It's the perfect size to carry all the essentials you need when going on a day's trip, on a stroll around town, or at the beach. The color is called Turkish Blue and there's a fine geometrical pattern that you can see when light reflects on it. The bag is easy to care for: wash it in your washing machine and hang to dry.
I love the idea of a light, compact, and portable daypack. As a mom, I need to be able to have my hands free but I also usually have a lot of items to lug around. I've used the daypack at the grocery store, at the beach, and simply for a walk around town as an impromptu diaper bag. It is quite comfortable as long as you place your items properly. Since there is no padding, you want to make sure you don't have pointy objects poking you.
Here are the features of the DayPack15:
A top opening without zipper – The bags closes by gently pulling the straps through loops. The downside of that is that the bag can't be securely closed. The upside is that it makes it super easy to carry bigger items because you get let them stick out through that top opening.
Slightly padded adjustable straps – The fact that the straps are padded makes them comfortable even when the bag is full and the straps are easy to adjust.
2 cocooned stretch pockets – These are perfect for bottles. The pockets are deep and easily fit a 20-oz bottle with room to spare. You could also carry a rolled-up magazine or a little snack in there.
One internal zipper pocket – This is where I put my keys and cell phone so they are always handy. This pocket doubles as the pouch to store your bag.
3 loops on the lower front part of the bag – You could attach more carabiners or tie small items to it. When I went to the beach, I was tempted to tie my shoes there but I ended up going with my sandals and had no way to attach them to the loops. I will definitely put at least one carabiner there for future use.
Here's what it looks like full wioth a 20-oz bottle in one of the stretch pocket and folded in its pouch with the same 20-oz bottle on the side so you can see for yourself how small the pouch is.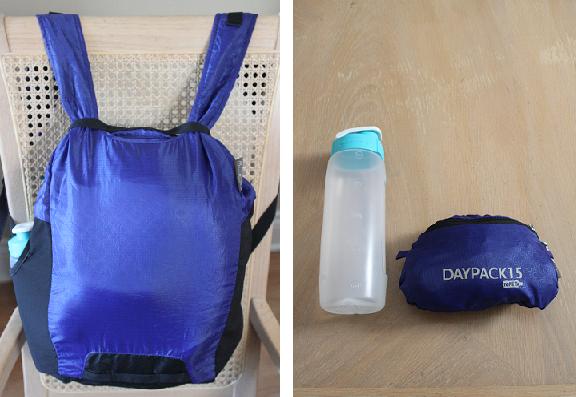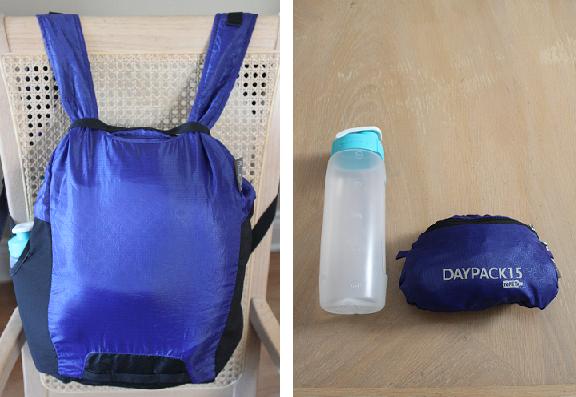 In terms of how much stuff can fit in the bag, to give you an example, when I went to the beach I carried all this: 2 towels, one pair of sunglasses, sunscreen, my wallet, my cell phone, my camera, snacks, a couple cloth diapers and wipes, a wetbag, a 20-oz water bottle.
This daypack is great! I like that I can carry it with me all the time in my purse or leave it in the glove compartment of the car so we never have to resort to plastic bags again. The fact that it's a backpack is definitely a plus for me because it's easier to carry when I also have my daughter to hold in my arms.
To see for yourself all the reusable bags and designs that ChicoBag has to offer, head to their website! Don't forget to check their Facebook page and follow them on Twitter for all the latest news.
ChicoBag is generously offering one lucky winner a DayPack 15 rePETe in Turkish Blue, just like the one I reviewed. The giveaway is open to US and Canada and will end September 17th. For your chance to win, enter the Giveaway Tools below. Good luck!
Loading Entry-Form…
…



This post currently has one response.