I have been thinking about the "needs" and "wants" that our four-pawed family member, Kaylee, has this holiday season. I think if she could write a wish list, she would ask for more Dog Gone Jerky. Last year, she had the privilege of reviewing a few Dog Gone Jerky products and she LOVED them.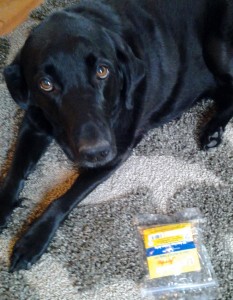 This year, Dog Gone Jerky sent Kaylee some new products to try as well as some of the others that she already LOVES. For Kaylee's review, she received Chicken, Pork, Beef, and Cattitude Chicken Jerky. She also received their new Meat Toppers in Chicken, Pork, and Beef.
Dog Gone Jerky is an "All Natural" jerky treat for your dogs. Dog Gone Jerky uses chicken, beef and pork that are the same grade that we eat. The only other ingredient is sea salt and it is less than 1%. There are NO fillers, artificial flavors or colors. They are free of grain, sugar, and wheat. Their products are USDA inspected and approved. Every step in Dog Gone Jerky production takes place in the USA from farm raising, to processing, and manufacturing. Speaking of manufacturing, Dog Gone Jerky is made in a facility that makes human food, not pet food.
Kaylee scarfs down her Dog Gone Jerky treats so it's obvious that she really enjoys them.
Cattitude Chicken Jerky is a jerky treat for your cat. This is the same wonderful jerky treat as the Chicken Jerky for dogs, it's just smaller bites. I/Kaylee actually prefer this size over the larger size. Kaylee tries to eat the larger pieces so fast that she was sometimes having a hard time swallowing them. The Cattitude jerky is a great bite size for her.
Meat Toppers are a great way to add more protein into your dog's diet. Meat Toppers are finely chopped meat pieces that can easily be added into their food. Kaylee thinks this is the icing on the cake…what better way to top her food that with a little more meat.
Dog Gone Jerky is the ONLY treat I give Kaylee. I know I can trust their company and the quality of their products. Kaylee deserves nothing less.
Dog Gone Jerky is on facebook and twitter.
Who are you buying Dog Gone Jerky for this holiday season?
One lucky winner will receive a Dog Gone Jerky prize basket. This is a US giveaway that will end on 12/12/12.
Loading Entry-Form…
…


Hello, my name is Laurie. I have been married to my husband for 12 years. We have two young daughters, ages 9 and 11 years old. My family and I live in Oregon so that means we are just minutes from the beach, mountains, and desert.  We love it here and try to spend as much time outdoors playing as we can.
Follow Laurie on Facebook | Pinterest
This post currently has 10 responses.