I'm pretty picky when it comes to the music that I like. The music I do like, is really important to me. For more than half of my life, I've used music as somewhat of a coping method or escape. While Ryan doesn't mind my music, he's just not much of a music person. When we first started living together, it was strange for me to adjust to sleeping without music because I had been doing so for years. He can't fall asleep with any noise though, so I adjusted. When I have trouble sleeping, I still break out music to help me drift off. Until recently, this meant using my mp3 player or phone with earbuds. Earbuds never seem to fit my ears right so they either fall out or hurt the insides of my ears. I'm usually a side sleeper but would have to lay on my back to try and use the ear-buds. It just wasn't an ideal situation.
When I heard about SleepPhones, I was immediately interested in checking them out. Seems how I don't have an Ipod, I was excited to learn that they can be used with any device that has the standard 3.5mm jack. This is the size that my mp3 player, smartphone and computers all use so that's when I knew I had to have some SleepPhones. They are available in black, gray and lavender and in sizes "one size fits most" as well as extra small and extra large. Mine were the in between size and in lavender.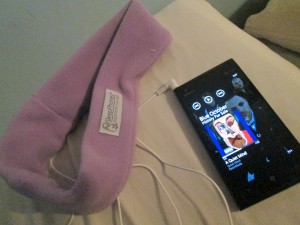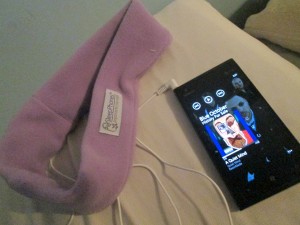 The headband material is fleece so it's really soft but it also has wicking properties so if you are a warm sleeper they shouldn't be a problem for you. They are non-pilling fleece as well, they feel relatively thin for fleece – it's not at all like wearing a winter hat to bed. I haven't found myself too warm while wearing or sleeping in the SleepPhones.
I was surprised at how thin the sides of the headband are. They appear to be just the thickness of two layers of fabric instead of having a headphone in there. Of course, I was excited to try them out so  I slipped them over my head. The headband fit well and it didn't feel like there was anything being held up against my ears, like I had worried. It just seemed like I was wearing a regular headband. Of course, I plugged them into my phone and turned on some music.
That's when I truly fell in love with SleepPhones. This wasn't the type of sound quality that you get from standard earbuds at all. I felt like I was being surrounded by this gorgeous song almost like watching a movie with surround sound. It wasn't at all muffled or unclear. In fact, it was so clear and it seemed so "real" that at first I worried that if I were to take them off and hold them in my hand, that i'd be able to hear them still – like they would be a speaker instead of a headphone. So I slipped them off and before they even fell to my shoulders, I couldn't hear a thing.
I'm still just amazed at the sound quality that these have. The music is so beautiful coming out of them.
That night, I used them to fall asleep and was so impressed with how I could sleep on my side and it didn't feel like anything was pushing on the side of my head or my ear. They're just plain cozy.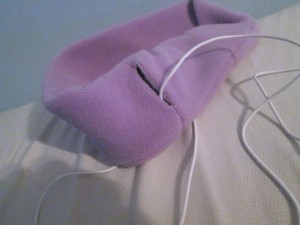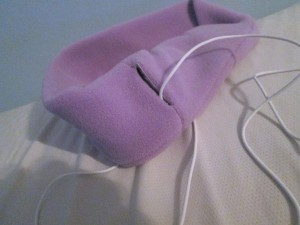 I really like how the headband is machine washable. The back of the headband is where the cord hangs out through a velcro opening. When you open the velcro area, you can pull the cord and at first you'll find a small felt-like grey square. This is the area where the headphones divide into two cords, one cord goes to your right ear and one to the left. At the end of each cord there is a slightly larger, felt-like square which contains the speaker which is inside of a larger felt square. The picture below is one speaker (green) and the grey divider felt square. At the other end of the cord, there is a red speaker that sets next to the other ear.  All of this can come out of the headband and then you can wash the headband. Once it's clean, you just grab the squares and put them back into the headband and velcro it shut. You can also do this to adjust where the squares are in the headband if they aren't perfectly aligned with your ears.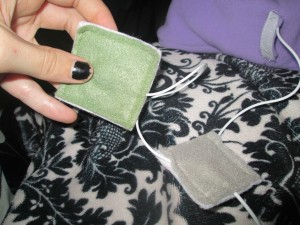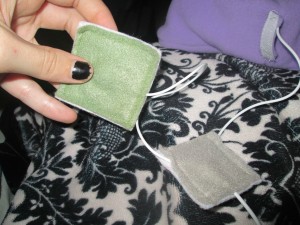 Just to check the size, I had Ryan try on the headband and it fit him slightly better than it fit me. It wasn't too tight on him but it was tight enough to stay firmly in place, where as on me they slide a little bit but not enough to cause a problem.
I can see SleepPhones also working nicely for people who workout or are otherwise very active and struggle to keep their ear-buds in place.  I'll admit that I've used them while sitting online just because the sound quality is so nice compared to my standard earbuds.
The SleepPhones website offers SleepPhones as entire kits, or you can buy just the headband or just the speakers. You can also get extension cords that let you use SleepPhones with your stereo, and other accessories for your SleepPhones.
Buy it: You can purchase SleepPhones on their website, Amazon, Best Buy and others.
Connect: You can connect with SleepPhones on Facebook, Twitter and Pinterest.
Win it: A pair of SleepPhones! Giveaway is open to the US and Canada and will end at 11:59pm EST on 1/22/2013.
To enter: Fill out the Giveaway Tools form below.
.



Hi there! I am Emily Evert, the owner of Emily Reviews. I am 28 and live in a small town in Michigan with my boyfriend Ryan and our two pugs. I have a large family and I adore my nieces and nephews. I love reading memoirs, and learning about child development and psychology. I love watching The Game of Thrones, Teen Mom, Sister Wives and Veep. I like listening to Jason Isbell, John Prine, and other alt-country or Americana music. I created Emily Reviews as a creative outlet to share my life and the products that I love with others.
This post currently has 15 responses.