Anytime that a woman brings up her uncomfortable bra, it seems like every female around follows up with a story or complaint of their own. Comfortable, well fitting bras are just difficult to find, no matter what size or shape you are. Despite remaining within about 5lbs of the same weight, and remaining the same height and jean size for the last 10 years, my bra size fluctuates as often as a couple of times per year. It feels like as soon as I find a bra that fits well, my size changes and it no longer fits so I am back to square one. I've found that the best way to fight my changing bra size is to buy bras that have general sizing such as small, medium and large instead of a specific band and cup size. Usually this means sports bras, but as someone who isn't very big chested to begin with, I tend to avoid sports bras because they tend to flatten my chest out in a rather unflattering way.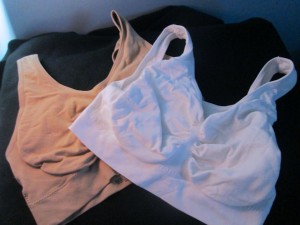 The Genie bra is a bra that is a great mixture of a regular bra and a sports bra. Like a traditional bra, it separates and supports both sides of your chest independently, so it doesn't cause a flattening affect. Yet, like a sports bra it doesn't have the uncomfortable under wire and feels like a more relaxed, natural fit. In fact, I find the genie bra significantly more comfortable than a sports bra. Unlike traditional bras, it won't cause spillage so your body appears smooth and crease-free even in tighter fitting clothing.
Genie bra's are sized from xs-4x and you can view their size chart online to convert your regular band/cup size over to your genie bra size. Size medium fit me well, feeling like it really had to stretch to get on without being tight, and as a 34b I have the largest band size to fit in a medium. When my bra size changes, it's usually by going down one cup size and even if I were to again become a 34b, i'd still be a size medium, so I love how I won't have to buy new bra's again if that happens. Overall I've been really happy with the genie bra's. The only downsides I have found are the appearance as they are rather plain, and how high cut they are. The Genie Bra is much higher cut than any other bra I've ever owned, showing even in my high cut "wife beater" type undershirts. I've tried a few of my tops that are not low cut, but aren't t-shirts and I haven't found anything other than t shirts or other crew-cut shirts that cover the genie bra.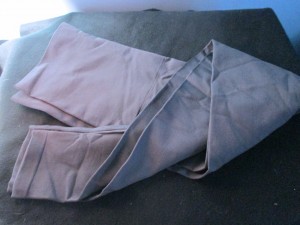 I was also sent some Slim and Tone Leggings by Genie that I really really like. I will admit that as a 21 year old, I wasn't sure I would take to these high waist leggings but I'm sold on them. I have a lot of elastic skin – I can pull a lot of skin even off of strange areas of my body like the backs of my hands, my neck and the top of my feet. This "extra" skin pools around my knees when I stand with my legs straight, which I am self conscious of. Even in regular opaque leggings, my knees look weird. I was immediately in love with how the slim and tone leggings make my knees appear flat instead of lumpy like they really are. The leggings are designed to help keep your backside from appearing flattened and panty lines from showing, which I haven't really had a problem with in the past but the high waistline results in my "love handle" area being covered and the firm material that the leggings are made out of slims and flattens my love handles making my clothing appear to fit much better. Despite being smoothing and form-fitting, the leggings don't feel as tight or as uncomfortable as shapewear. I feel like I could wear them for hours without discomfort and don't feel like my movements are more difficult.


I wrote this review while participating in a Blog Tour by Mom Central Consulting on behalf of Genie Bra and received products to facilitate my post and a promotional item to thank me for taking the time to participate.
This post currently has 8 responses.