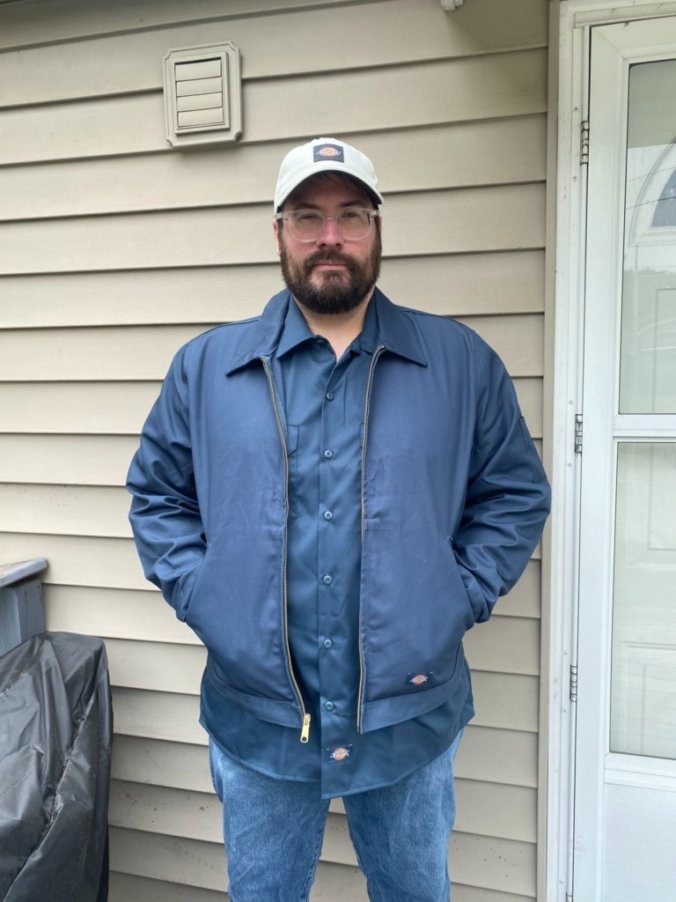 Dickies sent me clothing for review. All opinions are my own.
My boyfriend Ryan has been a fan of the Dickies brand for years. He had a Dickies winter coat that he wore for years and it held up great. Here he is holding our niece and wearing his Dickies coat.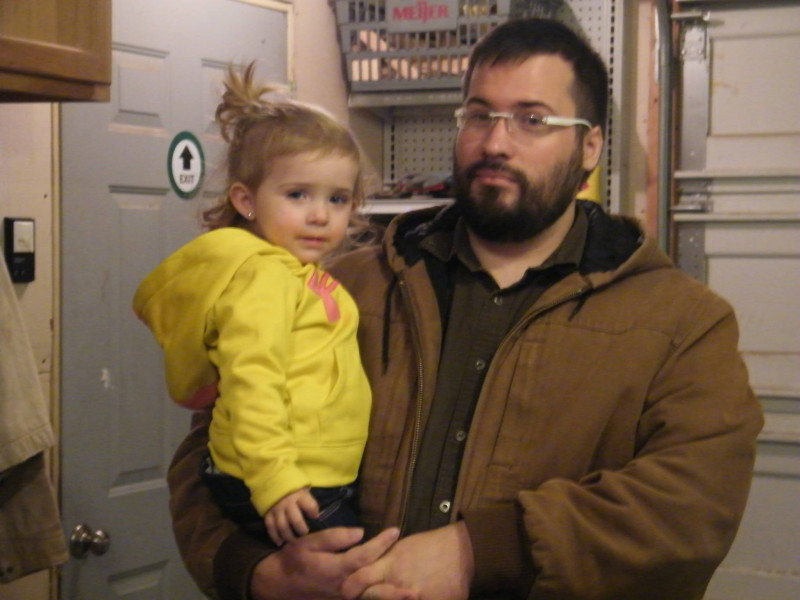 He also likes Dickies work shirts because they're not as casual as t-shirts but feel more casual than many other types of button-up shirts. Their clothing is made really durable, especially considering their affordable prices. Ryan was sent a work t-shirt, he's owned these before but it had been a decade or more. In fact, he once wore a Dickies outfit for Halloween! Me and my baby sister dressed up as ladybugs so he wore a dickies set as a work uniform and said he was an exterminator.
So, we already had lots of reasons for enjoying this brand. I personally had never owned anything from the brand myself though. So, I was excited to try out some clothing and I'm now a huge fan myself!
Dickies Women's Clothing Review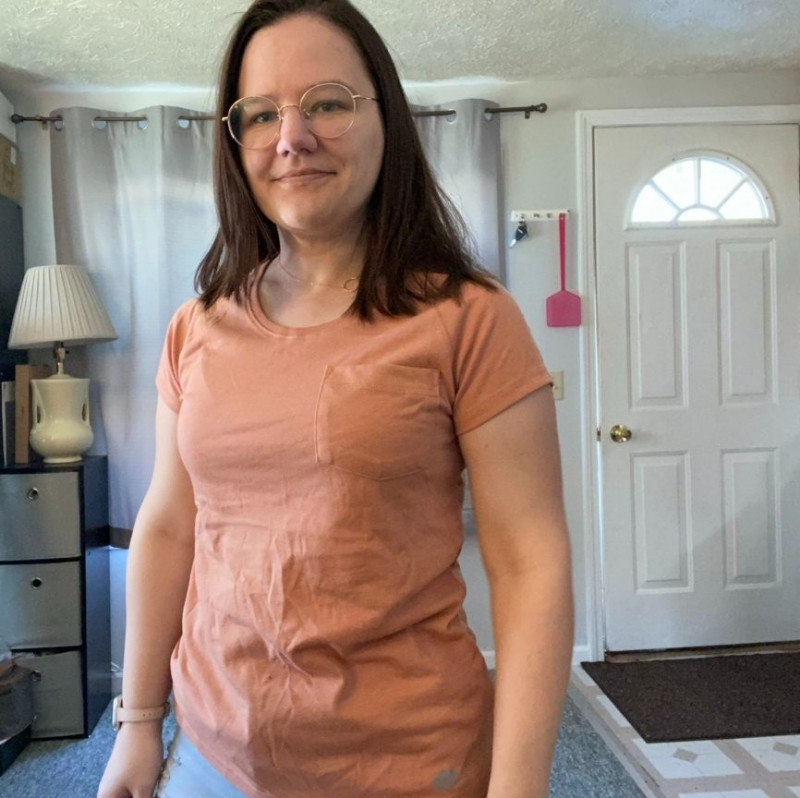 Most days, I like wearing solid-colored shirts, scoop necks or v-necks. I don't like unisex shirts, I want ones that are a bit more fitted to a feminine style but I like simple tops. I've been getting tons of wear out of the two Dickies t-shirts that I was sent. I got the Dickies Women's Cooling Short Sleeve Pocket T-shirt in "Cork Single Dye Heather". This shirt is designed to be moisture wicking but it doesn't have that "workout clothing" feeling to the touch. It feels like traditional cotton but it does seem to be more breathable and cooling than other cotton based tops that I have. It's generously sized in my opinion, so I ordered a size down from what I'd order from most other brands. We knew Ryan tends to wear a smaller size in this brand as well. Check their size chart if you aren't sure but I think of them as generously sized.
I like how this top isn't snug but has a feminine shape for a t-shirt, while being comfortable.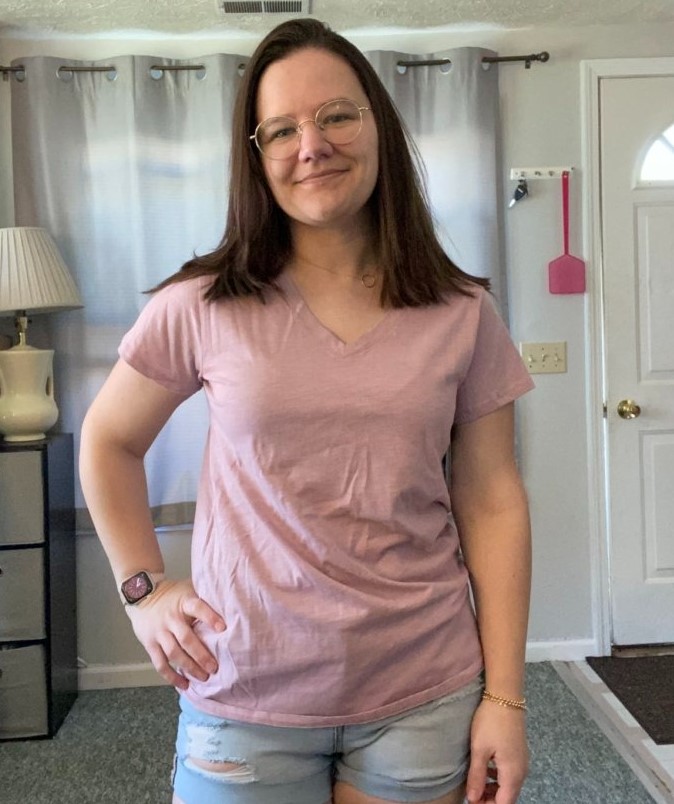 The other t-shirt that I was sent was the Women's Short Sleeve V-Neck T-Shirt in Mauve Shadows which is a light purple color. By now you all know how much I love purple! Similar to the other t-shirt, I find this to be a generous and comfortable yet somewhat feminine fitting shirt (for a t-shirt, anyway!) which is exactly what I was hoping for. I've found myself reaching for both of these t-shirts regularly since they arrived. They're definitely new favorites for me!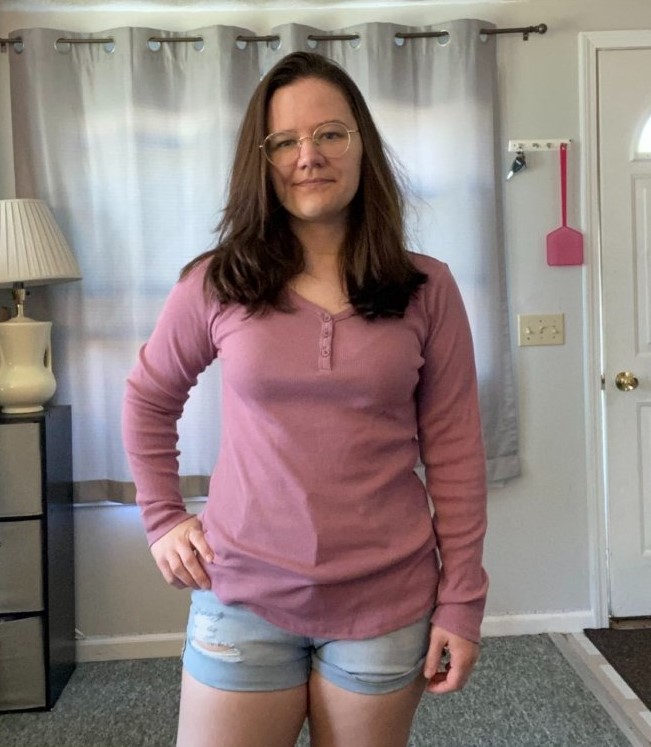 I also wanted to highlight a third top I was sent. This one I haven't got much wear out of, just because I picked it out a little bit late in the season. It is the Women's Henley Long Sleeve Shirt, I got it in Dusty Orchid which is a light purple tone. This top is really soft, fits a little softer/tighter than the t-shirts but still isn't overly snug or form fitting. I really like how this fits and will definitely get a lot of wear out of it once the temps drop back down again.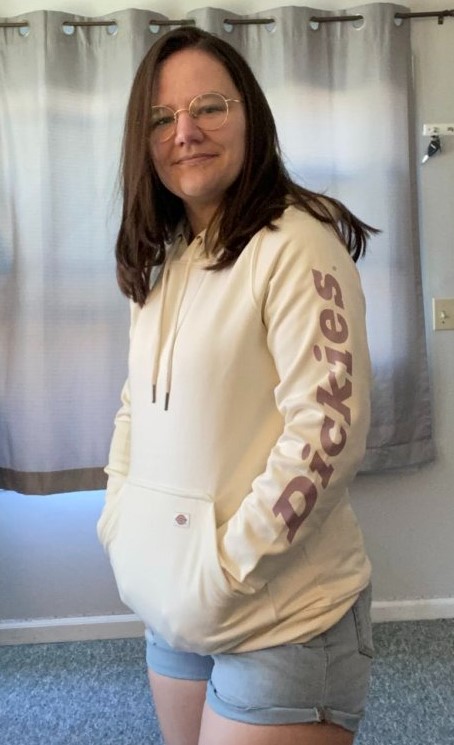 Last but not least, I was sent the Women's Heavyweight Logo Sleeve Pullover in Antique White. I didn't request this, it was just generously thrown in, but I was excited to receive it. I wouldn't typically pick out something this light in color, but I love the off-white color, and how the logo is purple in contrast. This was sent to me in the same size as the shirts (which all fit great) but I found that this was too tight for me, sadly. I was a bit surprised by that, as hoodies tend to be more generously sized than shirts, if anything. I feel like it visually looks okay on, but it's really tight in the neck area so I have a hard time getting it on, and it's uncomfortably tight through the shoulders when I have it on as well. I'll be passing it on to someone smaller than me seems how it doesn't quite fit, but it feels really well made and is a really cute look. I'd just be cautious of the sizing.
Dickie's Men's Clothing Review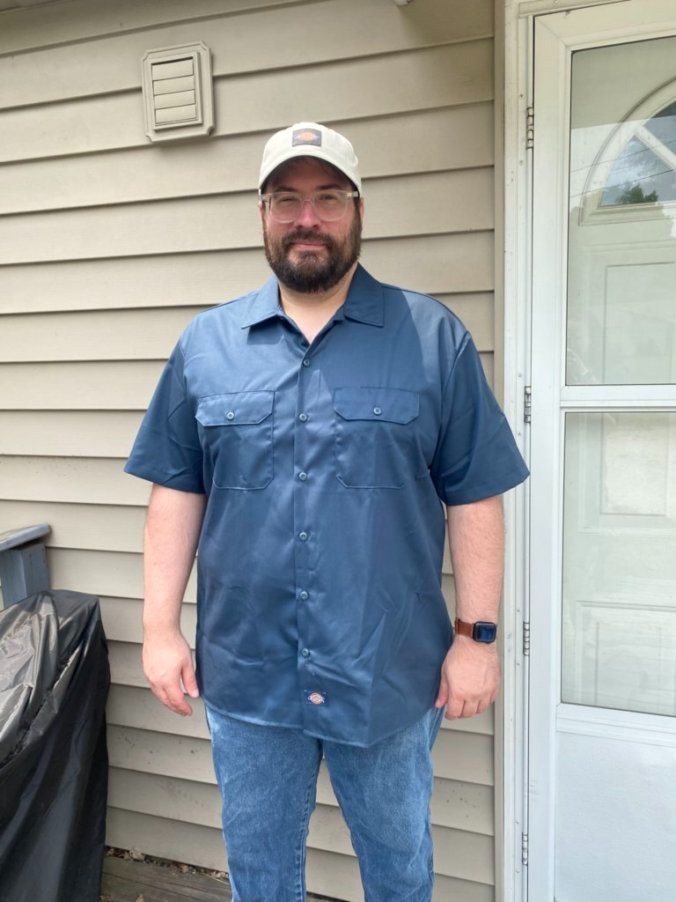 Ryan was sent a short-sleeved work shirt which we knew he'd get lots of wear out of as he had owned these before. They're great for so many occasions! Such a classic, staple item for your wardrobe. He was also sent an Unlined Eisenhower Jacket. This was a new product to us, but it's a thin but sturdy jacket that I think will be perfect for spring or early fall here in Michigan.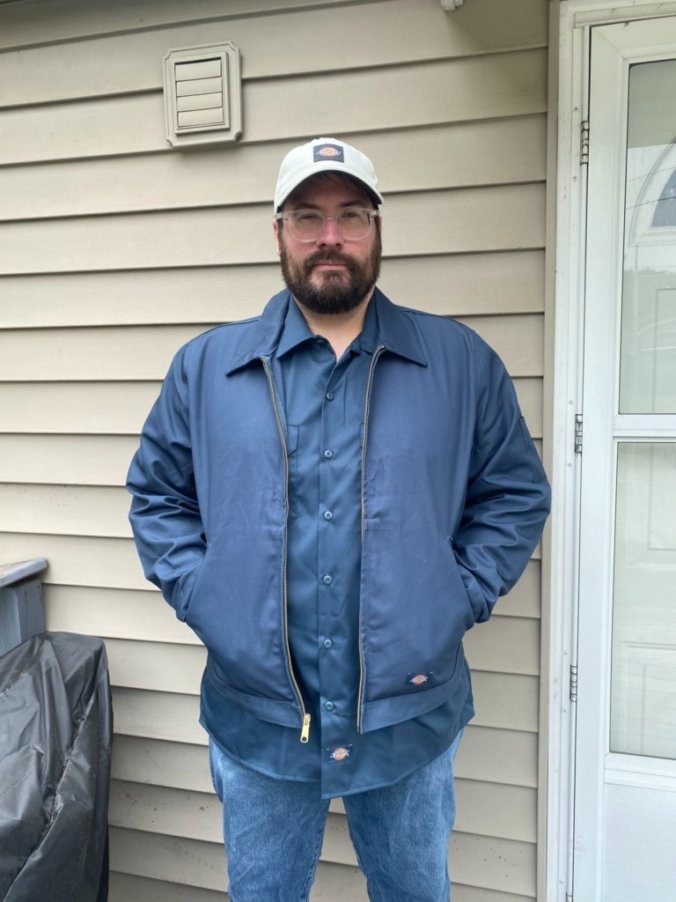 He was also sent a surprise item, the Washed Canvas Cap in Natural Beige. Ryan wears ball caps regularly, but usually goes for black or dark blue hats. Natural beige wouldn't be a color that we'd usually pick, but when he tried it on, we both instantly realized we love this color on him. He's got a lot of wear out of it so far and will definitely consider buying a hat like this from Dickies again if/when it wears out, although we don't expect that to be anytime soon.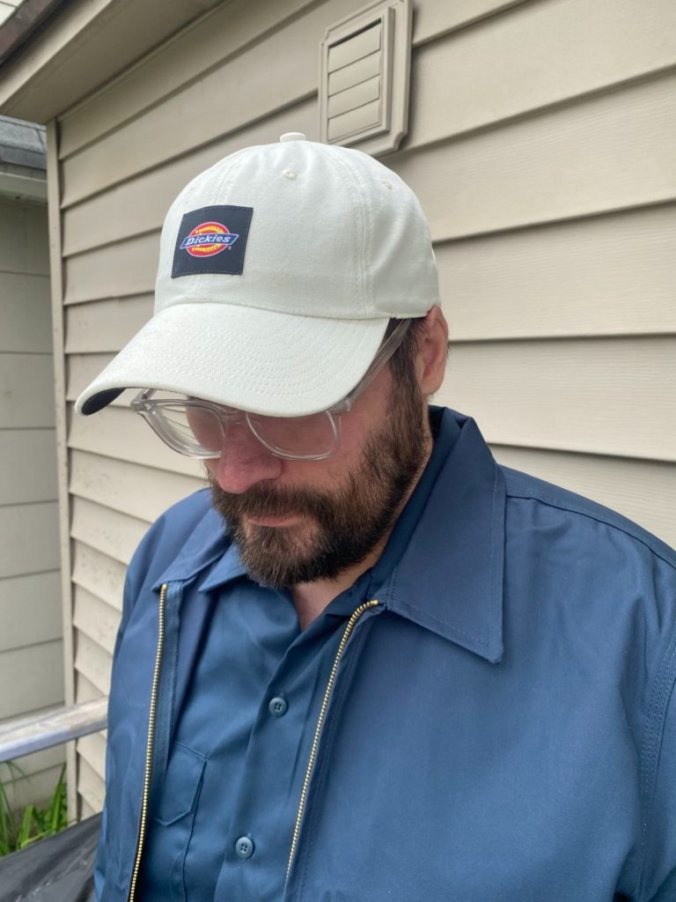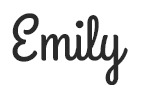 Hi there! I am Emily Evert, the owner of Emily Reviews. I am 28 and live in a small town in Michigan with my boyfriend Ryan and our two pugs. I have a large family and I adore my nieces and nephews. I love reading memoirs, and learning about child development and psychology. I love watching The Game of Thrones, Teen Mom, Sister Wives and Veep. I like listening to Jason Isbell, John Prine, and other alt-country or Americana music. I created Emily Reviews as a creative outlet to share my life and the products that I love with others.
This post currently has 4 responses.