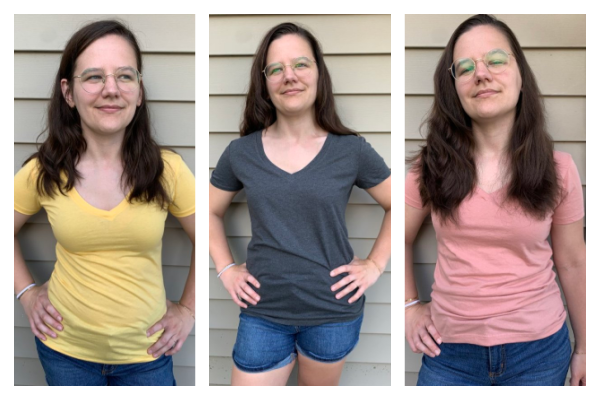 Threadsy provided me with a gift card to purchase clothing from their website for review. All opinions are my own.
Threadsy is a website that sells t-shirts and other basic clothing staples at really affordable prices. I've seen similar online retailers before, but most of them require you to purchase in bulk amounts. At Threadsy, you often can get discounts if you purchase larger amounts but you can buy just one shirt at a time if you'd like. Even when buying individual pieces, the prices are really low! Most are under $5 a piece.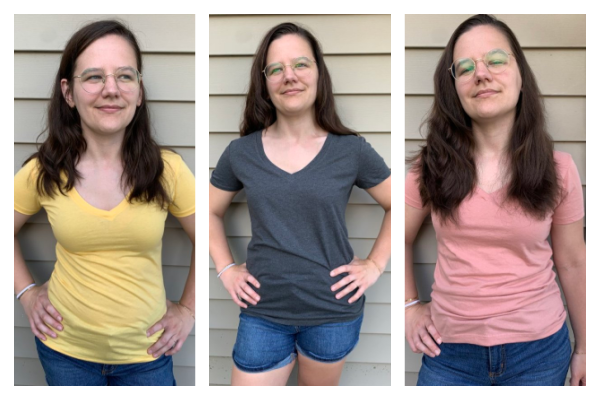 My sister has a Cricut machine and likes buying plain clothing items so that she can customize them with her cricut. Shopping at Threadsy would be great for that purpose! They sell clothing from a lot of brands you'll recognize such as Hanes, Anvil, Fruit Of The Loom and more. Many of their brands offer several different types of t-shirts, too. From regular crew-neck t-shirts, to v-necks, scoop necks and more.
Most of the shirts they sell come in a wide range of colors and sizes, too. If you wanted to make custom shirts for a sports team or other group that had a specific color theme you can find the colors that meet your needs. They also have a variety of fabric choices.
While I suspect most people who shop at Threadsy are likely looking to buy clothing to customize with their Cricut, or to tie dye or hydro dip – I like wearing plain colored v-necks. I'd say probably 75% of the tops I own are solid colored v-necks or scop necks. They're sort of my "uniform"! I am just a simple person fashion wise, I suppose.
I've had my clothing size change a few times the last few years. For almost all of my 20's, I was the same weight and fit a size small in most any brand of shirt. Then I gained 25 pounds or so at about 29 and needed a medium in most brands. Now at 31, I've lost about 12 of those 25 pounds I had gained. So, I'm bigger than I was for most of my 20's but also smaller than I had been for a year or so. I find that I am really in-between sizes depending on the brand.
The Threadsy website offers a size chart for different brands that they sell. For men, they list a chest measurement which is really handy. Unfortunately, for women they don't list a literal measurement, they just list a clothing size (For example, a women's small is a 0-2 or a women's small is a 2-4 depending on the brand).
I don't find that type of size chart very helpful because what a size 0,2, 4, 6, etc are really varies by brand. I'd love to see Threadsy update their size chart with measurements for women.
However, the shirts are so affordable that I decided to just order smalls and mediums of various tops. I figured that the most likely outcome would be that some would fit and some would be too small…but hopefully I'll continue to lose weight and they'll fit again before too long!
I ordered four of the Next Level Ladies' Ideal V shirts. I got hot pink, antique gold, and banana cream in size small. I got desert pink in a medium. The collage below is the four tops. I definitely prefer the fit of the Medium in this fit so if you're between sizes, I'd say size up on this style. These are $3.90 a piece!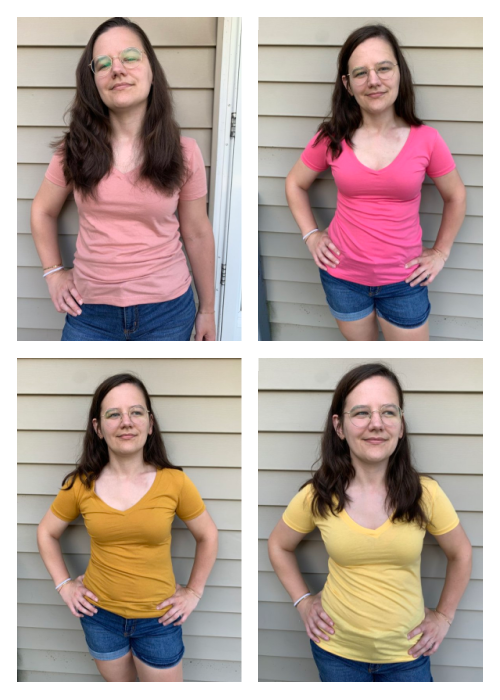 I ordered one Bella + Canvas Ladies' Relaxed Jersey V-Neck T-Shirt in a size small and in the color triblend purple. I think this was he most expensive top I ordered at $7.94 which is really saying something! I really just loved this color. It is darker in person than I expected but I still like it. This style of top is generously sized, it fits me a bit looser than some of the medium that I ordered from other brands/fits. So in this brand if you are between sizes you can size down.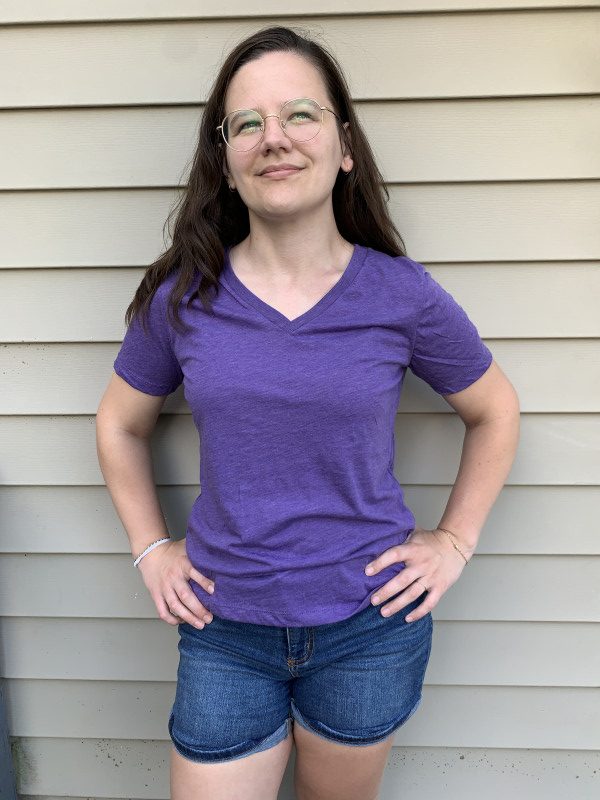 Next up, I ordered three of the Next Level Apparel Ladies' CVC Deep V-Neck T-Shirt. I got hot pink and plum in size small, and purple berry in a size medium.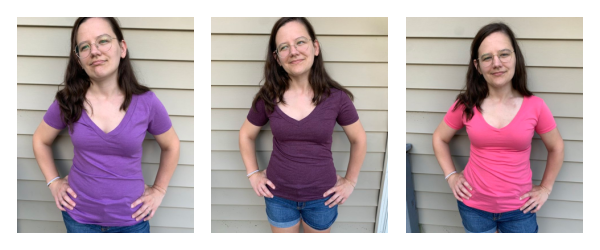 The light purple is the medium. It is longer than the other two, but seems to only be very slightly wider or bigger otherwise. I feel like both sizes fit me too tight, but I think if I were to order a large the v-neck might leave my chest exposed, and the shirt would be too long, as well. I think this top is probably just designed for people who are rather tall and skinny. It's a bummer because I like how they offer a unique shade of purple.
Next I ordered a Bella + Canvas Ladies' Relaxed Heather CVC Jersey V-Neck T-Shirt. This is really similar style to the other Bella + Canvas shirt shown above, but this one is a CVC blend meaning part cotton and part polyester. This is a small and is more generously sized like the other Bella + Cavas shirt I received. This one is notably more pale in person than it looked online. I like this color though and I am happy with the fit.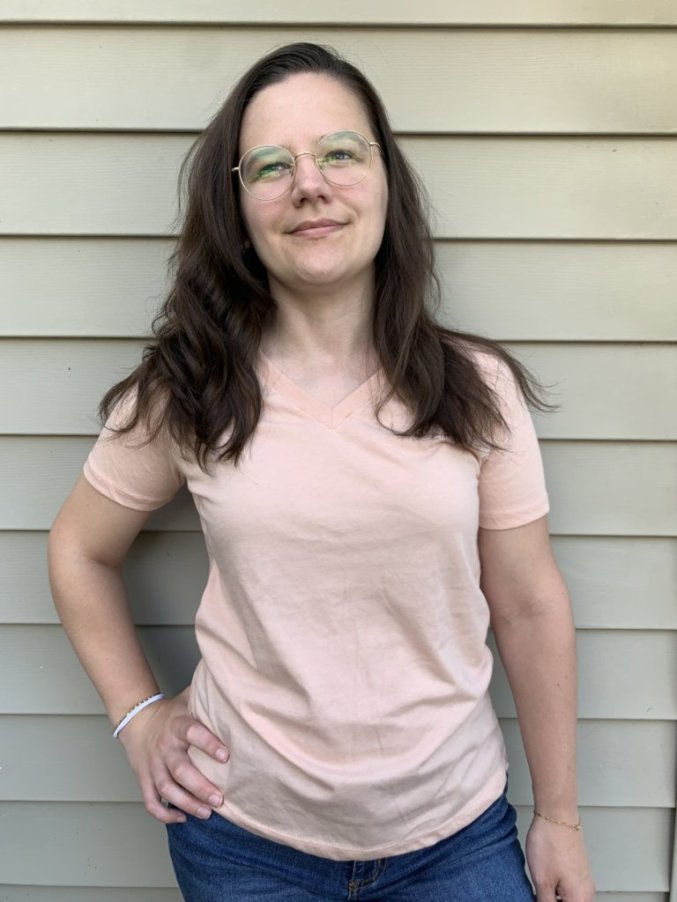 I ordered two Threadfast shirts, the full title on the website is Threadfast Apparel Ladies' Ultimate V-Neck T-Shirt. I got a maroon heather (grayish pink) top in a size small, and a charcoal shirt in a size medium. The size small fit me better in this one, the medium was a bit long. I liked the fit of these tops but we had a really strange experience with them. I didn't notice any odor when I had first tried them on, but after getting washed they smelled really bad. They had appeared perfectly clean and brand new on arrival, nothing to make me think they had been soiled in any way. I can't make sense of why they would have an odor once wet.
I washed all of my Threadsy shirts together in a new load and I smelled a bit of an odor when I opened the machine after the first wash. I smelled the shirts individually and picked out two that seemed to be causing the smell, and then realized they were both the same brand – these Threadfast shirts. The odor got milder after they were dry, but still smelled bad. I washed them on their own four or five times trying different detergents and cleaners but could not get the odor to go away so I eventually threw them away, unfortunately. I have no idea what could have caused this odor or if it is common with this brand or not…but from this experience, I'd advise avoiding the brand just in case. The collage below shows the two Threadfast shirts.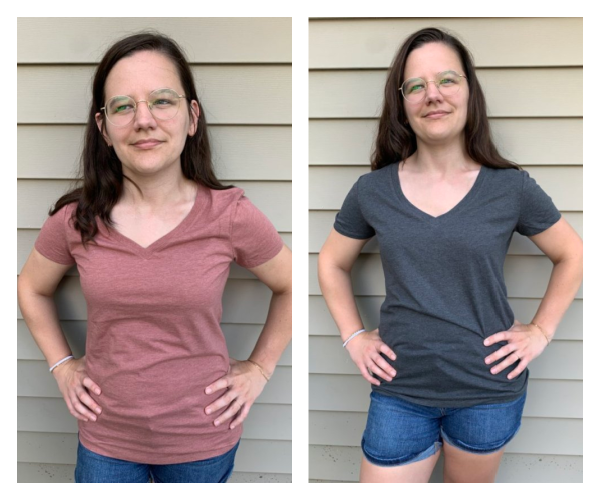 I ordered two Next Level Apparel Ladies' Festival Cali Crop T-Shirts. I was worried these would be too small, as the v-necks I got from the Next Level brand ran small. The crop tops are definitely a much wider fit, so they fit. The pink one is a small, the purple is a medium. The length on these is a bit longer than some crop tops, which I like. I can wear them with high waisted shorts (as shown) and barely have skin showing.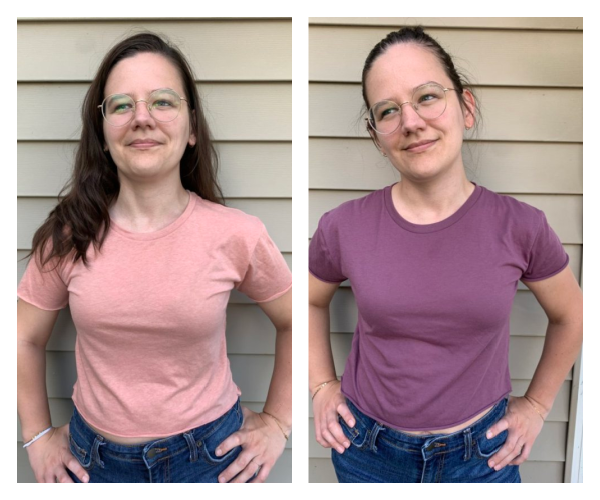 I got two Next Level Apparel Ladies' Triblend Scoop tops. One in vintage purple in size medium, and one in premium heather (a gray) in size small. I felt both of these fit too snug for my taste. I noticed very minimal difference in how they fit despite being different sizes. This style felt particularly small in the armpit area for some reason. I'm not large chested and I don't have large biceps or shoulders so I don't usually have shirts too small in that area.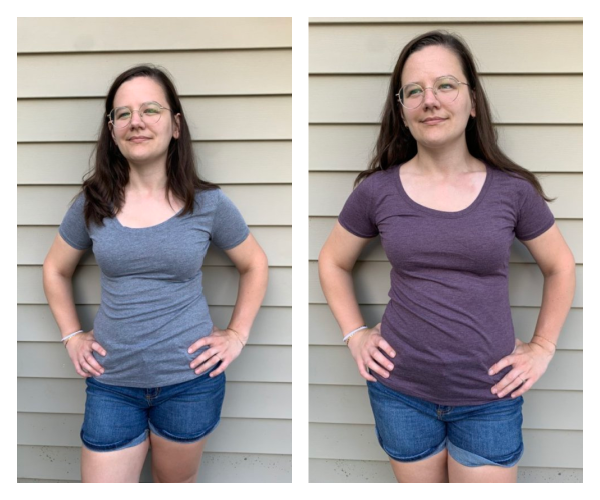 I ordered two more scoop neck tops, also from the Next Level brand, but in a different style. This one is called the Next Level Apparel Ladies' Festival Scoop. I got this in "antique gold" in a small and "desert pink" in a medium. This one is more "flowy" through the stomach which made this style a better fit for me. The small in this style was tight through the armpits still though, so the medium was the best fit.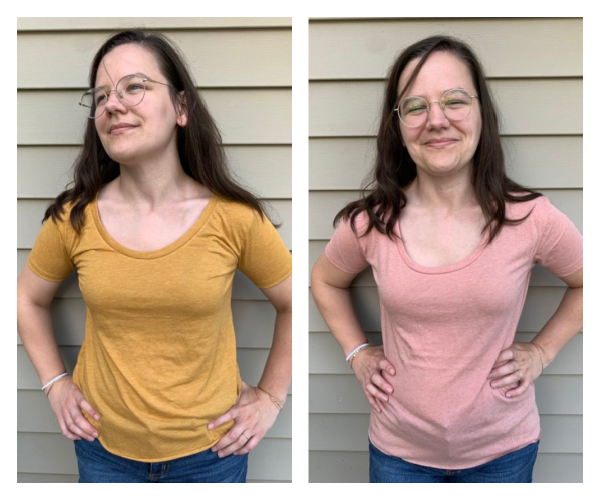 Although only about half of the shirts that I ordered fit right now, I'm still quite happy with my order. The prices can't be beat, and I now have a nice assortment of colors in my wardrobe! I'm working on losing the rest of the weight so hopefully the ones that were too tight will fit before too long.
Threadsy has clothing for men, women and kids so you can find t-shirts and other clothing basics for the whole family!
Win it: Threadsy will provide one winner with a $75 gift card code to use on t-shirts or other items of their choice. All orders over $50 are free so shipping will be included. This giveaway is open to the US and will end 9/6/2022 at 11:59 pm.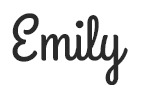 Hi there! I am Emily Evert, the owner of Emily Reviews. I am 28 and live in a small town in Michigan with my boyfriend Ryan and our two pugs. I have a large family and I adore my nieces and nephews. I love reading memoirs, and learning about child development and psychology. I love watching The Game of Thrones, Teen Mom, Sister Wives and Veep. I like listening to Jason Isbell, John Prine, and other alt-country or Americana music. I created Emily Reviews as a creative outlet to share my life and the products that I love with others.
This post currently has 3 responses.