It seems like Ryan & I have been sick more this winter than usual. Since new years, we've been sick three times. Ryan got sick the week of Valentine's day, so we wound up delaying our planned trip to have dinner at Old Country Buffet. So we waited a few days until we both were back to feeling 100% and went to the restaurant around 3pm in the middle of the week. Our Old Country Buffet is located in the back of a plaza that is less than bustling with shoppers, but we were surprised to find that the restaurant had a decent amount of customers there while we were.
As a kid, I enjoyed buffets because I was a picky eater and I knew that it wouldn't matter at a buffet because I could pick whatever I wanted. Old Country Buffet was (and is) my favorite buffet, at least from the ones in our area because their selection is better than the rest. Buffets are great for taking kids to because it allows them the freedom to eat what they want while you don't have to eat the same thing as them. I noticed that the prices were reasonable for kids too, starting at just $1.99 for 2 and 3 year olds and working on up with age. Kids night is every Thursday from 5 to 8pm and during that time kids eat for just .99 (ages 11 and younger) and they put on special activities, entertainment and menu options during that time.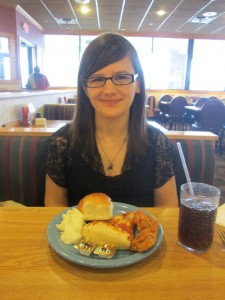 I tried out spicy fried chicken, regular breaded chicken, mashed potatoes, pizza, pineapple, and rolls – if i'm not forgetting anything. I typically shy away from pizza at buffets because they tend to have weird, rubbery crust but the pizza appeared much more normal to me so I tried it and it was as good as it looked, so that was probably my favorite part. I liked everything that I tried and went back for seconds on a couple of things.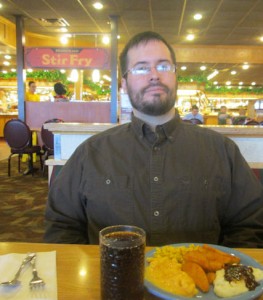 Ryan tried tacos, tortilla chips with nacho cheese, mac and cheese, potato wedges, corn, mashed potatoes and gravy and ice cream. His tortilla chips were chewy instead of crisp so he didn't end up eating those, but he liked everything else.
We both walked out overly-full. I just wish I had the ability to overeat more than I can so that I felt like I got more food for the price, haha.
Connect: You can connect with Old Country Buffet on Facebook.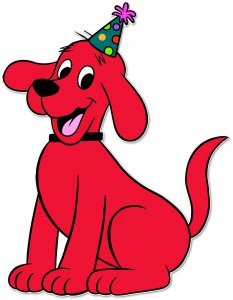 Win it: Some activity books and sticker sheets that are Clifford the big red dog themed! These activity books are 12 pages long.
To enter: Fill out the GT form below before 11:59pm EST on 3/12. This giveaway is open to the US.


This post currently has 8 responses.