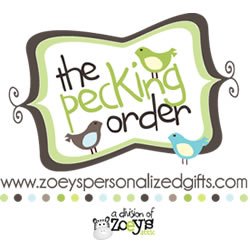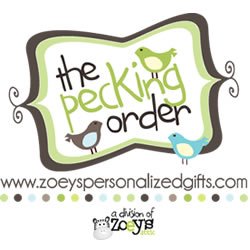 My sister Erica has a two year old, Drew and is expecting her second baby in about five weeks. The new baby is going to be a girl, so I've been on the look out for unique coordinating clothing that can be used for a toddler boy and newborn girl. This is easier said than done. I came across Zoey's Personalized gifts (also called Zoey's Attic) and was excited by how large their selection of "pecking order" clothing they have that allow you to buy coordinating clothing for your children to show off their "pecking order" or the order in which they were born. Instead of just having colors that coordinate, they come in tons of designs that show off that child's individual interests. Their t shirt themes include lots of colors if you prefer more plain designs, but they also have options that range from baby giraffes to sports, trains, princesses and cupcakes. There are lots of designs that I'd love to get for Drew and Kelsie once she's here, but when I saw a "brother to be" shirt that is tractor themed, I had to give in and get it for Drew before his sister arrives.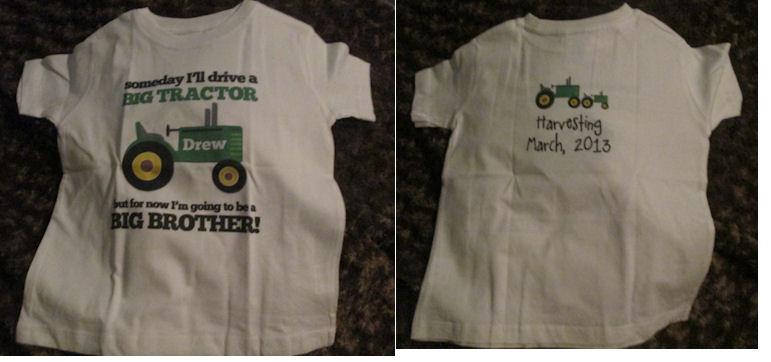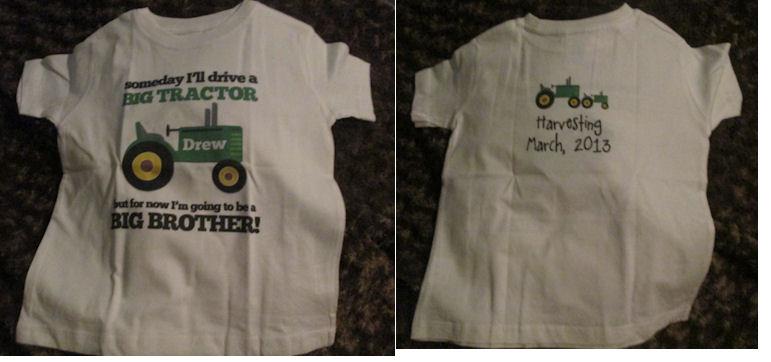 Drew absolutely loves tractors so I knew he would like this shirt, and I loved that I could have it customized to say his name on the Tractor and his sisters due date on the back. Yesterday I went shopping with my mom and Drew to three or four stores including the mall and we had three different people comment on how cute it was, and one person asked where we got it.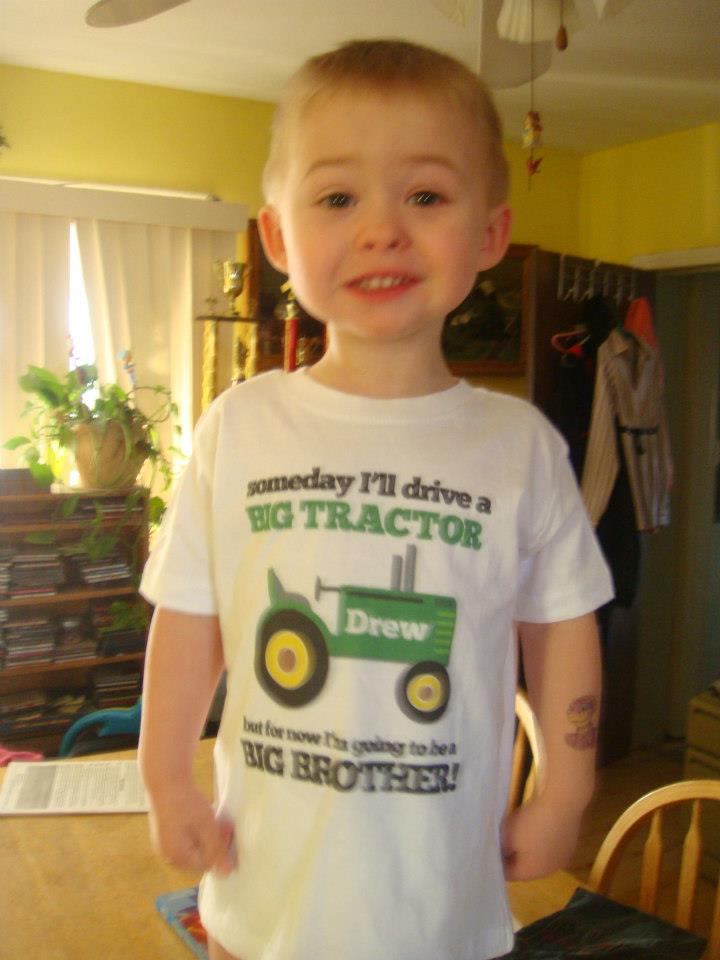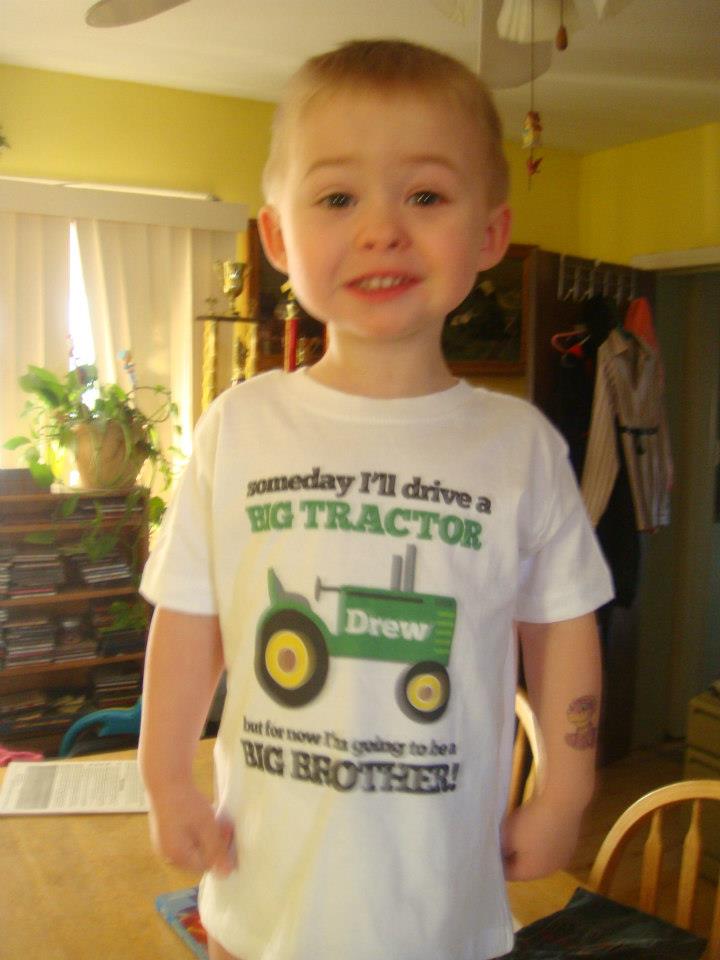 I couldn't have personally come up with a design that was more perfect for my tractor loving little guy, so I feel like the shirt is a great price at $18.50. Especially considering that it will likely be used as a keepsake that is kept for sentimental reasons. The sibling shirt sets (for two children) are $32 per set, so the price per shirt is slightly less. They also have sets for 3 children and 4 children.
With the shirt I selected, there are options available to further customize the shirt. If you want to avoid adding a name, you can leave it blank. You can also avoid adding the due date month and year, which is nice for people who might be due the week that turns from one month to another. This shirt is available in sizes newborn up through an adult XXL, making these sibling t-shirts able to be used on teens or even full grown adults which is certainly not an easy thing to find. I chose a white shirt but they also have natural, pink, gray and light blue available. I also could have opted for long sleeves, an organic t-shirt or a girls-cut t-shirt instead. Some of these add ons/options are free while others increase the price slightly.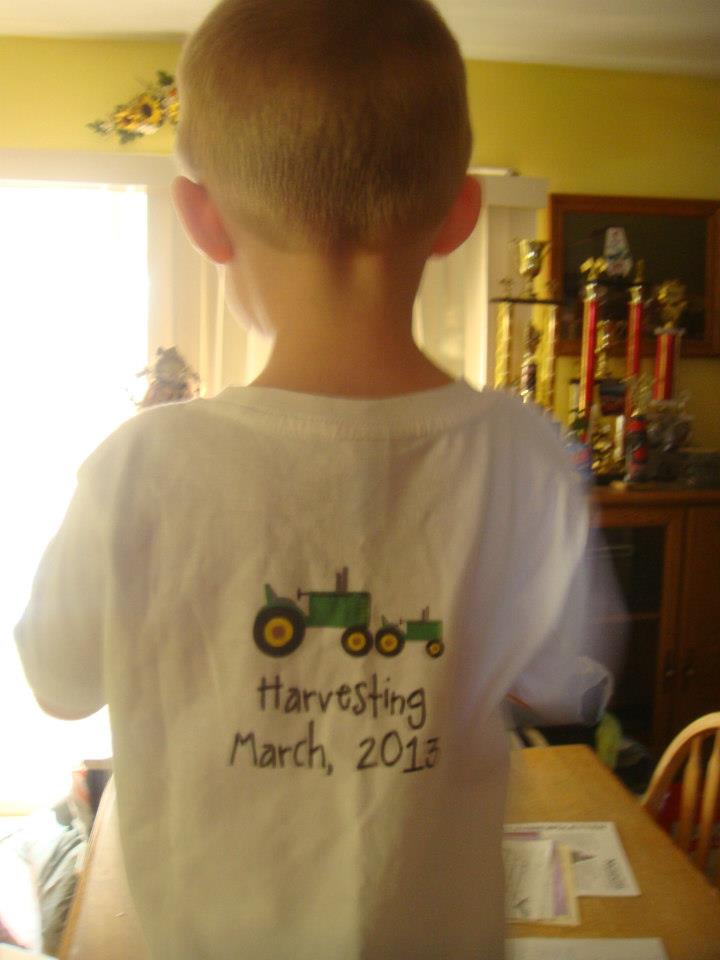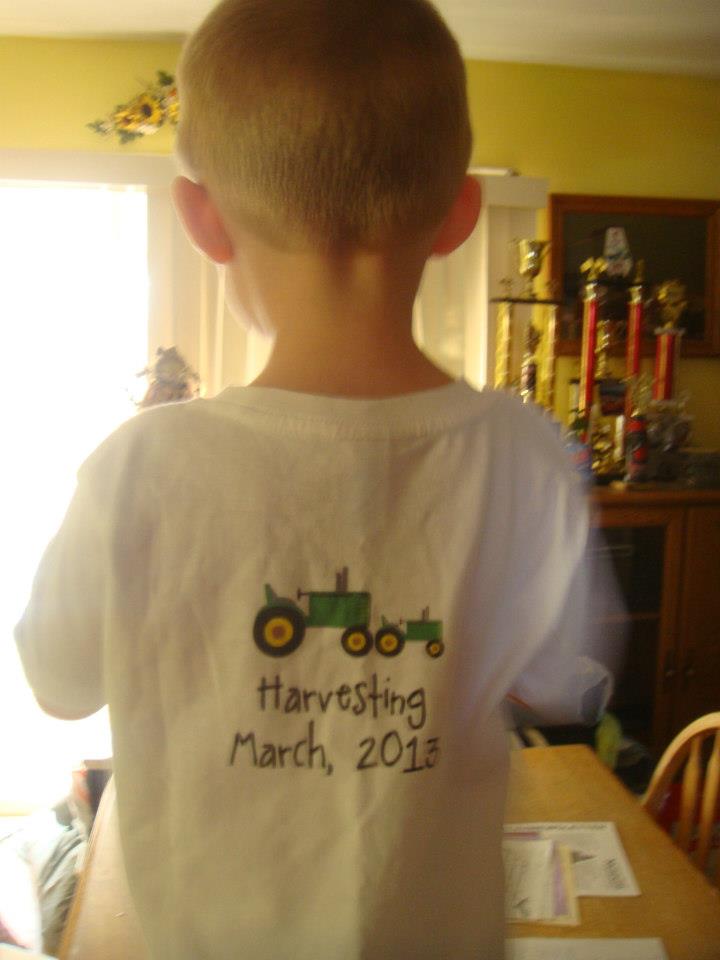 Drew's full name is Drew – not Andrew, which isn't super common and Kelsie's name is (or I guess will be?) not the most common spelling for her name, so I love how Zoey'z Attic allows us to input whatever name(s) we need without having to select from a list that likely wouldn't include either of the names, at least not the way they are spelled.
Zoey's Attic also has aunt and uncle t shirts, parent and grandparent shirts, maternity shirts and more, so you can have the entire family celebrate the new baby's birth with t-shirts if you'd like.
Connect: You can connect with Zoey's Attic on their blog, Facebook, Pinterest and Twitter.
Win it: A $35 gift card to spend at Zoey's Personalized Gifts however you wish!
To enter: Fill out the giveaway tools form below before 11:59pm EST on 2/28/2013. Giveaway is open worldwide.



Hi there! I am Emily Evert, the owner of Emily Reviews. I am 28 and live in a small town in Michigan with my boyfriend Ryan and our two pugs. I have a large family and I adore my nieces and nephews. I love reading memoirs, and learning about child development and psychology. I love watching The Game of Thrones, Teen Mom, Sister Wives and Veep. I like listening to Jason Isbell, John Prine, and other alt-country or Americana music. I created Emily Reviews as a creative outlet to share my life and the products that I love with others.
This post currently has 4 responses.