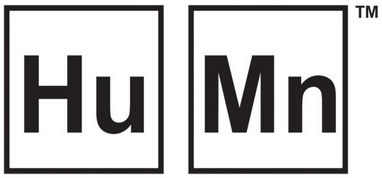 I recently came across a product that was totally new to me: HuMn Wallet. It is the ultimate minimalist wallet. When I say minimalist, I mean it.
HuMn wallets are basically super thin plates held together by a strong elastic strap. The plates are either made of aluminum or carbon fiber. The plates comes in 3 sizes: HuMn original,  HuMn 2, HuMn mini.
The HuMn original plates measure 4.25 x 2.96 and are 0.1 thick. This 2-plate wallet weighs 1.2 oz to 2.0 oz (depending on material).
The HuMn 2 plates measure 3.85 x 2.96 and are 0.5 thick. This 2-plate wallet weighs  to 1.2 to 1.7 oz (depending on material). This model is similar to the original but has a few improvements: slightly smaller in width and rounded corners.
The HuMn mini plates measure 3.80 x 2.53 and are 0.5 thick. This 2-plate wallet weighs 1.1 oz to 1.6 oz (depending on material). This model, as its name suggests, is the smallest. Despite its mini size, it's still large enough to fit regular size cards, such as credit cards, driver's licence, etc.
The carbon fiber plates have a unique grey matte finish whereas the aluminum plates come in wide array of colors. The elastic strap come in 4 different color. You can create a totally personalized wallet by choosing the color of each plate and the strap as well!
All wallets come standard with 2 plates but you also have the option of buying a 3 plate wallet to add an extra division for your cards, money, etc. If you need even more divisions, you can buy additional inner plates separately. For ease of access, each outer plate has a tab cutout where you place your thumb to push your wallet open, the center plates have 2 cutouts.

So, what's the point of having a minimalist wallet?
First of all, they are very versatile. They are slick, thin, and light. You can fit them anywhere and fill them with as many or as few cards and notes as you need, you are not limited by a given number of slots. From a girl's perspective, I like that they fit in itty bitty clutches! It's so hard to fit and organize everything I need in a small clutch but my HuMn wallet makes it easy.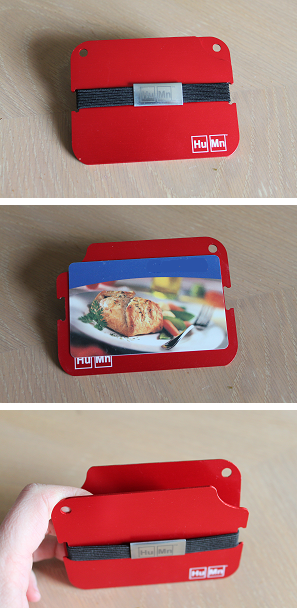 Second of all, they are safe. They are meant to be placed in front pockets so they are difficult to grab by ill intended hands. I should specify though that many of my jeans and work pants have small front pockets so the HuMn 2 would not fit in it in them but I always have a purse or a clutch anyways so it's not a deal breaker for me. If that's important to you, you should probably get a HuMn mini instead.
I was also worried at first that my cards would slip down the bottom when I tried to reach it for card but that hasn't happened. As long as you open it with 2 thumbs as recommended, the bottom part of the 2 plates will stay together so you cards will stay in place. Also, even with just a couple cards, the elastic strap is strong enough to keep everything in place.
The other safety feature which I find very interesting is that all HuMn wallets protect against RFID skimming. If you're like me, you're probably wondering what RFID skimming is (RFID means radio frequency identification). It's actually quite simple: many cards, including credit cards (MasterCard's PayPass cards, Chase's Blink cards, etc), ID cards and driver's licence cards in some states and provinces have a chip in them that emit radio frequency signals that can be picked up at a distance. While convenient, it also means that people can scan and access your information without your consent.
Most wallets don't address this risk but HuMn wallets do! I knew of the risk existed (although I didn't know the technical name for it) but I didn't know there was a way to protect cards against RFID skimming. The designers thought about it and specifically decided to use aluminum because it protects all the cards in the wallet from being scanned. Carbon fiber plates also protect against RFID skimming because there is an aluminum mesh within the plate.
The third reason to get a HuMn wallet is that it is super resistant! The plates will last and last. There is no leather or fabric that will wear out, crack, or fade, no seams that will unravel. Depending on your use and your climate, you may need to replace the strap at some point but no worries, they are sold separately if needed.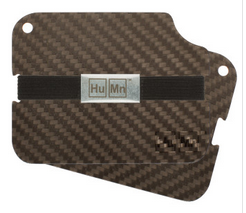 Overall, I'm thrilled to have discovered HuMn Wallet. They offer innovative, practical products that are both beautifully and smartly designed. My HuMn 2 has even become a conversation starter. People think it looks great and ask me how it works and where it comes from.
Head to HuMn Wallet to purchase a beautiful minimalist wallet. Don't forget to like them on Facebook and follow them on Twitter for all the latest news and promotion. I also want to mention that HuMn Wallet offers free USPS shipping within the US.
HuMn Design is generously offering one of our lucky readers a minimalist HuMn Wallet 2. The giveaway is open to US and Canada. The giveaway will end April 24th. For your chance to win, enter the Giveaway Tools below. Good luck!


This post currently has 13 responses.