In the past couple of years, Ryan has tried a handful of different brands and types of e-cigarettes. He has wanted to make the switch to electronic cigarettes because there are so many benefits. The main benefit being there is no smoke for him to inhale or second hand smoke for him to be spreading to me or others who are around him. Also, seems how e-cigarettes don't produce smoke, there is much less odor. Ryan has never smoked in our homes but would smoke in the car and even though he'd always put the window down, the car would hold some of that odor and so would his coats. Of course, we also feel that there are health benefits for him seems how there are so many fewer chemicals in e-cigarettes compared to traditional ones. Until recently, he wasn't ready to make the commitment to completely switch to just e-cigarettes but he has been successful at avoiding traditional cigarettes for over a month now.
While e-cigarettes aren't quite "the real thing" they are an "easier" step down than anything else Ryan has came across. We recently were sent a FIN Electronic Cigarette Starter Kit for review. Unlike most of the e-cigarettes that Ryan has tried, we feel like FIN E-cigs are pretty unique for a few reasons.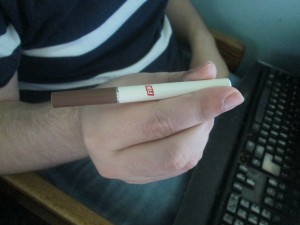 For starters, they look quite different. They are primarily white with the cartridge or cartomizer being brown so they look like a regular filtered cigarette. Some might view this as an advantage if they prefer to not "stand out" in a crowd because of their e-cigarette.
They are also unique because the ordering process is much simpler because there are less options. So many e-cigarette companies have dozens of flavors of cartridges available and it can be overwhelming. Ryan isn't interested in trying crazy flavors but many sites have 5+ options for variations of tobacco and it's hard to know which one he'd like best. So I like that FIN offers two types – tobacco or menthol so there isn't any guess work.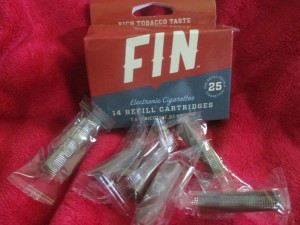 When you vape up everything from your starter kit, you have two basic options for reordering. You can order cartridges or cartomizers. Cartomizers are able to be attached directly to FIN E-cigarettes without needing anything extra, because they have an atomizer attached to them. Their website suggests that cartomizers are roughly equivalent to 2 packs of cigarettes. A 5 pack of cartomizers is sold for $20. Your other option is cartridges. Cartridges come in a pack of 14 for $20 but do not have atomizers built into them so to use them, you have to have a battery that has an atomizer on it. The box that they come in suggests that one refill cartridge is equal to 25 cigarettes (traditional cigarette packs come in 20 count). If you purchase a battery from FIN, it will have an atomizer on it and if you purchase the 15 pack of cartridges for $20, you can add a battery to your cart and the battery ill be free.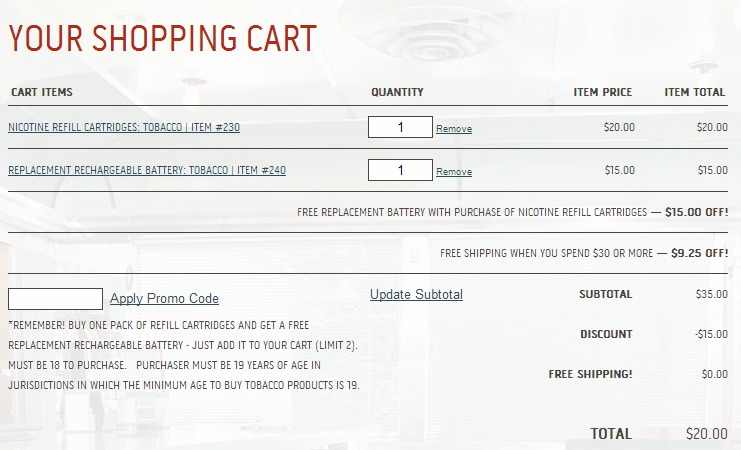 Ryan used up his starter kit and we went ahead and decided to order the cartridges. Now that he has used cartridges, he thought that the cartomizers seemed to last a bit longer, but we still felt like the cartridges were a great deal. Seems how we were ordering the package of refill cartridges, we got a new battery (with atomizer) for free. Also, the FIN website was (and still is) offering free shipping on orders of $30 or more. Seems how the cost of the battery and refill cartridges was over $30 before the cost of the battery was taken off, shipping was free. So in all, we paid $20 for the 15 refills, battery and shipping which was incredibly reasonable especially compared to what other brands charge for cartridges. It's been about two weeks since our order arrived and Ryan has went through roughly have of the 15 pack, so I think it will last him about a month. Though he doesn't smoke as much as the traditional smoker would.
So, maintaining use of FIN is quite affordable compared to their competition and their starter kits are reasonable too. They actually offer two types of starter kits, one is $60 and comes with two e-cigarettes, 14 cartridges, a USB charger (with A/C adapter) and a metal storage case. However, for those with a tight budget or who are nervous to invest more money than they have to prior to seeing if e-cigarettes will work for them, they also offer a smaller rechargeable e-cig starter kit that is $30 and includes 1 e-cigarette, 7 cartridges and a USB charger which is everything you need to give these a try.
The only improvement that I can come up with, is I wish that FIN offered cartridges and/or cartomizers in varying strengths of nicotine levels on their site. Ryan would like to gradually step down on how much nicotine he is consuming and it would be easier to do so if he could order cartridges in different strengths. However, Fin does offer varying levels of nicotine cartridges that are available to be purchased at Walmart.
Ryan really liked this brand, but I can also see this brand being great for people who are maybe older and who might only be open to e-cigarettes if they are very basic an easy for them to adapt to. For example, my dad is in his late 60's and has been smoking since he was around 13 years old. He has been interested in e-cigarettes but nervous to switch because he tends to avoid change. He also is not comfortable using computers. So with these looking like real cigarettes, and having limited ordering options, I can see them being a much less intimidating option for someone like my dad.
You can connect with FIN on Facebook and Twitter.
Buy it: You can purchase from FIN on the FIN E-cigarette website.


This post currently has 34 responses.