*I was sent a bracelet for review for this blog post. All opinions are my own.
I'm not much of a girly girl myself, but I can't resist buying frilly, lacy, sparkly girly things for the baby girls in my family. Kelsie is now 3 months old and has her share of girly things but she didn't yet have any bracelets. When I saw that La Jolie Fille Boutique on Etsy offers personalized bracelets for babies and children, I couldn't resist. The bracelets are available from sizes 0-3 months (going in 3 month gaps for the first year, and six months gaps the second year, and yearly after that) through size 12 years. I went with the 3-6 month bracelet for Kelsie but with her being on the petite side, being a few days shy of 3.5 months and weighing about 10.5 lbs but also being very long. She was something like 2.5 months old before she left newborn clothing for 0-3. Based on this, I wasn't sure if the bracelet might be big, but I thought better too big than too small.
We were sent the Butterfly Pink Charm Bracelet with Kelsie's name on it. Seems how Kelsie's name is six letters long, and 3-6 month size bracelets are so small, our bracelet doesn't have the flower beads that are in the photo. Otherwise, it's the same. As I kind of expected, the bracelet is a bit big and will fall about half way down Kelsie's forearm right now but it will fit her sooner or later.
For most babies or children, these bracelets would make adorable photo props. I had kind of hoped to use Kelsie's in some photos, but seems how her wrist is so small and her name is longer, her name wraps around her wrist so you can't get all of the beads in a single photo at once while its on her. It's still really cute though, I think!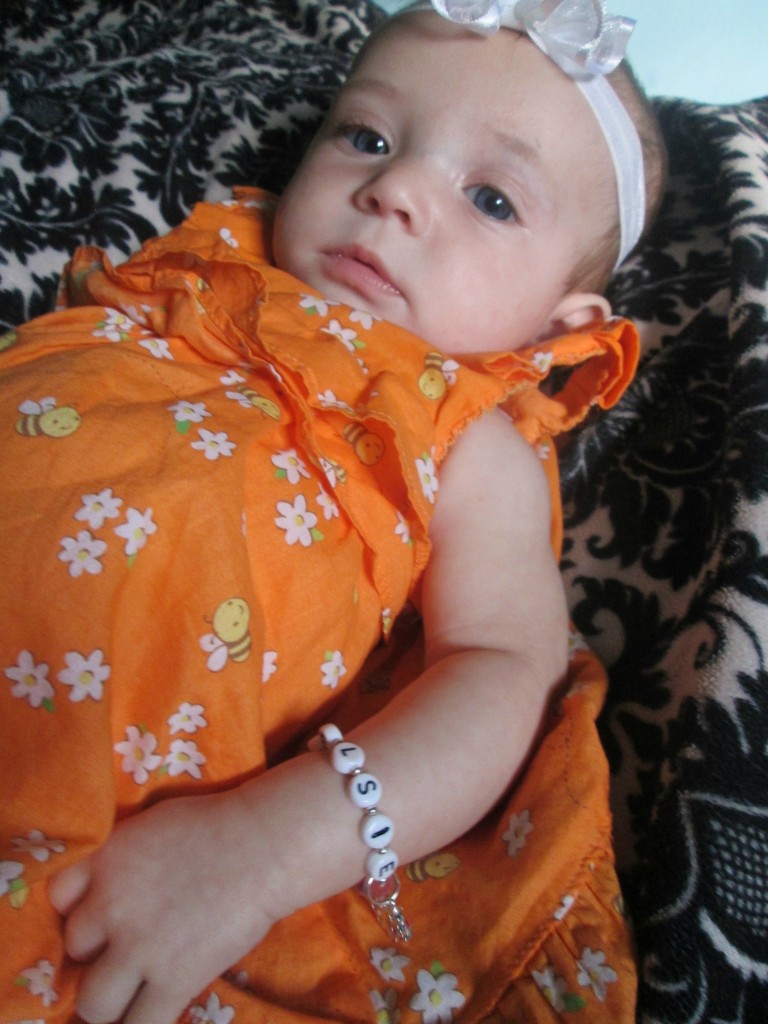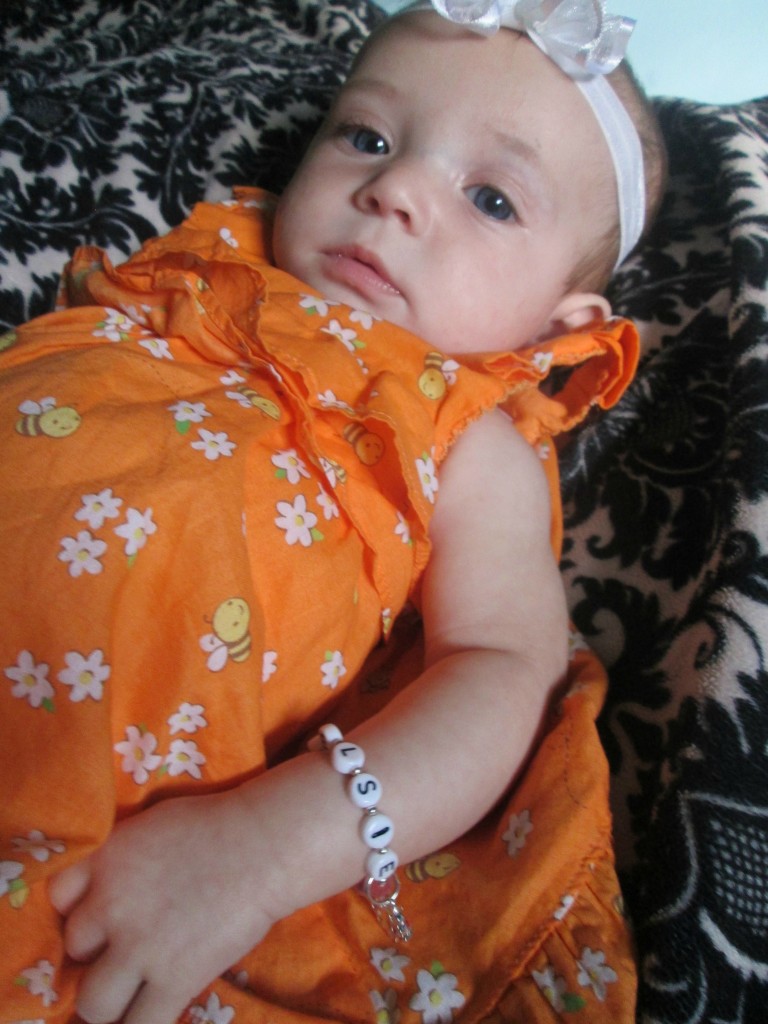 If you would like to build a custom bracelet, you can use the adds on charms to customize one of the designs listed or message the shop if you'd like to design a truly customized bracelet.
La Jolie Fille Boutique also offers earrings for little girls.
You can keep up with La Jolie Fille Boutique on Facebook.
Win it: Three people will each get a bracelet of their choice from La Jolie Fille Boutique ($7 value or less) which covers almost all of their bracelets.
To enter: Fill out the GT form below before 11:59pm EST on 7/11/2013. This giveaway is open to the US.



Hi there! I am Emily Evert, the owner of Emily Reviews. I am 28 and live in a small town in Michigan with my boyfriend Ryan and our two pugs. I have a large family and I adore my nieces and nephews. I love reading memoirs, and learning about child development and psychology. I love watching The Game of Thrones, Teen Mom, Sister Wives and Veep. I like listening to Jason Isbell, John Prine, and other alt-country or Americana music. I created Emily Reviews as a creative outlet to share my life and the products that I love with others.
This post currently has 8 responses.