Thank you Pacsafe
for providing me with a product to review, free of charge.
These are my own honest opinions.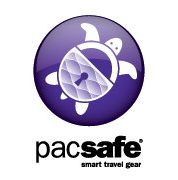 My husband and I travel quite a bit. We also do many activities where we find ourselves in large crowds (concerts, summer festivals, public transit, etc.) I always try to be extra cautious with your passports, wallets, and other belongings but up until recently, I didn't know there were bags and travel gear designed specifically to provide the ultimate protection.
Pacsafe is a company that was established in 1998 and that specializes in anti-theft bags and travel security products. They have a wide range of products from backpacks,  camera bags, tablet and laptop compatible bags, backpack and camera protectors, handbags, wallets, wheeled luggage, etc. Here is a small sample of the products that Pacsafe offers: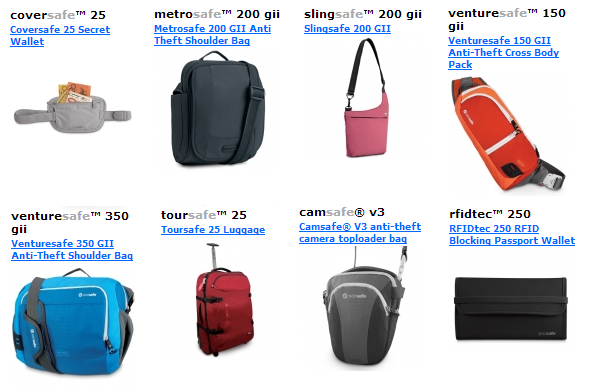 Their products are designed to provide incomparable protection against theft and to give you peace of mind knowing that your belongings are safe no matter what. How do they do it? By packing each product with tons of unique safety features!
Here is what makes Pacsafe products safe and secure:
eXomesh® slashguards – This is a special wire mesh that makes a bag slashproof. If someone tried to slash your bag, the fabric would tear but your belongings would remain inaccessible inside the mesh. It can either be placed externally over a bag, or it can laminated directly between the fabric layers.
Slashproof backpack Carrysafe® strap – Straps are designed with stainless stell wire inside of them. They can't be seen but will prevent anyone from slicing through them to steal your bag.
Smart zipper security™ – The zippers also have stainless steel wire integrated in them. You can slide them down and clip them to a concealed clip making it very difficult to unzip them without you noticing.
Turn & lock security hook™ – At the end of straps, you'll find a special hook that can be locked by turning the plastic cover over it. You can lock your bag securely onto something (tree, park bench, restaurant table, etc) and a thief won't be able to snatch your bag.
RFIDsafe™ blocking pocket – Pacsafe uses a special material for pockets or wallets that blocks unwanted RFID readers which could potentially steal your credit card and passport information (if they have a micro chip on them).
With so many safety features, you can feel confident that whatever you carry in your Pacsafe products is well protected! All these technologies combined make their products slashproof, snatchproof, and tamperproof. My other travel gear doesn't come close to providing me with the same level of security for my belongings! What about yours?
For this review, I received the Venturesafe 25L GII Anti-Theft Travel Pack in Ocean Blue. It also comes in black or storm grey but I thought the blue was so bright and beautiful, I had to have it!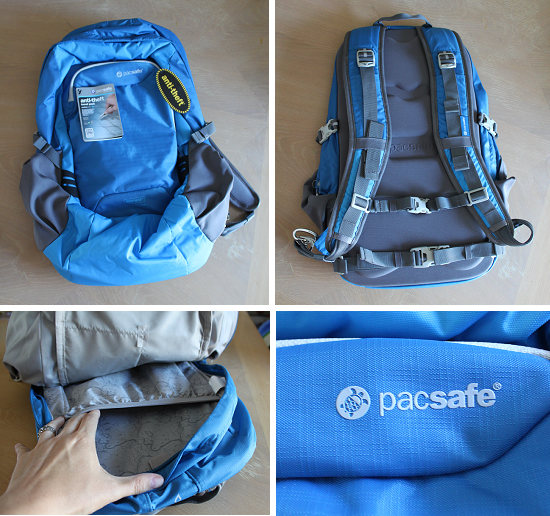 This bag has all 5 safety features listed above. I especially like the smart zipper security because I tend to be a little obsessive about zippers… I'm always afraid they will unzip themselves magically and my stuff will fall out. Now that I can just clip them shut, I don't have to worry about it anymore.
I like that all safety features are subtle or hidden. I wouldn't want anyone to know that my bag is like a little portable safe because it might attract unwanted attention. The eXomesh and Carrysafe straps are totally invisible as is the internal RFID blocking pocket. The hook that keeps the zippers from being unzipped are also hidden under a flap. The only thing that a thief might notice is the security hook on the strap but I think they'd have to know what they're looking for to see it because it's quite subtle.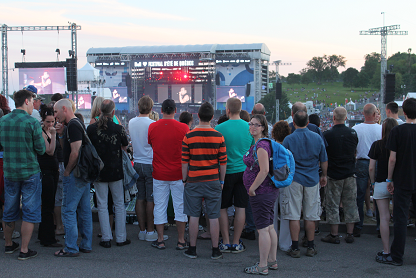 Not only is the Venturesafe packed with safety features, it is also full of other clever design details. It is a good size for a day pack and can hold 25L. The pack has 2 zippered compartments. The main one has a padded sleeve big enough to fit a 15" MacBook. The smaller compartment has the RFID blocking pocket as well as a phone pocket, a key or wallet ring, and a pen holder. On either side of the pack are stretchy water bottle or umbrella pockets. There is also a small opening at the top of the bag to fit the hose of a hydration pack.
In terms of comfort, the shoulder straps are padded and adjustable. There is a sternum and a waist strap although the placement of the sternum strap didn't work for me. It was directly across the widest part of my chest instead of attaching at armpit level. The back of the bag has molded foam which helped prevent my back from becoming too sweaty and also added comfort.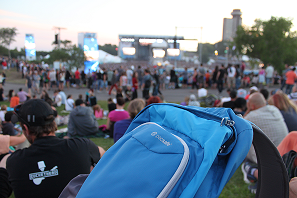 So far, I brought the Venturesafe to outdoors concerts and festivals. I placed my wallet in the RFIDsafe pocket, I was also able to fit my cell phone, keys, and my husband's wallet in the smaller zippered compartment. I had a water bottle on the side pocket and snacks, a sweater, and a blanket in the larger compartment. I like that I didn't have to worry about the bag at all. I knew that even in a large crowd, if people bumped into me or tried to snatch my bag or unzip it, my stuff would be safe! It feels great to know that Pacsafe allows you to outsmart threats and travel with confidence, knowing that your belongings are protected.
Buy It: Head over to Pacsafe to see for yourself the selection of anti-theft bags and travel security products they offer. Pacsafe offers free ground shipping on all orders over $100 shipped within the US.
Connect: Don't forget to like them on Facebook and follow them on Twitter for all the latest news and promotions.


This post currently has 8 responses.