Learning Resources is a company that offers a variety of products that aid in learning and development.  Their products are geared for preschoolers (2 years+) all the way through 5th grade and up.  You can find products in a variety of different subjects, interests, and categories for both Teachers or Parents.  The teacher categories are: Common Core Standards, All About Me, Critical Thinking, Activity Kits, Creative Play, Discovery & Exploration, Games & Puzzles, Manipulatives, Simple Technology, and Teacher Resources.  The Parent categories are: Active Learning, Activity Sets, Construction, Creative Play, Discovery & Exploration, Early Skills Development, Electronic Toys, Games & Puzzles, Imaginative & Role Play, Kindergarten Readiness, Small Kids on the Go, and Sand & Water Toys.  As you can see, they have you covered no matter what stage, age, or set of needs you have.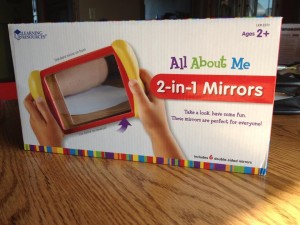 I was sent the Learning Resources All About Me 2-in-1 Mirrors for review.  This set contains 6 unbreakable mirrors.  The mirrors are all different colors and have nice easy to hold sides.  They are double sided as well with one side giving a normal appearance and the other side being a fun-house style mirror with a slightly warped reflection.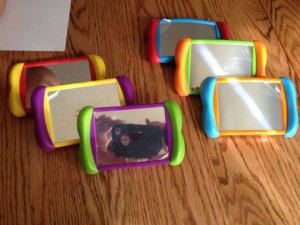 The kids really liked the fact that the mirrors were different colors and they all chose their favorite colors right away.  What struck me was how sturdy but lightweight the mirrors are making them perfect for all ages.  The first activity we did with the mirrors was talk about emotions and then look in the mirror and describe what each looked like.  It was fun to see the kids react to what they saw and how they were able to show the variations of feelings.
We also decided to make self portraits.  I remember doing this in art class when I was young so I thought it would make a great afternoon activity.  Our older two children spent about 45 minutes creating their self portraits and had a great time doing it.  They took the task seriously and worked diligently to complete all the while having a great time.
The All About Me 2-in-1 Mirrors are also made so well that even our 1 and 2 year olds could join in on the fun.  We all know that young children like to look in mirrors so I really liked the fact that I could hand a mirror over and not worry about the boys breaking them.
Buy It: Head over to Learning Resources to see for yourself the great selection of products they offer.
Connect: Don't forget to like Learning Resources on Facebook, follow them on Twitter and Pinterest, and subscribe to their YouTube Channel for all the latest news and promotions.
Win It: Learning Resources is generously offering one of our lucky readers their own All About Me 2-in-1 Mirrors Set.  *NOTE:  If you have won a Learning Resources giveaway on ANY blog within the last 6 months, you are ineligible to win this giveaway.  Once the 6 months has passed, you are able to enter again.*  The giveaway is open to US only. The giveaway will end September 8th, 2013. For your chance to win, enter the Giveaway Tools below. Good luck!
This post currently has 6 responses.