I love a good cocktail now and then. One great addition to a cocktail that I tend to overlook is the sugar or salt rim that you see on various drinks. Whenever I make my own, I simply go without that addition, but it's never quite the same without it! Little Waisted Products has a line of Glass Glitz, which is sparkly, colored and flavored salt or sugar to rim your glass with. I was very excited to be able to review some Glass Glitz.
I received the following from Little Waisted Products to review: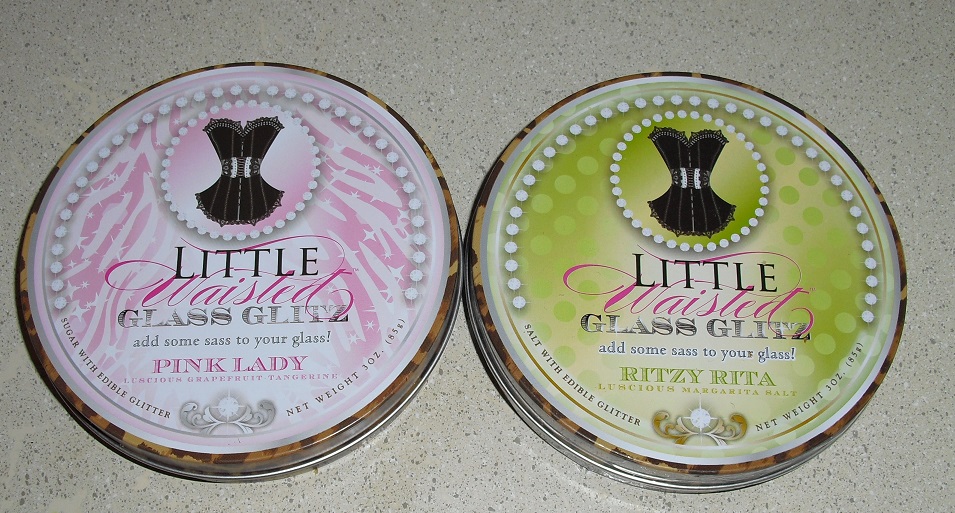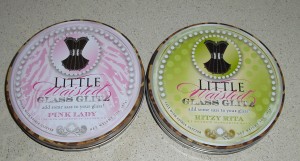 I received the Pink Lady and Ritzy Rita Glass Glitz. They come in these adorable tins. One thing I loved about the tin is that they're big enough for just about any size glass. You don't need to sprinkle the sugar or salt on to a different plate in order to coat the rim, you can do it right in the tin. The Pink Lady is orange sparkly sugar, that has a hint of grapefruit and tangerine flavor, which makes it great for any fruity drink, or lemon drops. The Ritzy Rita is sparkly salt with a hint of lime flavor, great for margaritas, my personal favorite drink.
Here is a picture of the Pink Lady and Ritzy Rita Glass Glitz from Little Waisted Products.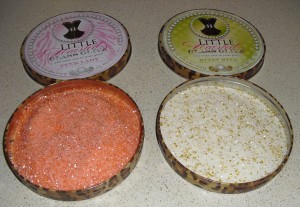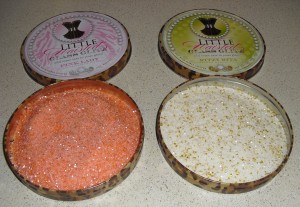 As you can see, they're nice and glittery. Very cute! They're great for any time you want to spruce up a drink, and especially for parties. These would also be great for a Sweet 16 party or quinceanera on non-alcoholic drinks. The sugar or salt is very easy to put on. Just wet the rim of the glass, and swirl it in the tin.
Here's the Pink Lady Glass Glitz sugar rim on my glass. I used this sugar with some non-sweetened iced tea, and it was great!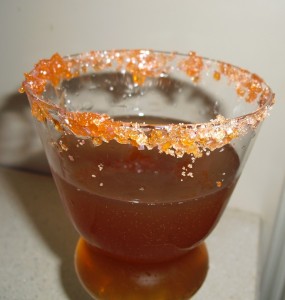 I personally am not the best at getting the sugar on, and making it look perfectly uniform and pretty, but it definitely taste good, and I liked the sparkles. I'm sure anyone with a little more skill at making drinks would be able to do it much better.
Overall, I thought the Glass Glitz by Little Waisted Products was really cute and unique. I think they'd be great for parties.
Buy it: You can buy the Glass Glitz products seen here on the Little Waisted Products Website.
Connect:: You can connect with Little Waisted Products on their Facebook.



This post currently has 5 responses.