*I was sent dog longjohns in exchange for this post. All opinions are my own.
I love having our two pugs – their personality and behavior is just such a great fit for us. If there was one thing I could change about Frank & Beans, it would be their body proportions – because it's incredibly rare to find clothing in stores that fits Beans and totally impossible to find clothing for Frank. Pugs in general tend to to have large shoulders and chests compared to other dogs of similar weight, length and height.  Both of my pugs are more barrel chested than our average dog of another breed but Frank is REALLY barrel chested which is why I've completely given up buying him clothing in stores.
Yet, they both shiver when we go out in the mornings and we live in Michigan where it gets a lot colder than it has been lately and we get snow, too. We're pretty cheap so we wear sweaters or use blankets inside in the winter instead of keeping the heat on high, and I've noticed that the dogs ears get chilly to the touch even inside. So I went looking for custom made dog clothing and came across Tootlewear.
Tootlewear makes several different dog products including winter coats, rain coats, cooling coats, vests and more. When ordering you provide your dogs measurements so the item is made just for your dog. In fact, they offer a few products specifically for oddly proportioned breeds like sighthounds and cori coats.
While I'd love to have winter, rain and cooling vests for my dogs I was most drawn to the Longjohns because I thought they could serve two purposes. They're just a singe layer of either flannel or fleece so they are great for chilly (but not terribly cold) weather or they can be worn under coats as an extra layer when it's really bitter outside.
Heather, who owns Tootlewear picked out blue and pink polka dotted fleece for my dogs longjohns which I love because they're incredibly cute in their coordinating longjohns but they don't completely match so its easy to tell them apart at a glance and it also helps people to realize that Beans is a girl despite her odd name.
The sewing looks and feels so sturdy and well done. If your dog is a male, the belly area is left open so they can potty without a problem, while long johns for female dogs cover half of their belly. The pricing is based off of the length of your dog (shoulder to above the tail). My dogs are 12 and 13 inches, so one is considered a small and the other a medium. The small long johns are only $19.9 each and the medium long johns are $24.99. When ordering you give your dogs measurements so they are made just for your dogs specific shape. I think $20-$25 is an incredible price for custom dog clothing because I expect to pay that much for store purchased clothing and the clothing that I've tried from pet stores is way lower in quality than Tootlewear in thickness and how well its sewn. I really believe Tootlewear clothing is a bargain.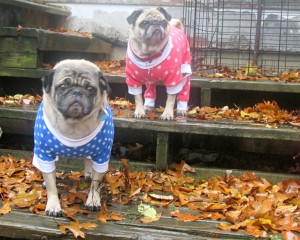 Seems how the clothing is made to order, it's really important that you measure really carefully. I measured 3 times and then took the average of the 3 just to be sure. It's also important to consider your dogs fur length and position when measuring. If your dogs fur is really long, make sure you accommodate for the thickness of the bunched up fur. My dogs don't have that long of fur, but they have a lot of extra skin that bunches up when they are in certain positions but that lays flat when they are standing. I took their measurements standing up (with their skin flat).  Yet when they sit, their skin wrinkles and the fur gets bunched up causing them to be bigger around than they are standing up so it would have been better to measure them sitting down when their chest is the biggest/widest and use that measurement instead.
If you're worried about getting perfect measuring, any of Tootlewear's products that don't include backlegs (such as the all breed fleece coat) would be a "safer bet" seems how not having hind legs means you don't have a backleg height measurement and if the length is off a tiny bit it won't really matter as it will just hand a little over the tail or show a tiny bit of the back. Also, many of the other options have velcro across the chest, making it less important to get the perfect chest measurement.
I'm really happy with the quality (especially for the cost!) of our Tootlewear longjohns – I plan to purchase more Tootlewear gear for my dogs in the future.
Buy it: You can purchase from Tootlewear on their Etsy shop. Be sure to check around the Etsy page, Facebook and Twitter account as you might find a discount code! You need to order no later than December 8th if you want your package to arrive before Christmas.
Win it: Tootlewear will provide 1 winner with a pair of longjohns for their dog (made to your dogs measurements!). Giveaway is open to the US and Canada and will end at 11:59pm EST on 11/20.


This post currently has 11 responses.