There are lots of different brands of chapstick out there. There are tons of flavors, and different types. However, Kisstixx is a very unique brand of lip balm, something I had never heard of before, but was very excited to try. Kisstixx is a line of chapstick that comes in pairs of complementary flavors, designed to be blended during a kiss. Kisstixx was featured on the popular TV show, "Shark Tank." I was very happy to be able to try out some Kisstixx to review: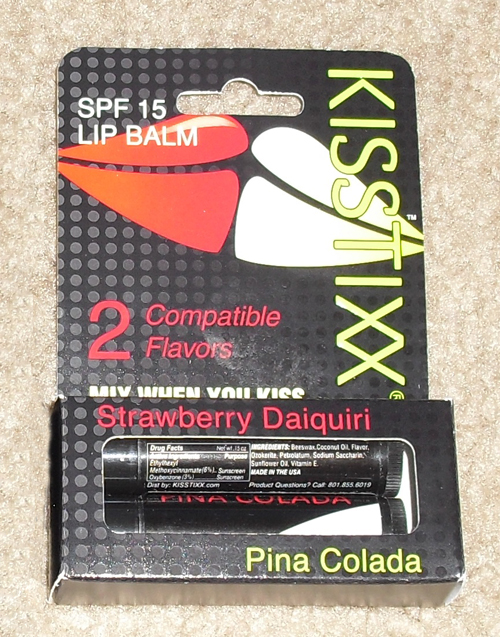 Kisstixx come in two in a pack just like this one. The one pictured here is Strawberry Daquiri with Pina Colada, yum! They also come in many other flavor combinations, such as, Fire & Ice, Strawberry & Chocolate, Peaches & Cream, Raspberry & Lemonade, and Sweet & Sour.
I was very lucky to be able to try out each flavor. I have to say, they were a lot of fun. It was great to have a reason to kiss my fiancé, and they were really fun and romantic to try out.
The flavors really are what they say. The Strawberry tastes like strawberries, and goes great with the Chocolate flavor. All the flavors blended together really nicely, yet could also stand out on their own. I liked wearing some of these flavors, even if I wasn't going to kiss and blend them.
The only exception was the Fire and Ice: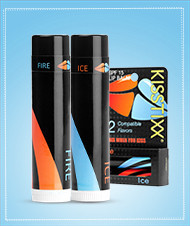 When I put the Fire on my lips, it was a warm cinnamon flavor, but as I left it on, it started to burn my lips, to the point where tears were forming in my eyes. I had to rub it off, and my lips were bright red. I have really sensitive skin, and I think this also applies to my lips. So someone without sensitive skin might not have this reaction. However, I did still try the Fire flavor again, and kissed my fiancé right away afterward, and it was a really neat sensation! It was warm, and tingly at the same time. It was a lot of fun. So, I wouldn't recommend trying the Fire flavor by itself, but if you want to put it on and kiss right away with the Ice, it creates a really unique, fun sensation on your lips.
I think that overall, my favorite was Raspberry & Lemonade. I personally really like both of these flavors, and they were even better when blended together from a kiss. They are also great on their own, though.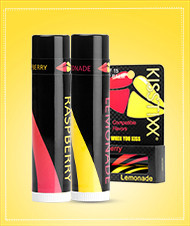 Overall, I think Kisstixx is a great idea. They're really fun, and a great way to bring some romance back into your relationship. Whenever you see the lip balm, it makes you want to kiss your partner. What can be better than that?
Kisstixx is only $5.99 for the two pack, or they have many multi-pack options that make them even more inexpensive. If you want some kissable chapstick, you should check them out!
Buy it: You can buy Kisstixx on their Website.
Connect: You can connect with Kisstixx on their Facebook, Twitter, and Pinterest.


This post currently has 3 responses.