I received product from Hamilton Beach for my review. All opinions are my own.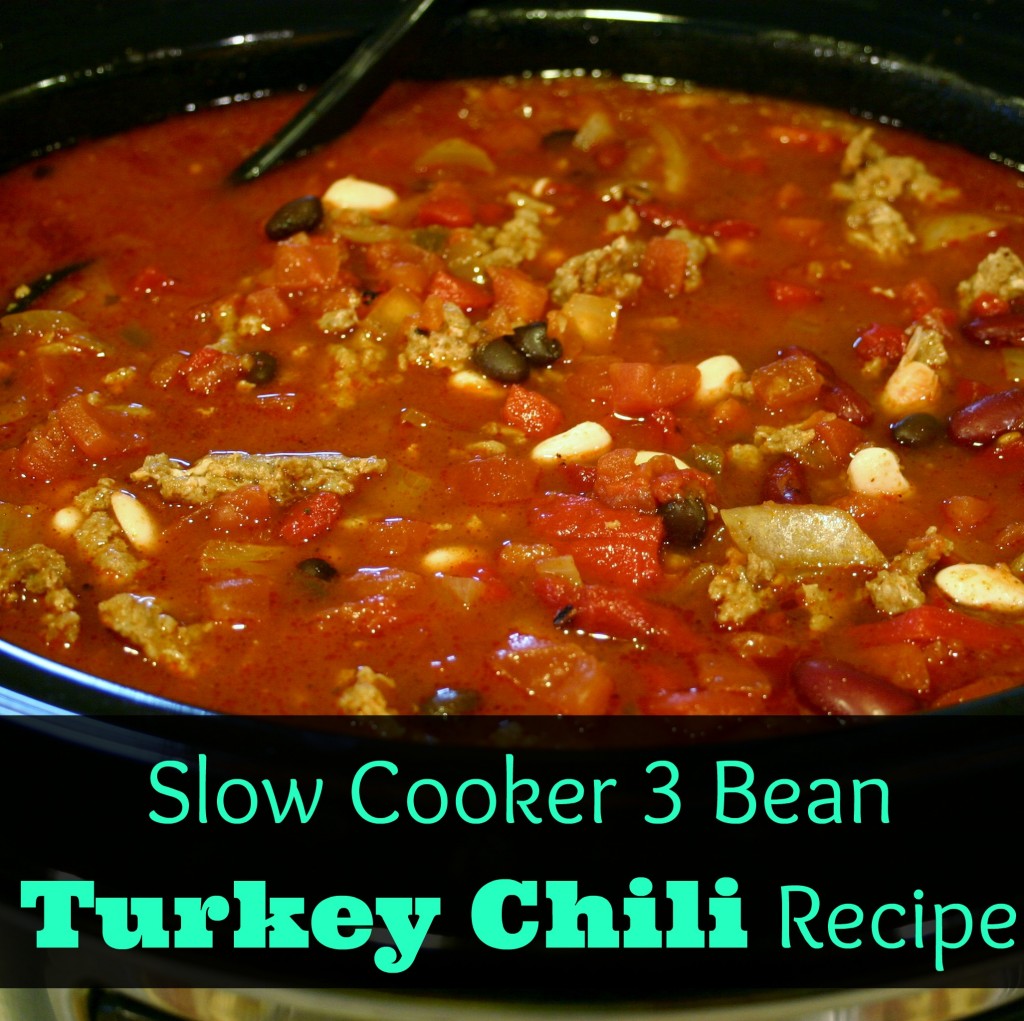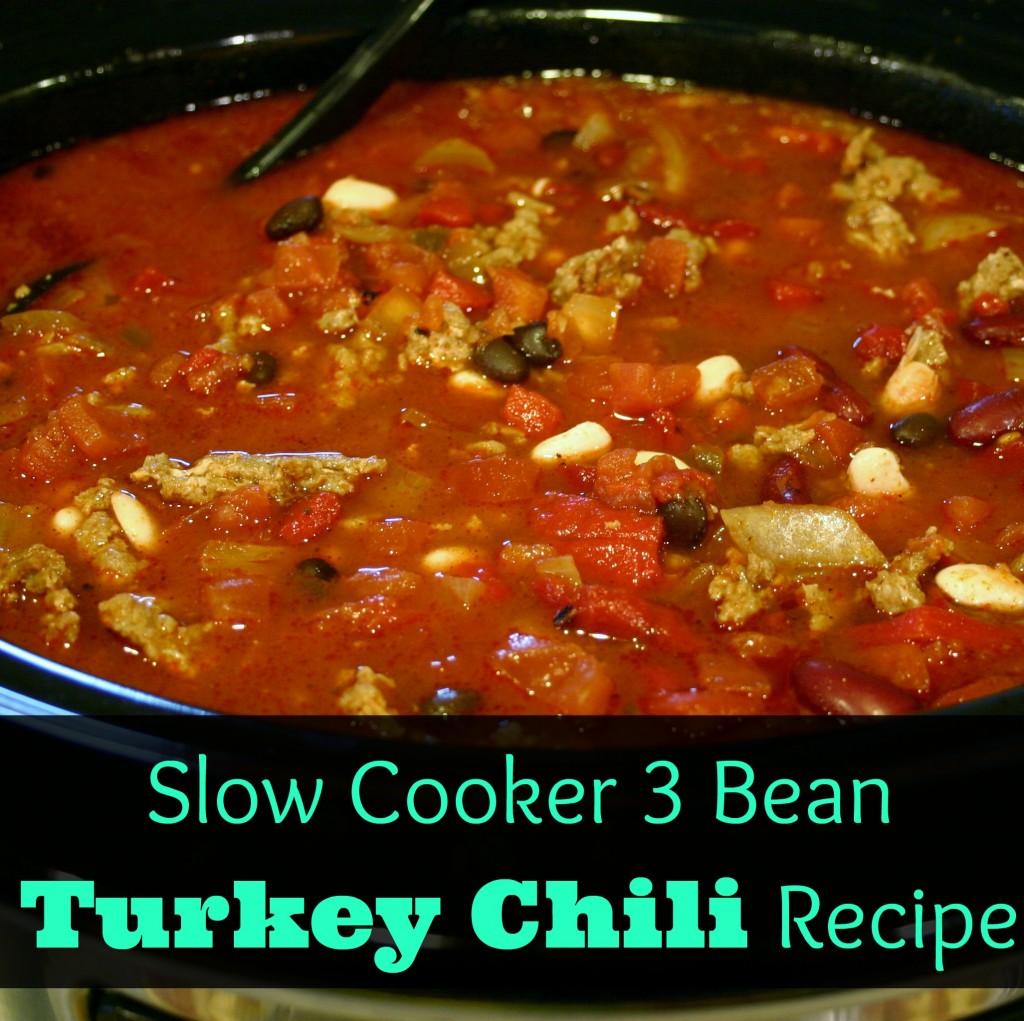 I struggle to find easy and healthy dinners for my family. So when I find a recipe that is delicious, nutritious, easy to make, budget friendly, and a time saver, it immediately goes on our monthly menu.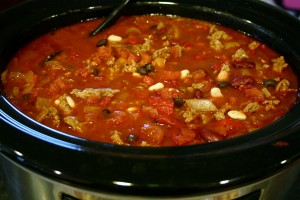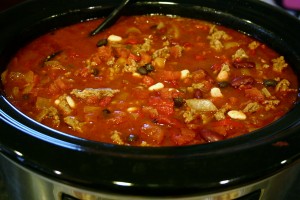 Today I want to share with you one of our favorite dinners. It's called Three-Bean Turkey Chili. To make Three-Bean Turkey Chili, you need:
2 ½ pounds of lean ground turkey *I use Jennie-O Taco Seasoned Ground Turkey.
1 large onion chopped
2 garlic cloves minced
1 green bell pepper chopped *I usually include 1 red, 1 green and 1 yellow bell pepper
4 cans (10 oz. each) of diced tomatoes with green chilies
1 can (6 oz.) tomato paste
½ cup of broth *I usually use vegetable
2 TBS chili powder
2 Tsp. ground cumin
2 Tsp. dried oregano
1 can (15 oz.) kidney beans drained and rinsed
1 can (15 oz.) cannellini beans drained and rinsed
1 can (15 oz.)  black beans drained and rinsed
1 Tsp Salt
½ Tsp. ground black pepper.
Optional toppings- shredded cheese, jalapenos, and/or sour cream
Directions:
Sauté onion, bell pepper and garlic in large pan until softened.
Add ground turkey and cook until no longer pink. Drain fat.
Place meat mixture in slow cooker.
Add diced tomatoes, tomato paste, broth, and seasonings to slow cooker. Stir to combine.
Add beans. Stir to combine.
Cover and cook 4 hours on HIGH or 6 hours on LOW.
Season with salt and pepper before serving.  Garnish with desired toppings. *I served mine with cornbread muffins topped with chopped bacon and a little shredded cheese. YUM!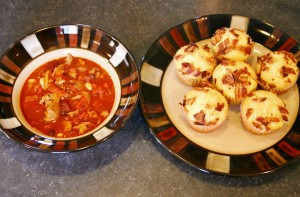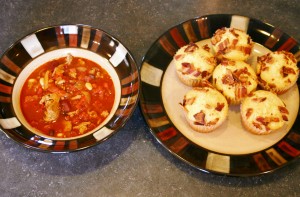 I make Three-Bean Turkey Chili in my Hamilton Beach Set 'n Forget® 6 Qt. Programmable Slow Cooker. This allows me to throw the ingredients into the pot, set it and forget it. The slow-cooker does most of the work for me.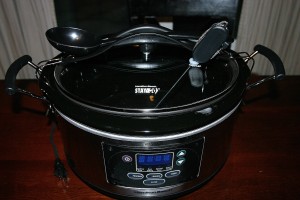 I have had a few slow-cookers, but l like this one the best. It has great options that make it really easy to use. I can program my slow cooker to cook on a specific heat and for a certain amount of time. I can also use the temperature probe to cook until my desired temperature has been reached. I can also cook in the manual mode.
The Set 'n Forget® 6 Qt. Programmable Slow Cooker comes with a spoon that can easily rest on the lid handle and a temperature probe. The lid itself has a cushion on the lip to provide a secure seal.
Once you have made your Three-Bean Turkey Chili, the Set 'n Forget® 6 Qt. Programmable Slow Cooker has two wire clips on the handles. This allows you to lock down the lid for easy travel convenience. This would be a great dish to take to a summer BBQ, potluck, tailgate event, or any other gathering for that matter.
The only thing I wasn't completely in love with is how hot the exterior of the Set 'n Forget® 6 Qt. Programmable Slow Cooker gets while in use. I make sure it is sitting on the far back of the counter so little hands aren't as likely to touch it and I make sure nothing is leaning up against it.
You can find all the Hamilton Beach Slow-Cookers on their website. You can find more enjoyable recipes there too. Connect with Hamilton Beach on facebook, twitter and pinterest.

Hello, my name is Laurie. I have been married to my husband for 14 years. We have two young daughters, ages 11 and 13 years old. My family and I live in Oregon so that means we are just minutes from the beach, mountains, and desert.  We love it here and try to spend as much time outdoors playing as we can. When we aren't outside playing, I enjoy reading, gardening, refinishing furniture, and other crafts.
This post currently has 8 responses.