Thank you ZizzyBee Bags
for providing me with products to review, free of charge,
and for sponsoring a giveaway.
These are my own honest opinions.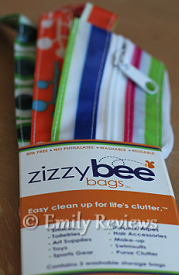 I'll be the first one to admit it, I'm not very good at staying organized. I always end up with stuff all over the place and look for misplaced items way more that I care to say. So whenever I come across a product that can help me become more organized, I can't pass the chance to try it.
ZizzyBee Bags offers a super simple way to keep the clutter away: zippered mesh bags! They come in 2 different sizes, the large ones are 12" x 12" and the small ones are 9" x 9".  You can either purchase a set of 3 large bags, 3 small bags, or a set 2 large ones and a small one.
For this review, I received a set of 3 large bags, each one with a different print on the trims, as well as a set of 3 identical small bags. What I like about these bags is that they can be used for a million things. You can use them to organize your purse or diaper bag, you can use them to keep your socks and undies together in your suitcase when you travel, you can use them for your makeup and toiletries, you use them when you go to the gym or to the beach. You can also use them to store small toys (little people, blocks, etc.)
I like that unlike other bags, these ones are in mesh so you can actually see what's inside and find what you're looking for without having to unzip each and every bag. Take a look at the picture below. The large bag contains small toys and books and you can clearly see the 'I Spy' book. The smaller bag is filled with socks and onesies. The downfall of the mesh is that you have to be somewhat careful of what you put in it because sharp or pointy objects might poke through the mesh but if you're careful, it shouldn't be too big of a problem. Another nice feature is the handle along the top side. You can easily secure your ZizzyBee bag to a door knob, a stroller handle, etc.
So far, I've used them to bring toys and books for my daughter when we're out and about and I know that I'll need to keep her busy (restaurant, visiting friends, store, etc.) The large bags are big enough to fit coloring books, crayons, a small doll, a small puzzle book and a small stuffed animal. I think I'll need to get another set to store my daughter's small toys.

I've also used them to organize a suitcase when we travel. It's so much easier to keep everyone's clothes together. I can fit the girls' clothes in the large bags and I can quickly find what I'm looking for because I can see through the mesh. I keep my undies and socks in the smaller bags.
What's great about these bags is unlike other storage products, they are washable and take very little room when you're not using them. Simply fold them and keep them in a closet or cupboard until you need them again (which should be very soon since they are so practical!)
Overall, I am very pleased with our new ZizzyBee bags. They are really useful to keep things organized and keep the clutter at bay. The fact that they are washable and can be stored away easily when you don't need them makes them even more practical!
Buy It: Head over to ZizzyBee Bags to see for yourself the practical storage bags they offer. They're perfect for toys, makeup, kids clothes, snacks, and much much more.
Connect: Don't forget to like ZizzyBee Bags on Facebook and follow them on Twitter and Pinterest for all the latest news and promotions.
Win It:  ZizzyBee Bags is generously offering one of our lucky readers a set of 3 large bags (3 different prints) like the ones I reviewed.  The giveaway is open to US and Canada and will end February 21st. For your chance to win, enter the Giveaway Tools below. Good luck!


This post currently has 8 responses.