Thank you George Foreman
for providing me with a product to review, free of charge.
These are my own honest opinions.
Few things signal the definite arrival of Spring as clearly as the appetizing smell of a meal cooked on the barbecue! Until now, I didn't have one and all I could do was drool as I smelled my neighbors' dinner. 


You can probably imagine how happy I was to have the opportunity to review George Foreman 13-Serving Indoor/Outdoor Grill. It's an electric grill which is why it can be used indoors and outdoors, all year round! It's also perfectly safe to use in most places where propane and charcoal aren't allowed.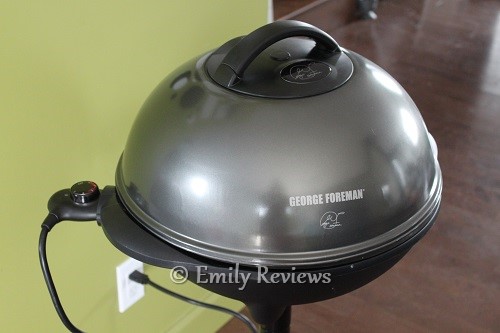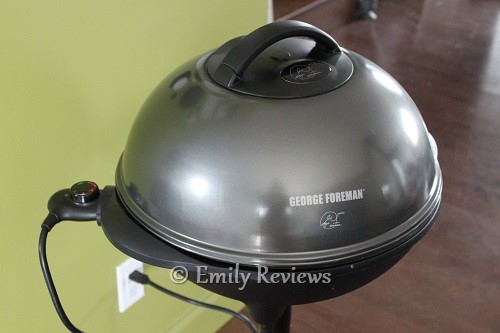 It has a large 200 sq. in. grilling surface which means it can feed an army! Around 12-15 servings depending on what you're grilling. The high dome-shaped lid means you can use the entire grilling surface and it's high enough to roast a whole bird! The dome shape also creates a convection-type grilling. It can grill and roast anything you would normally cook on a barbecue, from meats to fish, veggies and even fruit.
I was able to assemble this grill by myself in just a few minutes. The instructions are very easy to follow and there are no tools involved so yes, even you ladies can do it! I really like the look of this grill. It reminds me of vintage barbecue grills with its round shape and metallic lid. It's surprisingly light so it can be moved around with the 2 side handles. All you need is an outlet nearby and you're ready to grill! As you can see in the picture below, there are 3 potatoes cut in quarters on one side and a pork filet on the other. I could have easily added 2-3 more potatoes on the left and there's room for at least 6 sausages on the right which means you can cook an entire feast all at once!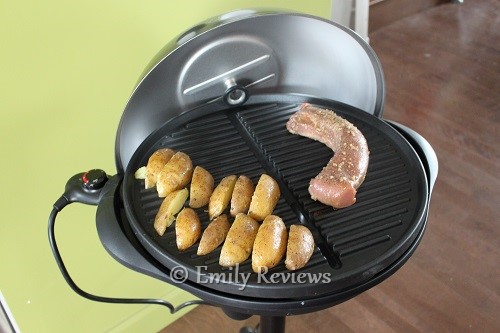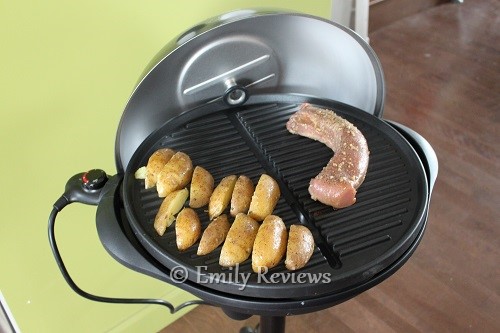 This grill is well-designed and can be used on its stand (approximately 38 inches tall) or directly on a table or countertop. No need to worry about liquid spills: there's a drain to catch liquids right underneath the grill. I line mine with tin foil for an even easier clean up. Hurray for no scrubbing! Speaking of which, even the grill plate doesn't require much elbow grease to clean because it's covered in a double non-stick coating. All you have to do is remove it, immerse it in water and gently wipe it down. Now that's my kind of low maintenance grill! The non-stick coating also means you don't have to use much oil at all which means healthier meals with the same great grilled flavors.
Temperature is easily controlled with a numbered dial. There is a light indicator that turns off when it reaches the temperature you wanted. The grill heats up pretty quickly and doesn't seem to lose too much heat even when the lid is not on. I also like that the handle on the lid never gets hot so it's safe to handle. Inside the dome is a piece that sticks out which you can use as a hook to rest the lid on the side on the grill (you can see it on the picture above). This is great if you need to take a closer look at your dinner or flip your meat but also if you just want to shelter it from the wind. There is also a vent that you can adjust to let more or less air out.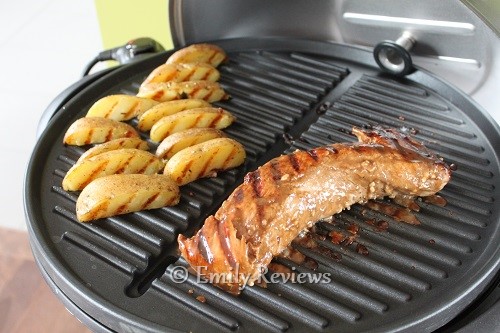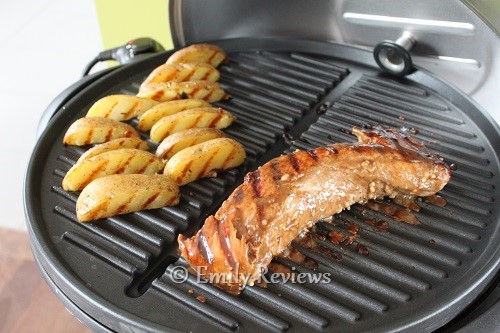 I used this grill today to make a delicious pork filet with roasted potatoes. You can see the nice grilling lines and I wish you can smell it too. It was really yummy. I can share my recipe if anyone is interested! It was so easy to use and even more easy to clean. I can't recommend this enough. I love that it's small and versatile, that it can be used both indoors and outdoors, and that it's electric! The flavors are amazing and the food is healthy and now I too feel like Spring is here!
Buy It: Head over to George Foreman to see for yourself the great selection of grills they offer. I also suggest you take a look at their Weight Loss Challenge. It's free and you'll get lots of great tools to help you lose weight including 28 full days of balanced meals + snacks, with great grilling recipes, some workouts, a shopping guide, and more.
Connect: Don't forget to like George Foreman on Facebook, follow them on Pinterest for all the latest news and promotions.


This post currently has 15 responses.