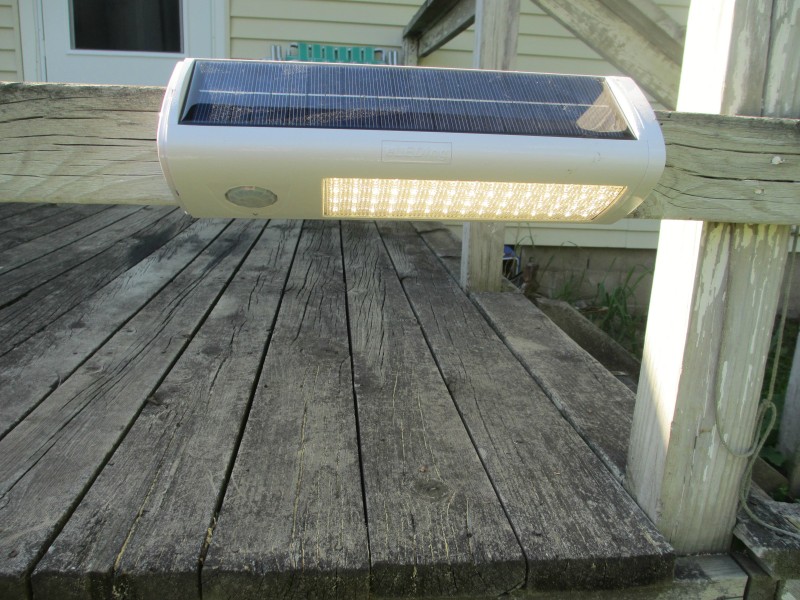 *I received a complimentary solar light from eLEDing. All opinions are my own.
I live in really little town. Although I live right next to the most popular store we have, I have a nice size back yard that is lined with a treeline and doesn't feel like it is inside of a city. The store's floodlights don't reach far enough to light my yard. I am a night owl and my dogs get up with me and go to bed with me so they are often up late at night. So, I find myself taking my dogs out for potty breaks after dark fairly often. I am renting and my house doesn't have a built-in yard light so I was using a flashlight when we first moved in. My dogs stay in the yard fairly well but they will chase after racoons, squirrels and the like on occasion so I want to keep an eye on them both. The flashlight wasn't working very well because I could only shine it on one dog at a time. I decided to see if there was some kind of outdoor light available that wouldn't require my house to have wiring in place for an outdoor light. I came across the eLEDing brand on Amazon that offers a variety of solar-powered lights and decided that the EE860DDC would be perfect for us. No electric required!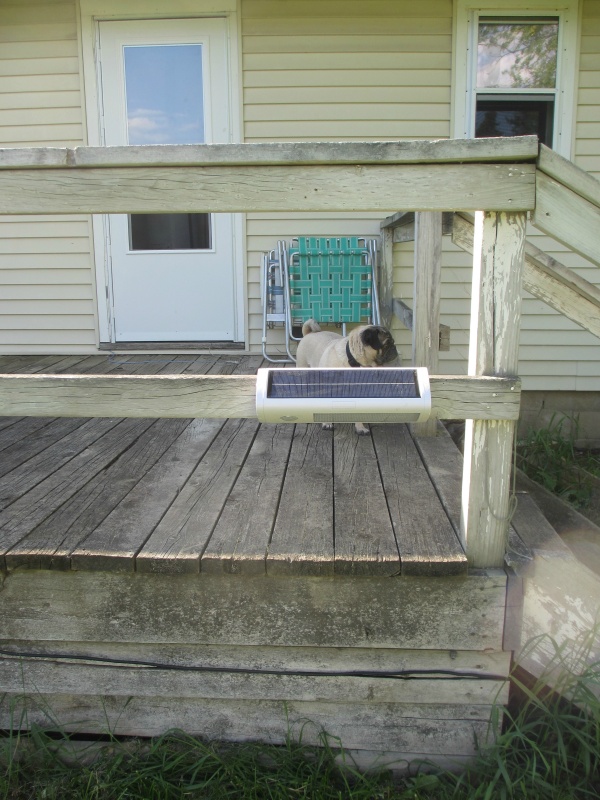 The EE860DDC solar-powered light doesn't need a power source from your house as it has a built-in solar panel that powers it. It is basically a triangular shape, one side screws into your home (or other wood surface where you mount it), the panel that faces up is the solar panel and then the panel that points down is the light. Our house has siding, so we mounted it against our wooden deck. It's roughly 4 feet off the ground where it is mounted. The unit is designed to be mounted higher up but ours has worked fine for our needs (seeing the dogs when they are out going potty).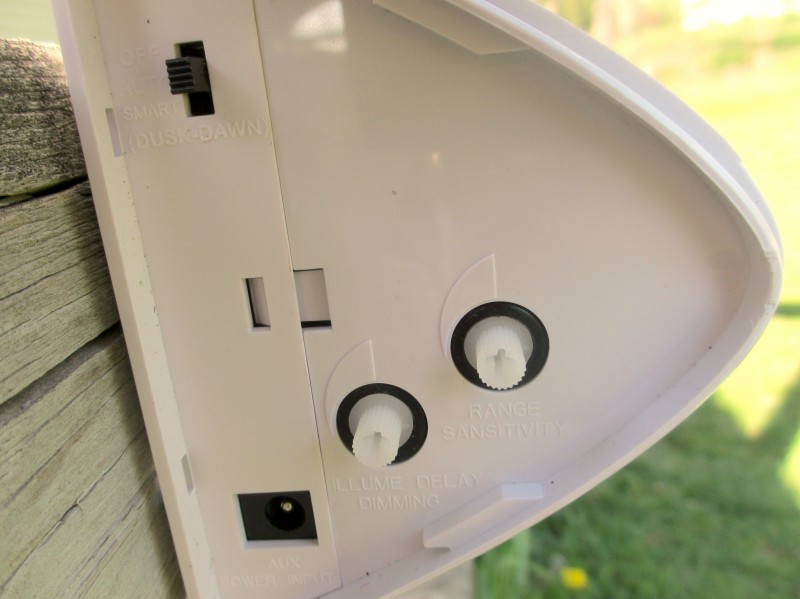 The light has two modes, "smart" desk to dawn or auto. You can also manually turn it off. The smart dusk to dawn setting detects how bright it is outside and if it gets below a certain level of light, it automatically turns on. In this mode it will turn on at dusk and off at dawn most days, but if it is cloudy or rainy it will also turn on then. I tested it out one day while it was raining and cloudy and it turned on as expected.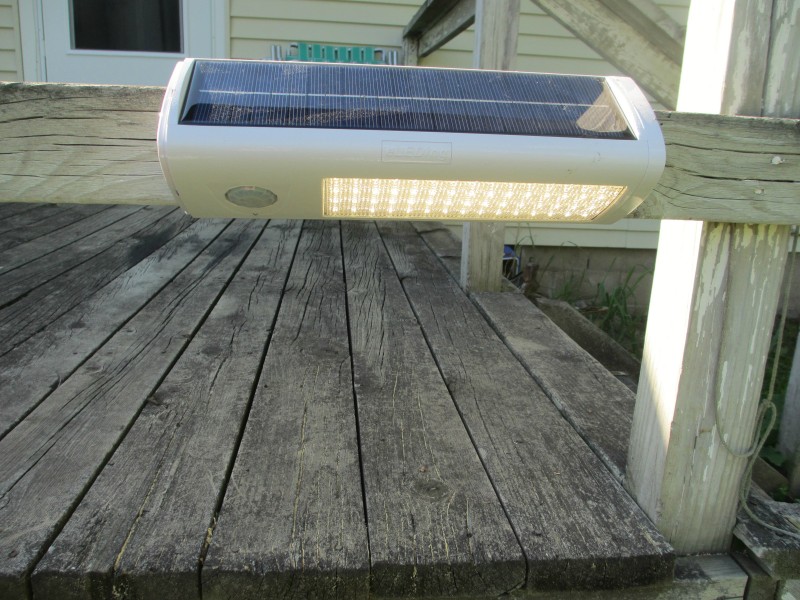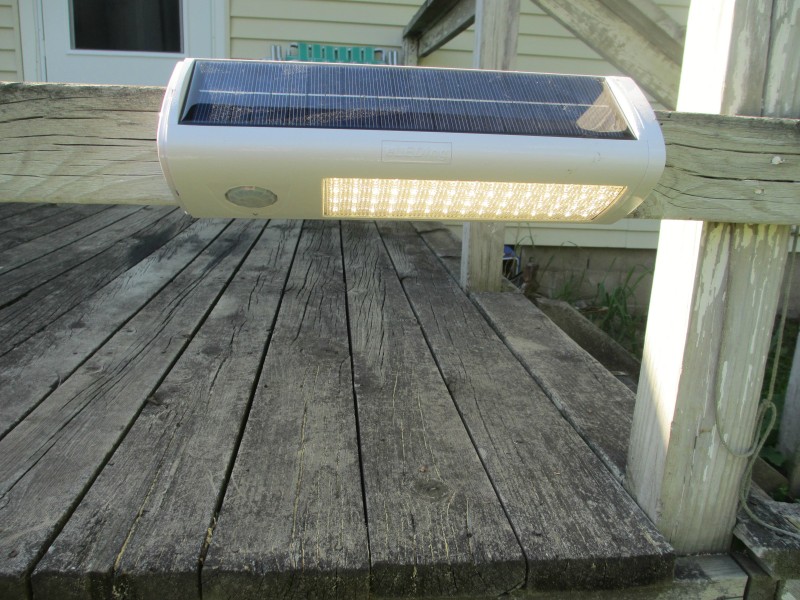 We have been using it in AUTO mode which means it stays off unless motion is detected. There is a dial on the side that allows you to adjust how sensitive the motion detection is. I leave mine on the highest sensitivity level and I haven't noticed it turning on for "no reason" so I am happy with it on that setting. It will 'see' me and turn on if I walk past it at 12-15 feet back. I have left mine on the highest sensitivity level and it has turned on when it "sees" my 20lb dog, even if she is 5-6 feet away from the light it will "see" her and turn on.
Before we mounted the light, I left it outside for about 3 hours. I didn't mount it for several days so at first I was just carrying it outside with us and I would turn it on for the dogs and it didn't seem to run out of power at all. I think we probably used it on the 3 hour charge for 5-6 days this way. So although it's ideal for the light to get sunlight much more often, if we were to have several rainy days in a row it probably wouldn't run out of power if used on auto-mode. When we did install it, it was really easy as the kit comes with two screws and the back of the unit has two slots that the screw heads slide into to hang it in place.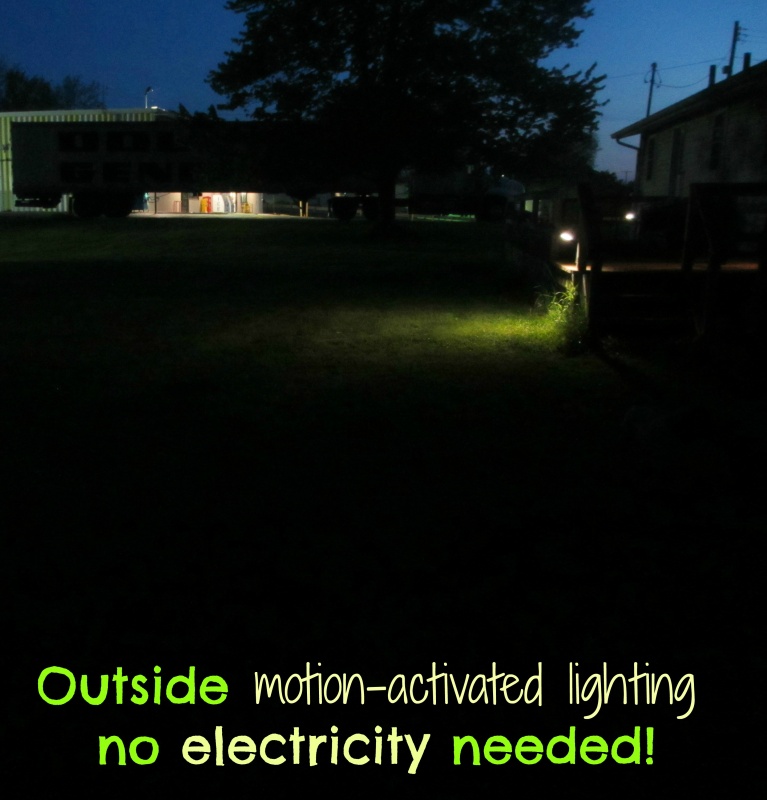 When the light is on when it's completely dark outside, it lights up a 4-5 foot area really well, where I can see perfectly. After that 4 foot area it gets a little dimmer the further away you get, but I can still see where my dogs are as long as they stay within roughly 1/2 of my yard. I would guess this to be about 15-20 feet? I assume that if we mounted the light higher up, that it would cover more of my yard but it's not really needed for us personally as I just call my dogs if they start to get outside of the lit area. Forgive my poor photography skills, my camera doesn't handle taking pictures of a light in the darkness very well. I feel like the photo doesn't do justice for how well the light illuminates my yard. I think part of this is because I was pretty far away. In the distance you can see a shadowy rectangle – that is a full-sized semi with trailer. Hopefully that helps put the amount of light coverage into a better perspective. Also remember that I have it mounted about 4 feet off the ground which isn't ideal if you want to cover the most area possible.
If the eLEDing EE860DDC isn't exactly what you had in mind, check out the eLEDing site to see the other products that they offer. They have several types of solar lights available, including ones with solar panels that are separate from the light. This allows you to mount the solar panel in one area and the light in another, so that you can have a light in an area that doesn't get direct sunlight. I'd love another eLEDing light for the front of my house so that it would automatically turn on when we pulled in the driveway. It would be great to have a light to see to unlock the door and haul groceries inside when we go shopping at night. I want to buy my mother in law one for her birthday, as well. She's lived in the same house for 25 years but has never wanted to put the money into paying an electrician to wire her an outside light, so it would be perfect for her.
The eLEDing EE860DDC light is currently $55.95 on Amazon
. Much cheaper than hiring an electrician to install an outdoor light.


Hi there! I am Emily Evert, the owner of Emily Reviews. I am 28 and live in a small town in Michigan with my boyfriend Ryan and our two pugs. I have a large family and I adore my nieces and nephews. I love reading memoirs, and learning about child development and psychology. I love watching The Game of Thrones, Teen Mom, Sister Wives and Veep. I like listening to Jason Isbell, John Prine, and other alt-country or Americana music. I created Emily Reviews as a creative outlet to share my life and the products that I love with others.
This post currently has 8 responses.