I love books!  That love has rubbed off on Little C and I am hoping that is rubs off on Baby A as well.  Little C and I have been reading books since he was just weeks old.  I can remember sitting on the couch with him and looking at books.  I know he didn't understand at that age, but watching him learn to just simply look at books and now for him to be reading books to me is absolutely amazing and melts my heart.  I know books aren't for everyone, but I sure am going to try my best to get Baby A as excited about books as his big brother is.
With all of that being said, I absolutely adore the idea of personalized books.  I was given the opportunity to review a book from MyFairyTaleBooks when Little C was just 3 years old.  I found a Batman book that he still loves to read!  Well I have once again been given the opportunity to review a personalized book from MyFairyTaleBooks and this time I wanted to pick out a book for Baby A.  MyFairyTaleBooks has so many books and it took me a really long time to pick a book for Baby A.  I didn't know if I wanted a baby book or a book that he would like when he was older.  I finally chose a book titled, Little One, Little One What Do You See? for my review.  I felt like it was a book that Baby A could grow with.  Upon receiving the book I couldn't be more delighted with my choice.  The book has animals in it and I was able to add Little C and Baby A's grandparents into the book.  I also love that the dedication page includes Baby A's age at the time we received the book.  Little One, Little One What Do You See?  is age appropriate for all ages in my opinion.  You can talk about animal sounds, counting and the names of animals.  I truly believe this will be a book that Baby A loves for many years!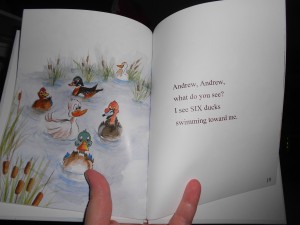 I have to be honest with you, I didn't know personalized books existed until I saw that my husband and his brother had one from their childhood.  Little C loves to look at and read his daddy's book and I hope one day that Little C and Baby A will have kids that love their books as well.  I think it is such a neat thing for a child to have with them forever.  It is something that they can cherish and I wish I had one from when I was a kid.
If you are looking for a personalized book for a little one of your own, of if you are looking at one as a gift make sure to check out MyFairyTaleBooks.  There are books for baby's and big kids.  I have received 2 pieces of treasure for my boys and I can't thank MyFairyTaleBooks enough!
For more information on MyFairyTaleBooks make sure to check them out on Facebook and Twitter.  MyFairyTaleBooks is offering a giveaway for one lucky winner and a discount code for all of our readers!
Discount Code: If you are interested in buying a book from MyFairyTaleBooks please use the code: BLOGGER2014 to receive a 10% discount on your purchase!
Win It: One lucky US resident will win a personalized book of their choice from MyFairyTaleBooks!


This post currently has 5 responses.