I received a package of Sticky Bellies Baby Milestone Stickers for review.  All opinions stated are my own.
When I was pregnant with Baby A I searched for items that I could use as month markers for him.  I had seen other pictures of babies with such items and I really wanted them for baby A.  Unfortunately I was not successful in my search at first; however, when Sticky Bellies contacted me I was super excited.  Sticky Bellies is a fabulous company that has several different sticker milestone markers for babies.  I received a pack of the Oh Sew Handsome milestone stickers for Baby A.  He had turned 5 months old when I received the pack, but I figure that better late then never is the motto for this situation.  I had been taking pictures of Baby A every month, but I am so happy that I now have monthly stickers to use to mark each precious month.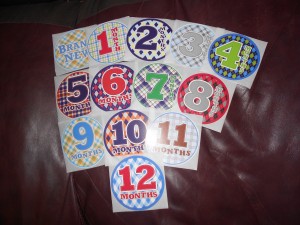 Sticky Bellies has so many cute options that it took a little while to pick my favorite and they are a great price at only $14.00 a pack.  In my pack there were 13 stickers and I totally wish I could go back to the hospital and take a sweet picture of Baby A with the "Brand New" sticker!  I fell in love with that sticker when I opened the pack.  The stickers are very high quality and stick very good to onesies and bibs as well.  All of the patterns are adorable and of course they have options for both boys and girls.  What I love even more is that they have a package of pregnancy stickers so that you can mark how many weeks along you are and they also have packages of milestone stickers such as first words, first foods, etc and even a holiday package!  There are so many stickers to choose from and it is tempting for me to purchase some of the other milestone packages.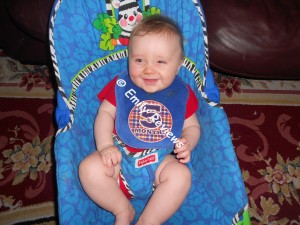 I look forward to using the rest of my stickers up until Baby A turns 1 and I will definitely gift these fabulous stickers to any expecting mommy that I know.  If you are looking for stickers for yourself or for a baby shower gift I highly suggest that you look no further then Sticky Bellies!
For more information and to keep up to date with the latest products make sure to check out Sticky Bellies on Facebook, Pinterest and Twitter!


This post currently has 6 responses.